When Hasan Brohi and his wife were traveling across California in the summer of 2016, they used Airbnb to book their stay almost every night.
But while most of their experiences using the platform had been pleasant, they made an impromptu booking with a host who initially accepted the reservation but later refused — Brohi suspects — because he is Muslim and his Airbnb profile contains his picture and name.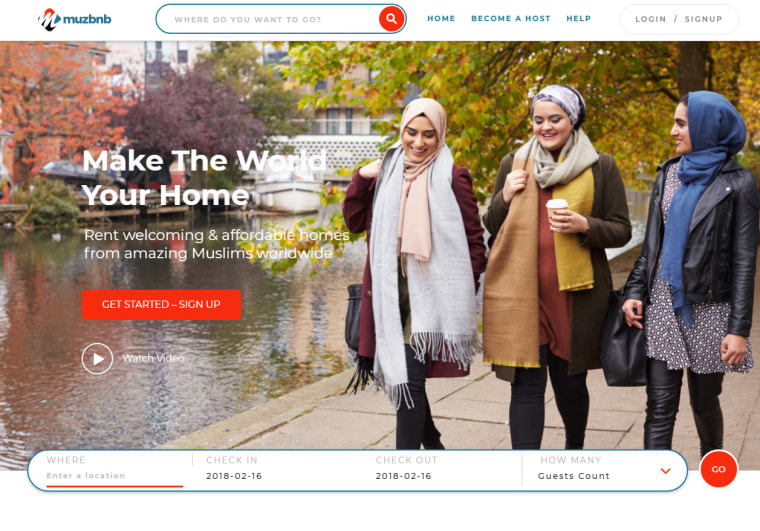 "She contacted back and said, 'I don't think this is going to work,'" the 32-year-old from Washington, D.C., said. "It just seemed from her tone and lot of the comments she made — it just seemed very racist in nature."
Brohi said he isn't alone: Several of his friends have had similar experiences and many of them have read written accounts of other Muslims having their bookings denied or cancelled.
While there is no research available on discrimination specifically against Muslims on Airbnb, a 2017 study by the American Economic Association found that guests with distinctively African-American names were 16 percent less likely to be accepted by hosts on the platform than identical guest accounts with other names. And in 2017, an Airbnb host who had sent racially-tinged messages to a guest agreed to take an Asian-American studies course as well as pay a fine.
The main point of Muzbnb is to be welcoming to everyone but also have everyone be welcoming and non-discriminatory toward people of faith.
After reading about several similar rejections, D.C.-based Hadi Shakuur decided to start his own service called "Muzbnb" with some partners. Shakuur, an entrepreneur and creative designer, describes the service as "a Muslim-friendly solution to Airbnb."
In addition to features common on other short-term rental services, Muzbnb allows travelers to search for rentals featuring halal food, alcohol- and pork-free homes, as well as showing nearby mosques and restaurants. Development on Muzbnb began in December 2016, Shakuur said. It started accepting hosts in August 2017 and plans to start allowing guests to book stays in February 2018.
At present, Muzbnb has a database of 100 homes that are located in a number of countries, including the United States, Australia, Malaysia and Indonesia. Several homes specify the availability of prayer rugs and distance from an Islamic center.
The service is designed to be appealing to both travelers and hosts.
"What Muzbnb does for me as a consumer, it gets rid of a lot of problems," 27-year-old Haroon Waseem, who registered his place on Muzbnb in 2017, said. "It allows us Muslims to enter the shared-living space area in a more Islamic way."
Waseem has previously listed his apartment on Airbnb, but preferred only to rent it out when he was not in town. As a guest, he usually books private residences where he would not be required to share space with other people because of religious and lifestyle differences.
"If I'm sharing a room, I don't know if their fridge is going to have alcohol," Waseem, a pharmacist based in Houston, said. "I also don't know their moral values."
Since Airbnb was founded in 2008, it has grown to offer approximately 4 million listings, according to the company. In a 2016 report by hotel industry analyst STR, Airbnb was the second-largest lodging company when counting hotel-like rooms, behind only Marriott International. That count did not include shared rooms, private rooms with shared living spaces, or large listings that hold more than seven guests.
Airbnb does not tolerate discrimination of any kind, company spokesman Nick Papas said, referencing the company's host policies.
"Our mission is to create a world where anyone can belong anywhere," he said. "Under our Open Doors policy, we will ensure anyone who believes they have been discriminated against has a place to stay."
More than 10 percent of global tourism spending is generated by international Muslim travelers, according to a 2016 report by Salam Standard, a hospitality rating system that measures hotels readiness to cater to Muslim travelers. The Muslim travel market accounted for $145 billion of international tourism spending in 2015 alone.
The study noted that the most important factor in determining a destination's attractiveness to a prospective Muslim traveler is the availability of Muslim-friendly accommodation that also provides easy access to halal food and beverages.
"I saw there was high interest in the halal tourism market," said Karima Bihaki, the London-based entrepreneur who launched Book Halal Homes in January 2016, said. Like Muzbnb, Book Halal Homes allows traveleres to book short term rentals primarily caters to a Muslim user base.
Bihaki added that apart from the growing tourism interest, some travelers may feel more safe on platforms that cater toward Muslims.
"Islamophobia also plays a role," she said, noting that hosts on these platforms may be more accommodating when guests wear headscarves or request for privacy while using the swimming pool and certain other areas of the property.
What Muzbnb does for me as a consumer, it gets rid of a lot of problems. It allows us Muslims to enter the shared living space area in a more Islamic way.
Both Bihaki and Shakuur note that their platforms aren't only for Muslims and that some of their users are non-Muslims.
"The main point of Muzbnb is to be welcoming to everyone but also have everyone be welcoming and non-discriminatory toward people of faith," Shakuur said. "But obviously we want to cater to this group that has been blatantly bigoted on Airbnb."
Shakuur and his team plan to expand their platform to add more amenities, including more homes from countries with large populations of Muslims and providing historical and religious tours.
For Waseem, the pharmacist, supporting platforms like Muzbnb, which are owned and run by Muslims, is particularly important to promote self-reliance and collaboration within the Muslim community.
"People shy away from being hospitable to travelers," Waseem said, referencing the larger cultural impact he believes Muzbnb can have. "It uses tech to overcome those walls that have been erected in a much respectful way."
Follow NBC Asian America on Facebook, Twitter, Instagram and Tumblr.