The treasured 'ahuʻula (feathered cloak) and mahiole (feathered helmet) of high chief Kalani'ōpu'u have returned to Hawai'i after 237 years. They will be exhibited together in Hawai'i for the first time Saturday at the Bernice Pauahi Bishop Museum in Honolulu as part of an exhibit titled "He Nae Ākea: Bound Together."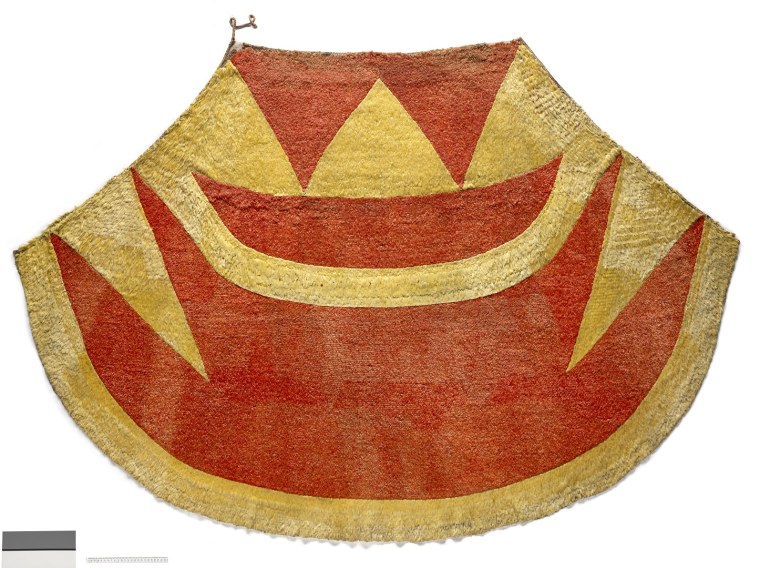 Kalani'ōpu'u was the chief of the island of Hawaii in 1779 when English explorer Capt. James Cook landed at Kealakekua Bay during the Makahiki festival. Cook was the first European to make contact with the Hawaiian people. In a gesture of good will, Kalani'ōpu'u gave the feathered cloak and helmet that he was wearing to Cook.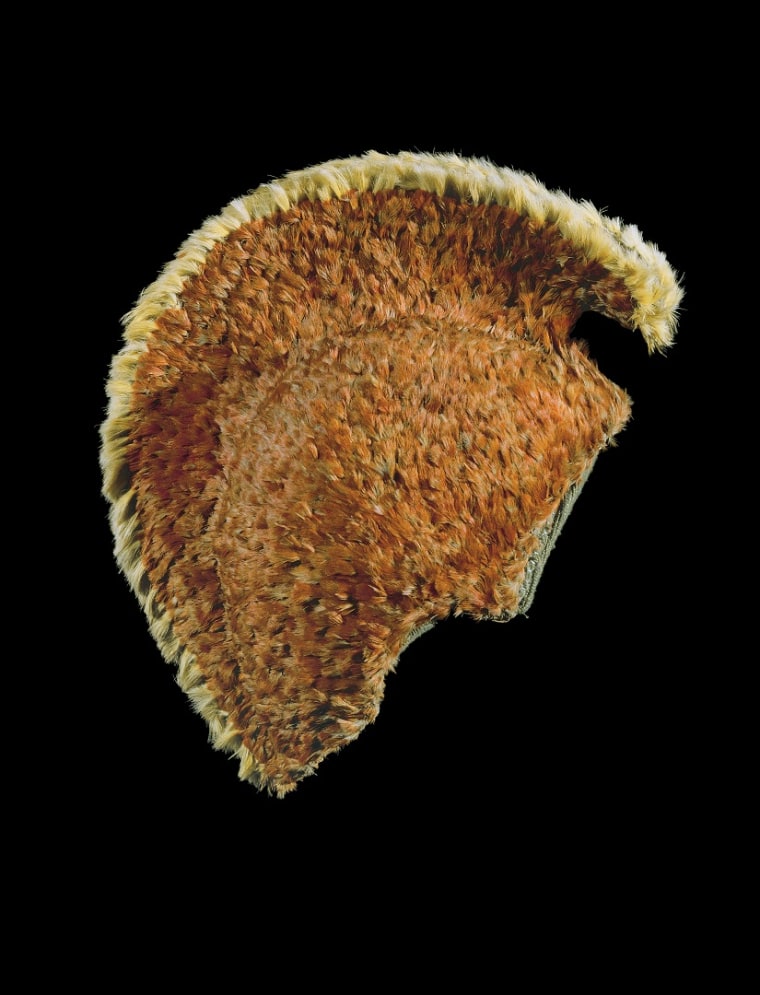 "The ʻahuʻula and mahiole left their homeland at the end of the season of Lono in 1779 and the memory they hold in their very fiber is that of a healthy, abundant, sovereign society," Mehanaokalā Hind, director of community engagement at the Office of Hawaiian Affairs and a lineal descendant of Kalani'ōpu'u, said in a statement. "They will be returning home to the Hawaiian archipelago in that same season of the year 237 years later, at a time when Native Hawaiians are making strides in the health and well-being of our people. They will serve as a physical reminder to help guide Native Hawaiians in their pursuit of a thriving society."
The feathered cloak and helmet were made with the feathers of an estimated 20,000 birds caught by skilled trappers and released unharmed after only a few feathers were plucked, according to the Bishop Museum. The red triangles on the cloak form a sacred, protective design, and the predominance of yellow shows the political power of Kalani'ōpu'u.
RELATED: Native Hawaiian Graduates Wearing Nothing but Cultural Pride
After Cook was killed on a subsequent visit to Hawai'i, the feathered cloak and helmet went to England with his ship. They were held by various museum owners and collectors and were eventually donated to Dominion Museum in New Zealand, which later became the Museum of New Zealand Te Papa Tongarewa. They will be on extended loan in Hawai'i for at least ten years.
"These priceless treasures have so much to tell us about our shared Pacific history. We are honored to be able to return them home, to reconnect them with their land and their people," Arapata Hakiwai, Kaihautū (Māori co-leader) of the Museum of New Zealand Te Papa Tongarewa, said in a statement. "Woven into these taonga [treasures] is the story of our Pacific history, with all its beauty, challenges and complexity."
Follow NBC Asian America on Facebook, Twitter, Instagram, and Tumblr.