SALEM, Ore. — A man who was adopted as a 3-year-old from South Korea almost four decades ago and flown to America is in detention awaiting deportation because of "the severity of his criminal history," U.S. Immigration and Customs Enforcement said on Monday.
Adam Crapser was ordered deported last week back to a country that is completely alien to him. No one sought U.S. citizenship for him as he grew up in America, abandoned by one adoptive family, thrown into the foster care system and winding up with abusive parents. The lack of citizenship made him liable for deportation, especially after he built a criminal record.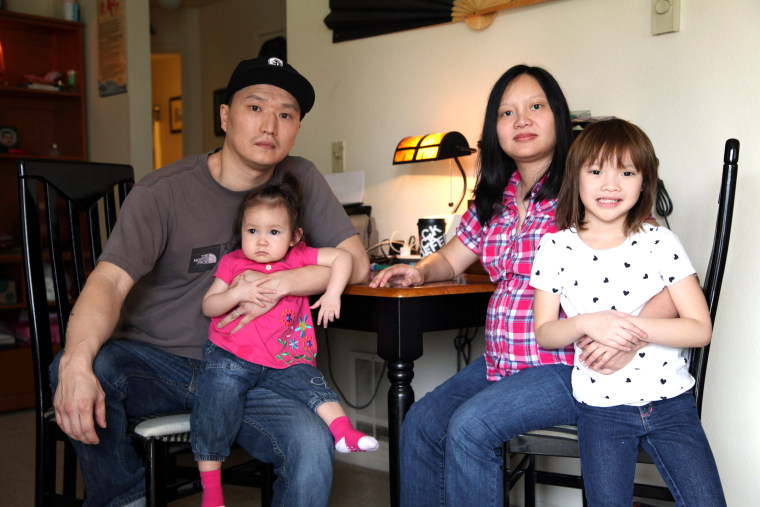 ICE prioritizes immigration enforcement resources "on individuals who pose a threat to national security, public safety, and border security," Rose M. Richeson, spokeswoman for ICE's Seattle field office, said in a statement.
RELATED: Bill That Could Save Adoptees Without Citizenship Waits in Congress
Richeson cited Adam Crapser's criminal history, including convictions for assault and being a felon in possession of a weapon. Crapser's immigration attorney said Monday that her client's 1994 burglary offense — which served as a predicate for the "felon in possession" conviction — was for breaking back into the home of his criminally abusive second set of parents to retrieve two things that had come with him from the Korean orphanage.
Crapser has untreated post-traumatic stress disorder "from the trauma and abuse he suffered as a child," said attorney Lori Walls.
"Mr. Crapser served his time for his offenses," Walls said in an email to The Associated Press. "Mr. Crapser was eligible for and deserved another chance."
The decision by a federal immigration judge last week not to give Crapser a reprieve for deportation was a big blow to his supporters, including some Korean Americans, several of whom were also adopted as babies or children.
Crapser decided not to appeal because the conditions in the immigration detention center in Tacoma, Washington, where is has been locked up since February, are so bad, his supporters say.
Richeson said Crapser was arrested by ICE on Feb. 8 after serving a 60-day sentence for menacing and attempted coercion. Walls said those crimes resulted from Crapser "spending 25 months incarcerated with untreated PTSD."
RELATED: Adoptee Adam Crapser Denied Relief, Expected To Be Deported
His immigration woes mirror those of thousands of others. The National Korean American Service & Education Consortium says an estimated 35,000 intercountry adoptees lack U. S. citizenship. It is backing legislation in Congress to address that issue.
Seven years after Crapser and his older sister were adopted, their parents abandoned them. The foster care system separated Crapser when he was 10 from his sister. He was housed at several foster and group homes. When Crapser was 12, he moved in with Thomas and Dolly Crapser, their biological son, two other adoptees and several foster children.
There, he was physically abused, Crapser has said. In 1991, the couple was arrested on charges including physical child abuse.
Federal immigration officials say they became aware of Crapser after he applied for a green card for permanent residency.
Follow NBC Asian America on Facebook, Twitter, Instagram, and Tumblr.