The U.S. Attorney's Office has informed the legal of team of Xiaoxing Xi, the Temple University physics professor who was charged with espionage only to have those charges dropped after his lawyers gave investigators an informational presentation, that they will not be refiling charges, according to a report by the Philadelphia Inquirer confirmed by NBC News.
"The U.S. Attorney's Office has notified Professor [Xiaoxing] Xi's defense team that there will be no new charges and that the government will return his seized property," Michael A. Schwartz, one of Xi's lawyers, told the newspaper.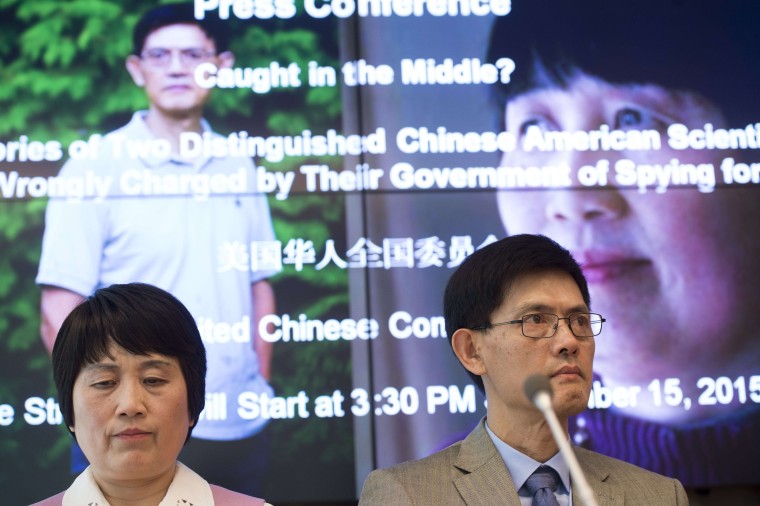 The U.S. Attorney's Office for the Eastern District of Pennsylvania confirmed to NBC News that they will not be refiling charges but declined further comment on the case. Peter Zeidenberg, one of Xi's lawyers, told NBC News that Xi had no comment.
RELATED: Professor Says He's Grateful Feds Dropped China Secrets Case
Xi, who was the interim chair of the Temple University physics department before the charges and stepped down during the investigation, was accused last May of sending sensitive information to China. His charges were dropped in September after Zeidenberg gave prosecutors a presentation that he said featured testimony from world-renowned physicists and experts who looked at the emails between Xi and contacts in China and explained that Xi was involved in a scientific pursuit that had a very narrow commercial application and did not involve restricted technology.
RELATED: Members of Congress to Meet With Attorney General Over Scientists' Espionage Charges
The U.S. Attorney's Office had dropped the charges without prejudice, meaning they could refile them in the future pending further investigation.
"At the right time, I will tell my side of the story," Xi said after his charges were dropped. "Not just to clear my name and repair my reputation, but to do my part in making sure that no American citizen, regardless of where he or she was born, should have to be put through the ordeal that I have gone through."
Follow NBC Asian America on Facebook, Twitter, Instagram, and Tumblr.