Parul Das remembers the struggle that two of her pregnant friends encountered when they were asked to be bridesmaids at a South Asian wedding in 2011. As her friends got ready in their saris, Das noticed some of the limitations that traditional saris presented for them — from a lack of comfort to difficult styles to maneuver.
"We still want to look like we are wearing an ethnic garment, but with the comfort and ease that allows us to breathe," said the 37-year-old mother of two and creator of Janam Maternity Saris & Beyond.
If the concept for a sari maternity line hadn't been created yet, the "mompreneur" and attorney decided she wanted to do it herself. Before launching Janam in November 2017, Das said she had searched websites for years to see if there was a similar concept, but couldn't find anything. When she was pregnant with her first child in 2013, she took sewing lessons so she could work on a prototype for maternity wear. The following year, she left her job at a law firm to focus full-time on her idea for a retail line.
As more of her pregnant friends attended South Asian festivities, she began researching the types of clothing and designs that could best suit the needs of many.
"What I saw the most was that, while people were pregnant, they were confined to wearing the high-waisted Anarkali gown," Das said, referring to a type of floor-length dress. She added that designers have custom-made Anarkali gowns for years, but the diversity of options are still limited.
"If you look at western maternity clothes, you'll notice they will hug [the] body. …These gowns, they just flow out after the bump and it's not as flattering as the sari would be," she said.
Das also heard of women having to go to their hotel rooms or changing stations during South Asian wedding festivities in order to take off their entire Anarkali gown to nurse their child. To address this issue, she created a versatile line with stretch panel options and nursing apparel to go with the maternity sari that maintained the look of a sari blouse.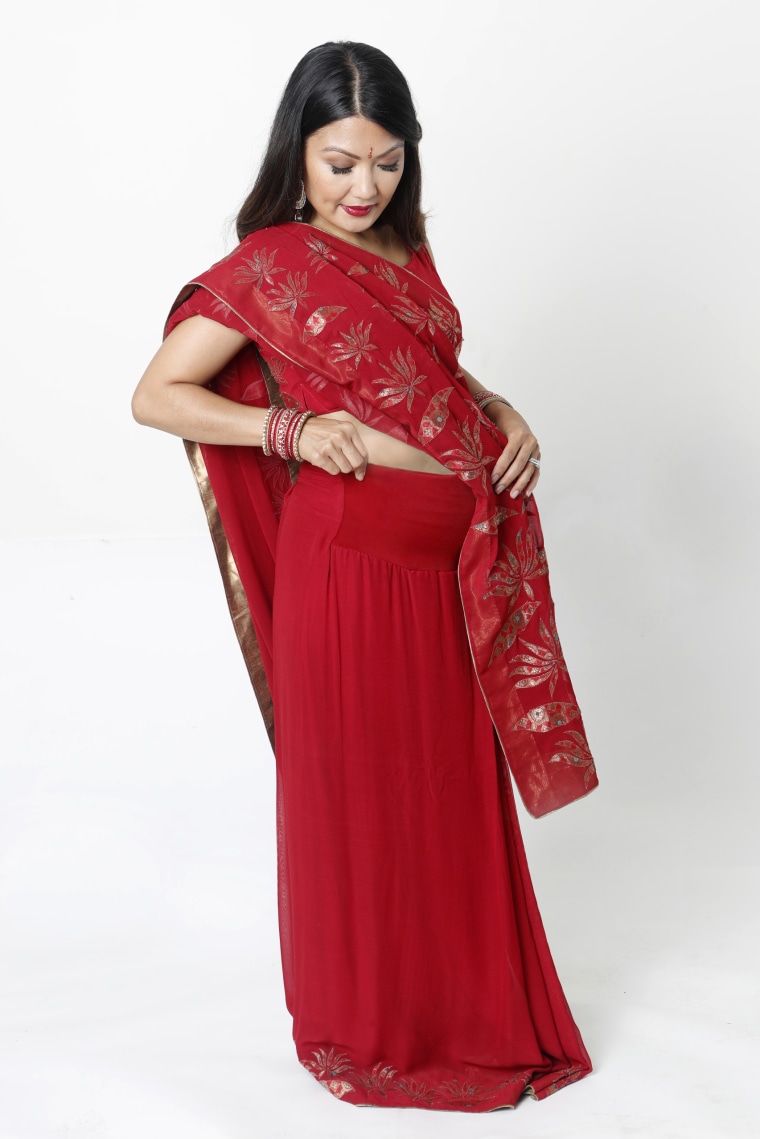 According to a 2017 Nielsen report, Das, who lives in Dallas, Texas, and her friends aren't alone in searching for ways to fully embrace their ethnic background in all aspects of their lives. The report found that, with 67 percent agreeing their cultural heritage is an important part of their identity, Asian-American women are "leading the way in exploring and defining ambicultural lifestyles, defined as effortless duality in being 100% American and 100% of one's root culture."
When she was pregnant, blogger Nisha Vedi Pawar looked for other South Asian American mothers to see how they were planning on teaching culture and language to their children, but couldn't find many resources and tools at the time.
After the birth of her daughter, Pawar re-focused her blog to incorporate stories about Indian-American culture and some of her own traditions and journey raising her daughter. Pawar was also careful to uphold and balance old traditions and creating new traditions without sacrificing her sense of individuality.
She created new family traditions like watercolor Rakhi hands, Rainbow Diwali diyas, Holi sugar cookies, and a "Diwali" countdown by packaging a box of mithai with her daughter, and making sure she was rooted in both her "desi" and American identities.
We still want to look like we are wearing an ethnic garment, but with the comfort and ease that allows us to breathe.
"It was very important for me to be able to teach my daughter the things that I grew up learning, or the things I grew up seeing: the importance of Diwali, the importance of lighting a diya every morning, the importance of saying Namaste to elders," Pawar said.
But there were also times when she and her in-laws would clash over certain Hindu rituals and traditions that had been passed down from generations. For instance, Pawar chose not to shave her child's head for a Hindu tradition known as Mundan ceremony. Instead, she came to a compromise with her in-laws and agreed to cut a few strands of her daughter's hair and do a puja instead of fully shaving her daughter's head.
"It's hard to convince parents. Sometimes they believe in rituals because they have been doing it for years," Pawar said. "We are a generation of 'whys.' I feel like if I know the reason behind something, I will do it 110 percent, but if I don't know the reason, I find it very hard to go ahead and blindly do it."
Pawar believes the newer generation of South Asian entrepreneurs, particularly those who were raised or born in the U.S., are coming out with more tools to help young mothers who are also looking for the kinds of resources she searched for as a new parent. "I think a big reason is because those tools weren't available to us growing up," she said.
For Das, the future of Janam depends on the online and social media community spreading the word about the maternity sari options she provides out there — options that women should know about.
"When I asked designers if they would be willing to offer a maternity sari, they would look at me and kind of be confused. Often, [their] response was, 'Well, why would I make that if no one has ever asked me for it?' To me, that was sort of counterintuitive because if it doesn't exist, how can someone ask for it? If they didn't know back in 1993 someone would ask for a phone that you can touch and make do things, people would look at you crazy because smartphones were years away," Das said. "Until you know it exists, how can someone ask for it?"
Follow NBC Asian America on Facebook, Twitter, Instagram and Tumblr.