With only two states left, Yana Gilbuena - founder of The Salo Project - has nearly reached her goal of bringing Filipino food to all fifty states in fifty weeks in the form of pop-up dinners.
"It started out as a hobby that consumed me," said Gilbuena, who describes herself as an underground gypsy Pinay chef. "This is my passion, my life's work, my life. This is my way of sharing my culture through food and also giving back to my country and community."
After Typhoon Haiyan devastated the Philippines in November 2013, Gilbuena wanted to help, so she sold all her possessions, gave up her apartment, and began travelling across the country by train and bus with only a backpack and her knives. She decided to raise money to rebuild a school and help the devastated communities the only way she knew—by feeding people.
The Salo Project's name is derived from the Tagalog word, salu-salo, which means big party or gathering. Pronounced a little differently, salo can also mean to catch. So Gilbuena plays with these two ideas, to catch and to gather, as she gathers people together for amazing Filipino feasts that go well beyond adobo and lumpia, cooked in borrowed kitchens and sourced with local and seasonal ingredients. One Salo dinner raises enough money to feed fifteen students lunch for one school year.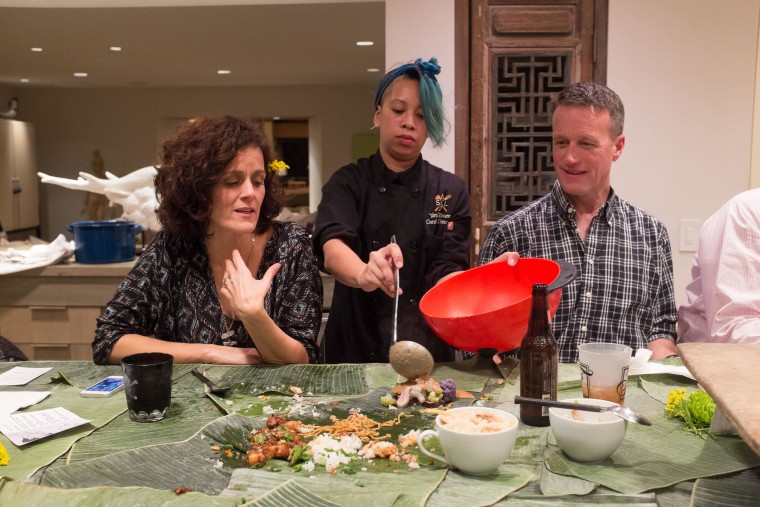 Gilbuena presents the food kamayan style, which means to eat with one's hands. She covers the table with banana leaves, and serves the food directly on the leaves in the center of the table. Eating this way, she says, allows guests to experience the food with all their senses and to come closer to one another.
Gilbuena has been documenting her food journey, and the challenges that come with sourcing elements for Filipino cuisine in places like Anchorage, Alaska and Red Lodge, Montana. The last two states she has to tackle are California and Hawaii.
"I'm glad the Filipino food movement is spreading," said Gilbuena about how her project fits into the wider trend of Filipino pop-ups. "Because there's a lot in Filipino cuisine to explore. We have 7,107 islands and each island has its own regional flavors, plus the influences from our part history of trading and colonialism – Chinese, Indian, Malaysian, Spanish, even American."
"My hope is that Filipino food will not be just a trend, but a staple in the culinary world."