As two dozen members of the Sikh Motorcycle Club returned to a community center in Surrey, British Columbia, wearing yellow turbans and patches emblazoned with the club name and red maple leaves last week, family, friends, and other members of the club met them with teary eyes. The two dozen had been gone for much longer than one of their typical leisurely trips: They had spent two weeks on the road raising money for pediatric cancer. By the time they returned, they had raised over $75,000.
"It was like a military mission," Charanjit Brar, one of the members who had participated in the ride, told NBC News. "Because there was no turning back, you don't quit."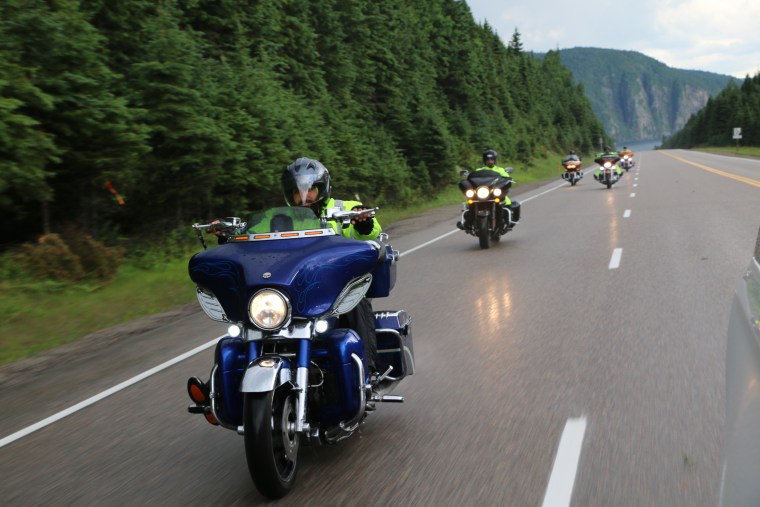 The group had experienced the perils of Canada's most difficult landscapes, along with extreme weather patterns ranging from hail to tornadoes in certain parts of the country, they said. They would check into motels as late as 2 a.m. on some days, only to wake up at the crack of dawn to continue riding to their next destination. It was an exhausting journey, but members said what sustained them was the kindness of the communities and the Canadian people.
At a gathering at a doughnut shop a few days later, some of the members went over what they had experienced: A French Canadian in Montreal invited the group to a barbecue, even preparing a special Indian coke as a treat; a group of senior citizens in Toronto gathered $600 dollars to donate to the cause; a local politician in Winnipeg who escorted the group across the city on her own bike and joined them in a visit to a Sikh temple; a hotel owner in Medicine Hat who freed up 80 rooms for everyone to sleep in.
"We had a lot of unplanned stops because people wanted to donate," Jatinder Chohan, one of the riders, told NBC News. "We were behind schedule, but we had to stop."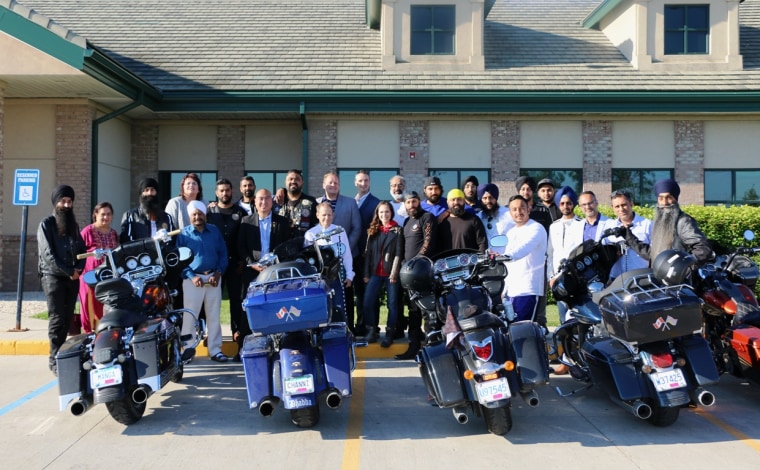 Each stop was meaningful to the group because the ride also bought different communities together, they said.
"People used to give us the middle finger...But now, 99 percent of the people wave at us instead. That one finger is now joined with four other fingers in a wave."
"We wanted to be recognized — we as in the Sikh community," another member, Charnjit Dhadda, told NBC News. "And tell other communities that we're also proud Canadians. We love our country just as much as anyone else. We wanted to give back — and also change their view of bikers."
Those are the notions the Sikh Motorcycle Club was built upon 14 years ago. In 1997, Avtar Singh Dhillon, one of the club founders, began a battle with the British Columbian government arguing that it was a human right for people of the Sikh religion to be able to wear turbans instead of helmets. That right was granted to the community two years later.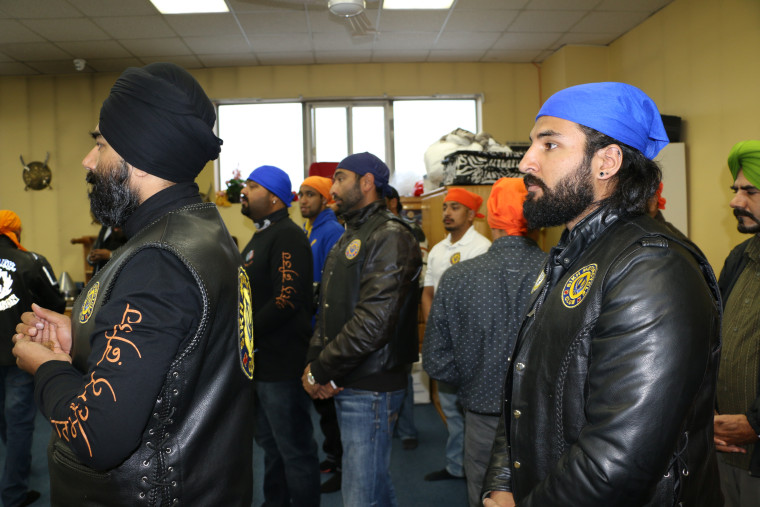 "Lots of us weren't riding until then because we couldn't wear turbans with the helmets," said Azad Sidhu, one of the original members. "A couple of bike enthusiasts got together and opened up a club."
That club grew substantially over the years, now with 120 active members, they said. The group aimed to educate the public about Sikhs and turbans, and emphasizes motorcycle safety among members.
"People saw us as aliens," Sidhu said. "It took us a long time — it's been 100 years for Sikhs in Canada. People used to give us the middle finger and yell out the window — 'where's your f—king helmet'. But now, 99 percent of the people wave at us instead. That one finger is now joined with four other fingers in a wave."
RELATED: Sikh-American Army Officer Wins Ability to Serve With Beard, Turban
Members say the general public's attitude has changed after efforts to engage with others in their community. The club regularly participates in community events, such as Canada Day Parades, the British Columbia 9-11 Memorial Ride, and Surrey's annual Vaisakhi Day Parade, they said. Their popularity has grown, and has even inspired riders around the globe. Similar Sikh motorcycle clubs have popped up in the U.S., Australia, New Zealand, the U.K. and even India, most of them with ties to the original club in Surrey.
However, the uphill battle is not yet over for the Sikh community. Out of the 10 provinces and three territories in Canada, British Columbia and Manitoba are the only ones that have enacted legislation that allows turbans to be worn in the place of safety helmets. Throughout the trip, members of the club had to rotate between turban and helmet wearers depending on the province they were travelling in, they said. They took turns riding in the two SUVs that accompanied the journey.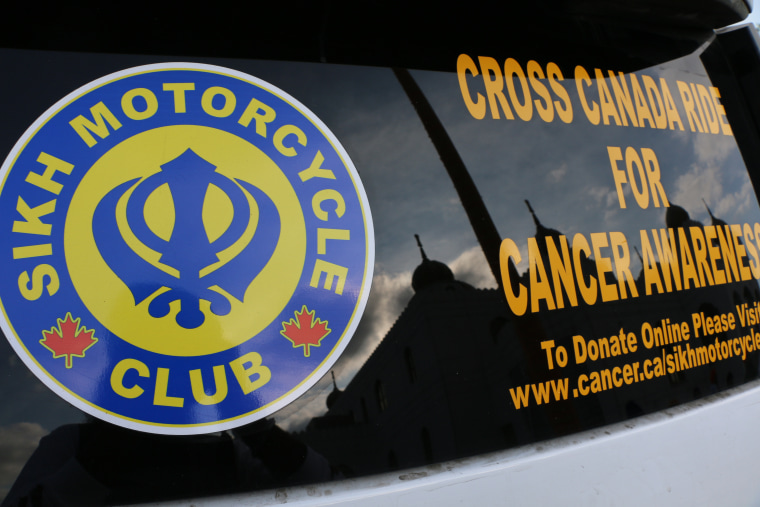 "Ontario riders are fighting for it," said Gurpreet Tung, referring to the legislation. He's one of the riders who wear turbans. "It's a religious article of faith for us."
But the roughly 7,500-mile trip they just completed was not about race or religion. The members chose the Canadian Cancer Society as their charity of choice because they believed in giving back to the community as a whole.
"As Canadians we're very aware of our rights, but somewhere we forget our duties," Sidhu said. "This was us performing a duty. We're proud as a group that we did something for humanity."
Follow NBC Asian America on Facebook, Twitter, Instagram, and Tumblr.