A woman from the Philippines is suing a California couple who allegedly lured her into coming to the United States with promises of a well-paying job and a green card — only to force her into involuntary servitude for nearly three years.
The nonprofit Asian Americans Advancing Justice-Los Angeles (Advancing Justice-LA) and Jenner & Block LLP filed the lawsuit on Dec. 19 in federal court in California on behalf of Edelynne Bergado.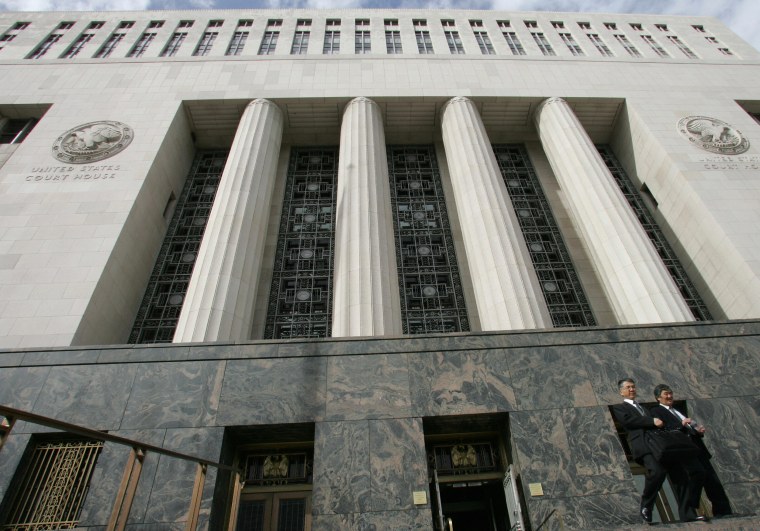 Bergado was employed by the Velonza family in the Philippines, working in a cosmetics factory, and was also tasked with looking after Marlon Velonza's mother, Felisa, court papers allege.
The complaint accuses Marlon Velonza and his wife, Nelle-Ann, of Los Angeles, of inducing Bergado to come to the U.S. by promising to triple her salary if she accompanied Felisa Velonza over in 2014 and served as her caregiver.
Once Bergado arrived in April of that year, Marlon Velonza allegedly confiscated her passport, the lawsuit said.
What followed was an almost three-year ordeal that involved Bergado doing house work for the Velonzas, who allegedly withheld most of her wages, according to the complaint.
She was monitored through closed-circuit television, endured verbal abuse and confinement, and was used as a "guinea pig" to test skin products made from household cleaners for a business run from the Velonzas' apartment, court papers allege.
"We have seen that many Filipinos in the United States endure human trafficking, deceptive recruitment practices and other forms of labor exploitation," Christopher Lapinig, registered legal services attorney at Advancing Justice-LA, said in a statement. "It is encouraging when, after escaping their traffickers, survivors like Edelynne stand up and seek justice."
Voicemails left at a number linked to an address for Marlon and Nelle-Ann Velonza and an email sent to Marlon Velonza were not returned.
Josephine Cadaoas, Nelle-Ann Velonza's sister who is also named as a defendant, did not respond to phone messages left at her dental practice. But her husband, Herbert Cadaoas, reached at the Cadaoas' home, said he doesn't believe the charges in the lawsuit.
"They are religious people," he said of the Velonzas, "and I don't think they have an intention to cause harm."
Herbert Cadaoas added he believes the Velonzas themselves are the victims, saying that Bergado, according to the lawsuit, is applying for a T-visa, reserved for certain victims of human trafficking.
"She probably saw an opportunity, so she made a lot of false accusations with the defendants," Herbert Cadaoas said.
The eldest of nine children, Bergado was sent to live with her grandmother as a baby and went to work at the age of 10, dropping out of high school during her third year to support her family, the lawsuit said.
Through a relative, the then 25-year-old was offered a job in 2013 working at a cosmetics factory in the Philippines owned by the Velonza family, according to the lawsuit.
In addition to her factory duties, Bergado was paid 3,000 Philippine pesosa month — roughly $59 — to take care of Felisa Velonza.
After working for the Velonzas for only several months, Bergado was put in contact with Marlon Velonza. He allegedly told Bergado that his mother was coming to visit him in California and that he wanted Bergado to come as her caretaker, the lawsuit said.
Besides tripling Bergado's salary, Marlon Velonza agreed to assist with her children's' college tuition, court papers allege. The Velonzas also said they'd help get her a green card if she worked for them in the United States for at least a year.
Her agreement, which promised wages, said Bergado was to "accompany and to be a caregiver to Felisa Velonza from March 29, 2014 to September 29, 2014," the lawsuit maintains.
For the first month after arriving in Los Angeles, Bergado worked every day in this capacity, starting as early as 5:30 a.m. and sometimes ending as late as 9 p.m., court papers contends. After the month was up, Felisa Velonza returned to the Philippines, the suit said, but the Velonzas allegedly told Bergado they were not sending her back.
Instead, she was put to work cooking and cleaning for the Velonzas, their two adult children and other family members, the lawsuit alleges.
She was also allegedly forced to work at Etta's International Cosmetics, a skin bleaching and facial business operated out of the Velonzas' apartment, court papers said.
Skin products, some she was told to make out of household cleaners, were tested on Bergado, sometimes causing irritations and painful burning, the suit alleges.
During her first three months in the U.S., the Velonzas paid Bergado around $200, the lawsuit suit said. "After that, they refused to pay her at all," the complaint states. "Though they sent money to Edelynne's mother in the Philippines each month, they told Edelynne that they would hold onto her half of her salary because she had no need for the money."
On at least 10 separate occasions, Bergado had asked for her passport back, but Marlon Velonza refused, the lawsuit alleges.
Bergado's ordeal came to an end on Jan. 12, 2017, when police responded to a 911 call for a kidnapping at the Velonzas home, court documents said.
Details of the 911 call were not immediately clear. The Los Angeles Police Department, in an email, said it does not comment on pending litigation.
The Los Angeles County District Attorney's Office, asked to confirm the 911 call, advised in an email to contact the investigating agency.
The lawsuit alleges violations of the federal Trafficking Victims Protection Act, the federal Fair Labor Standards Act, the California Trafficking Victims Protection Act and the California Labor Code, in addition to other violations of the law.
It asks for unspecified damages as well as attorneys' costs and fees.
Also named as defendants are Etta's International Cosmetics; Josephine Cadaoas, Nelle-Ann Velonza's sister; and Nelson Dominguiano Orqueza, Nelle-Ann Velonza's brother.
Efforts to reach Orqueza were not immediately successful.
Herbert Cadaoas said they were planning to file a motion to dismiss the lawsuit. His wife, a dentist, is named in the complaint, which alleges Bergado had to work for Josephine Cadaoas to pay off a $2,800 debt she owed for dental work.
Follow NBC Asian America on Facebook, Twitter, Instagram and Tumblr.