MANILA, Philippines — A fleet of bicycles zips along a neighborhood of cobblestone streets in this congested capital, drawing stares from people unaccustomed to seeing a bike tour attraction.
But it's not only the use of pedal power in a city notorious for its traffic that has heads spinning.
"Bamboo!" one pedestrian howled as the caravan of mostly foreign tourists crisscrossed before him.
The frames of the bikes are made out of the tubular material, which grows in towering green thickets far outside urban Manila. Exploiting the abundant and natural resource, then turning it into a blooming business, was the brainchild of Filipino American Bryan Benitez McClelland.
The 32-year-old Connecticut native introduced his line of bamboo bicycles — Bambike — nearly six years ago with $20,000 in seed money.
After launching his ecological bike tours in 2014 within the walled and historic section of Manila, McClelland is now setting his sights on promoting Bambike abroad this year, including in the United States and Europe.
It would be a full-circle journey he never anticipated when he came to the Philippines — his mother's homeland — after graduate school at the University of Pennsylvania.
But something meaningful was beckoning him to this Southeast Asian nation where he could barely speak the language.
"I thought I would just be there for six months," McClelland told NBC News. "But I realized that I could have a bigger impact on society if I stayed."
Planting an Idea
McClelland had often traveled to the Philippines growing up, but decided to extend his trip in 2007, just as the U.S. economy sputtered and employment opportunities at home grew dim.
With his master's thesis focusing on sustainable development in impoverished communities, McClelland hooked up with a group called Gawad Kalinga (meaning "to give care"), which seeks to empower Filipinos out of poverty.
He was already familiar with a bamboo bike building project in Africa, and thought something like that could translate in the bamboo-bountiful islands of the Philippines.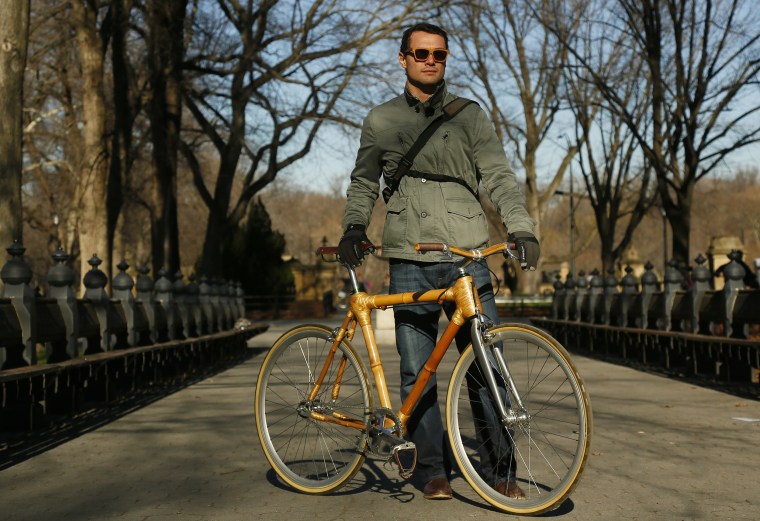 McClelland, who had hoped to start a green building program, spent nearly two years trying to map out the assembling of such a bike. He knew nothing about bamboo, much less where to get it and how to transform it into a usable bike frame.
But in 2009, his plan got a kick-start when he had a bamboo bike builder from Africa come to the Philippines to advise him and two others from Gawad Kalinga in design.
Even then, it was trial and error: They had to determine which of the varieties of local bamboo would be best sourced for the two-wheel technology, how long to grow and treat the bamboo for, and where it could even be harvested in large amounts.
"I thought I would just be there for six months. But I realized that I could have a bigger impact on society if I stayed."
Then, there was overcoming the stigma of bamboo in a country where the resource abounds but isn't considered as desirable as traditional wood.
"It's the poor man's timber," McClelland said. "But if you use it in a certain way, it's about taking pride in a Philippine product."
Personally, for McClelland, his time spent in his adopted country brought him closer to his roots. His language skills strengthened, and he became a dual U.S.-Philippine citizen.
"My mom was very proud that I went back and wanted to do something good," he added.
All About Bamboo
McClelland became entrenched in the world of bamboo. He realized it took just three to five years for poles to mature — a lightning pace compared to other trees.
Bamboo is also considered eco-friendly, releasing more oxygen and absorbing more carbon dioxide than other plants.
The material also has a strength similar to steel and rides sturdy on the roads, McClelland said.
"What it does is it absorbs the road chatter and the road buzz," he said. "The whole frame kind of just eats it up."
After perfecting the building of a bike frame, McClelland launched his own business, employing members from Gawad Kalinga who learned how to manipulate the material into various sizes.
Eventually, he graduated from selling bikes out of his garage to an actual storefront in Intramuros, the "walled city" of Manila that was once home to the Spanish colonial government in the 16th century.
Today he has about 15 employees, and they polish off 30 frames a month. A complete bike, including the wheels, can cost about $1,700 — not inexpensive, but McClelland sees his prime customers as the middle- and upper-class market, as well as the export business.
In 2011, the enterprise got a huge boost when the Philippine ambassador presented President Barack Obama with a Bambike as a gift.
The tours around Intramuros, meanwhile, have become a successful offshoot, with riders not only getting a lesson in Philippine history, but a chance to see the bamboo bikes in action.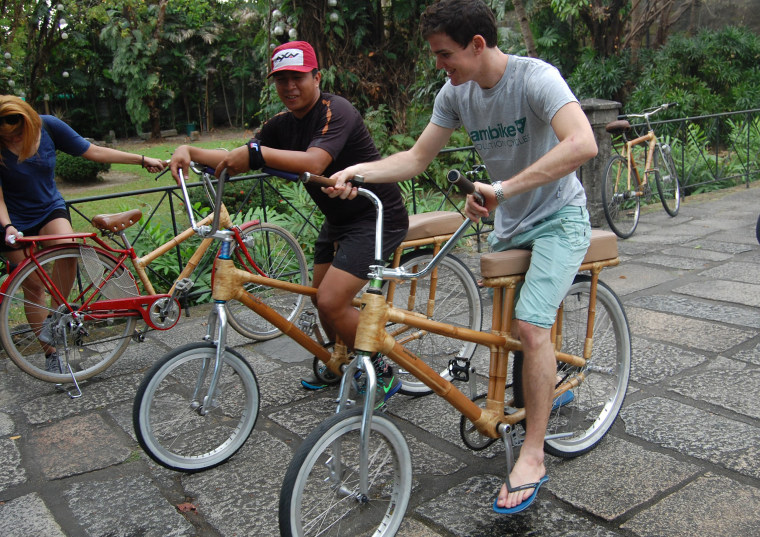 Rey Ballesca, Bambike's tourism manager, guided several people on a recent excursion, helping them navigate amid the pedicabs and horse-drawn carriages that clog the dusty and disorienting streets.
Bambike set up a partnership with the local chamber to help promote the tours as a destination activity. The old Spanish forts and palm tree-packed parks are highlighted.
"People in the Philippines prefer to go to the malls, but since we have the Bambike, this is giving them a chance to be interactive," Ballesca said.
"It's the poor man's timber. But if you use it in a certain way, it's about taking pride in a Philippine product."
McClelland hopes to expand his company — Bamb Ecological Technology Inc. — beyond just bikes, with housing, flooring and construction of bamboo products still another phase of green building not yet the norm in the Philippines.
But that will require him staying abroad longer. During a recent visit home to the U.S., he acknowledged that the surge in startups by foreigners coming to the Philippines has taken off.
"A lot of [Filipino-American] kids are going back because they see the opportunity. It's something that wasn't there with the economy before," he said.
"For the immediate future," he added, "the Philippines is my home."
Follow NBC Asian America on Facebook, Twitter, Instagram, and Tumblr.