In a restaurant-turned-karaoke bar at night in the South San Francisco/Daly City area of Northern California, Filipino Americans gathered to talk politics — only this time, the arguments had nothing to do with Donald Trump.
At a public forum hosted by the Philippine American Press Club of California, located among one of the largest Filipino-American communities in the nation, the topic of the April 16 event was politics in the Philippines as the country prepares for its 16th presidential election on Monday.
Adnan Alonto, a paralegal for a Silicon Valley software company was defending Rodrigo Duterte, the "say anything" seven-term mayor of Davao City in Mindanao, running for president.
"A lot of my relatives are back home, a lot of my major concerns are back home," Alonto, an official member of the Duterte campaign in the U.S., told NBC News. "So I care about what's going on back there and that's driving me to be really passionate about these elections."
But Duterte's "say anything" approach, which has drawn comparisons to Trump, has been seen as bringing about order, but without the rule of law. Ted Laguatan, a human rights attorney who has represented the interest of former Philippines President Corazon Aquino and the Philippines in the U.S., criticized Duterte's connection to what human rights groups have called "death squads."
"He's 'Dirty Harry,'" said Laguatan, who mentioned Human Rights Watch reports that have documented death squad killings of criminals and innocents in Mindanao — killings HRW says Duterte supported.
But Laguatan is also concerned about the Philippines' economy if Duterte wins. "The economy will suffer," Laguatan said at the forum.
Laguatan attended the April 16 forum to show his support for candidate Mar Roxas, a Philippine senator and the grandson of Manuel Roxas, the fifth president of the Philippines. Along with candidate Philippine Senator Grace Poe, an American-educated Filipino with dual American citizenship, Roxas and Poe represent the "political establishment" — something that the polls show the people may not be looking for as Duterte leads the race ahead of Monday's election.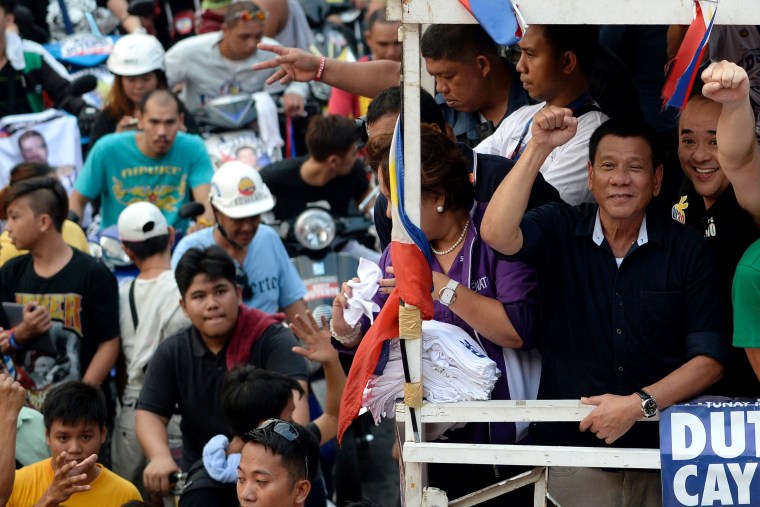 In the U.S., where the Filipino-American population is just under 4 million, about 263,316 are either dual U.S.-Philippine citizens or are in the U.S. on visas and green cards, and are eligible to vote at embassies and consulate offices, according to Jaime Ramon T. Ascalon, Deputy Consul General at the Philippine Consulate in San Francisco.
"We expect a higher turnout this year," Ascalon told NBC News. "In San Francisco alone, we registered 31,355 last year. Our target was 17,000."
The San Francisco consulate, representing eight western states, now has a total of 46,000 total registered, Ascalon said.
But even with a turnout in excess of 20 percent, the numbers may be too small to significantly impact the election.
That fledgling political clout isn't stopping the passion of 52-year-old Reynaldo "Bong" Aralar, who immigrated to the U.S. 20 years ago, and votes in both the U.S. and in the Philippines. He attended the April 16 forum in a Duterte T-shirt.
"It's now or never, we really need to effect change in the Philippines," Aralar told NBC News, calling Duterte "the best one" to run the country. "The oligarchs control all the wealth and power in the Philippines. It's time to spread that to the whole Philippines."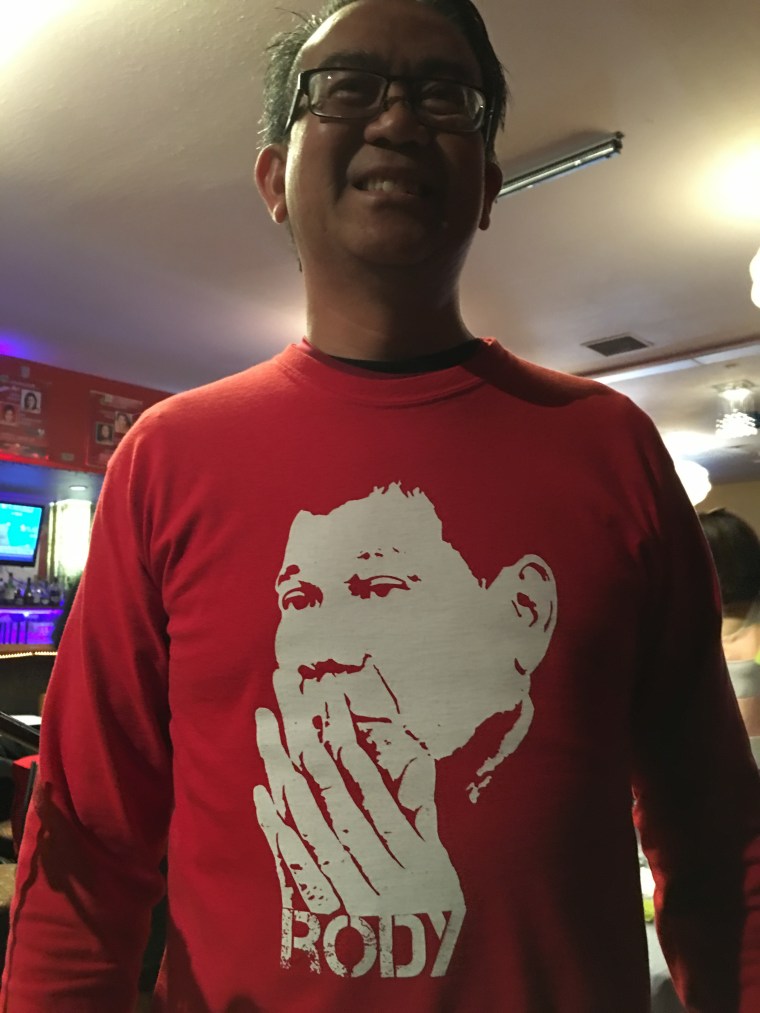 Aralar, who currently works in a county government position in San Jose, said he would be willing to go back to the Philippines to live someday, especially if Duterte wins. He doesn't believe what anyone says about Duterte's human rights violations; Aralar only believes that the old politics haven't worked for all the people.
On the other side, Loida Lewis, a Filipino-American activist for World War II veterans and for ethical governance in the Philippines, has spent time campaigning in the Philippines for Roxas. In an interview with NBC News, she said she thought Duterte was dangerous.
"Duterte has no qualms and no morals, no understanding of right and wrong as we know it, " Lewis said. "To effectively enforce his views, he has to enforce martial law. He would be worse than President [Ferdinand] Marcos, who had no respect for the rule of law."
Among other actions that led to his removal from office in 1986, Marcos, who ruled the Philippines for more than two decades, increased the country's national debt by billions and imposed martial law on his citizens.
Lewis said a Duterte victory "would be a tragedy for U.S. relations because Duterte would be persona non grata and would be denied entry [into the U.S.] due to his human rights violations."
A recent opinion poll conducted April 19-24 by Pulse Asia showed Duterte in the lead with 33 percent of the vote, followed by Roxas, with 22 percent; Poe, with 20 percent; and the remaining candidates, Vice President Jejomar Binay and Senator Miriam Santiago, trailing with 13 and 2 percent of the vote, respectively.
Follow NBC Asian America on Facebook, Twitter, Instagram, and Tumblr.