Grace Balajadia grew up not knowing much about her Filipino heritage, so she wanted to make sure her children had some kind of connection.
"My parents were and still are very, very big on assimilation," Balajadia said. "The only way I learned some Tagalog was listening to them converse with each other. They never spoke to us about the history or culture."
Born and raised in New Jersey, Balajadia in 2011 enrolled her then 5-year-old daughter in the Filipino School of New York and New Jersey. She plans to enroll her 4-year-old son in the program next year and said she has already started teaching him some basic Tagalog.
"We take time to learn about the Philippines, read children's Tagalog books, review vocabulary words," she said. "This is part of our daily routines, and my parents are now slowly starting to see how great it is for their grandchildren."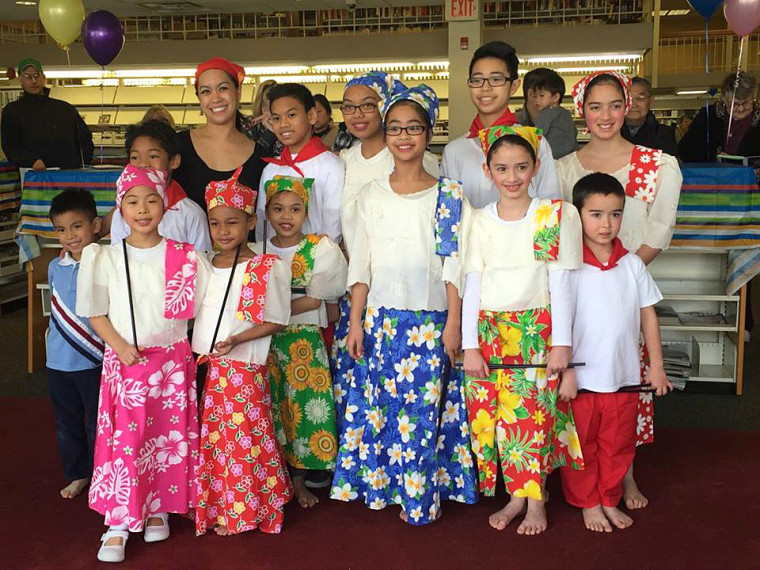 Founded in 2008, the nonprofit Filipino School of New York and New Jersey offers 10-week folk dance, language and cultural courses to school-age children with the occasional programs for adults.
The program has been beneficial, Balajadia said, and has made an impact on her daughter.
"I hope when she is older and wants to travel to the Philippines, she will go with knowledge, appreciation and understanding of where she is visiting," Balajadia said. "Showing your kids where they come from, I think, will give them a good basis on anywhere they will go in life."
According to data from the U.S. Census Bureau, Filipino Americans are the second-largest group among Asian Americans. There are approximately 129,514 Filipinos living in New Jersey and 144,436 in New York.
Venessa Manzano, executive director of the Filipino School, said she started the program because there wasn't one in the area. About 400 families have enrolled in the New York and New Jersey school in the last 10 years, Manzano said, noting that the programs are just a taste of what Philippine culture has to offer.
"Yes, we teach basic conversational Filipino, traditional Philippine folk dances," she said. "But there are many other topics that we want to bring to others' attention as well such as history, current events and social issues affecting Filipinos."
She added that the school is modeled after one in Massachusetts that she attended growing up — Iskewlahang Pilipino.
"Our kids are scattered all over so there's no community anchor so to speak," Myra Liwanag, the executive director of that school, said. "We have to create to bring our community together that doesn't necessarily rely on geography."
Colonial effects
Kevin Nadal — a psychology professor at John Jay College of Criminal Justice and Graduate Center at the City University of New York and author of "Filipino American Psychology: A Handbook of Theory, Research, and Clinical Practice" — said that while Filipino Americans make up much of the population of the U.S., many aren't familiar with Philippine culture or don't speak Tagalog. He attributes this to the history of colonialism in the Philippines and the desire of families who immigrated in the '60s to want their children to assimilate.
"There's a sense that Filipinos tend to view their colonizers as better so they might not teach their children about their indigenous languages or pre-colonial Philippines and the richness and strength of the country before it was colonized," Nadal said.
According to 2015 Census estimates, about 78 percent of Filipino Americans between the ages of 5 and 17 speak only English.
Tony Olaes said he co-founded the Filipino School in San Diego because he wanted to bridge the gap between Filipino Americans and the Philippines.
When he was younger, Olaes didn't appreciate the country and its culture, he said, and even had a negative perception about some of the people. That changed during his first trip there.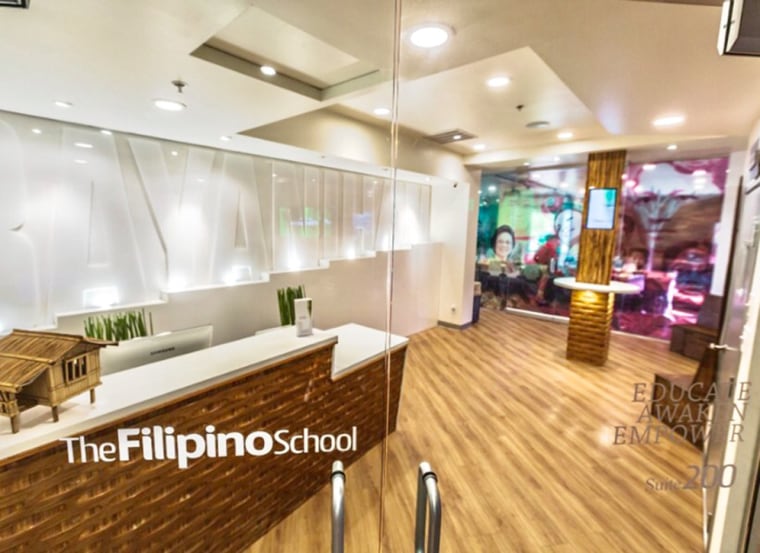 Olaes said he was initially nervous visiting some of the "squatter settlements" because he thought they would harm or steal from him, but realized how warm and welcoming they were.
"I fell in love with the country and its people," he said. "During my last trip to the Philippines, I understood my own heritage and it changed me forever. I went to the Philippines as an American, but came back as a Filipino."
Olaes added that his group hosts a "Filgrimage" every summer where they bring Filipino Americans on a tour through the Philippines.
A Connection
It was different for Paolo Roca, a former president of the Filipino Cultural School in Cerritos, California, who grew up in the Philippines and moved to the U.S. for college.
"I never really thought about what it meant to be Filipino," Roca, who was part of UCLA's Samahang Pilipino cultural club, said. "Then moving to California, seeing Filipino Americans of different generations trying to understand more of their culture and bridge that gap—I realized that I took my own connection for granted, and was inspired."
The Filipino Cultural School serves an heavily-Filipino area in southeast Los Angeles County. Filipinos make up the fourth largest ethnic group in Cerritos at 14.6 percent of the population, and many of the students who participate in the programs are multiracial.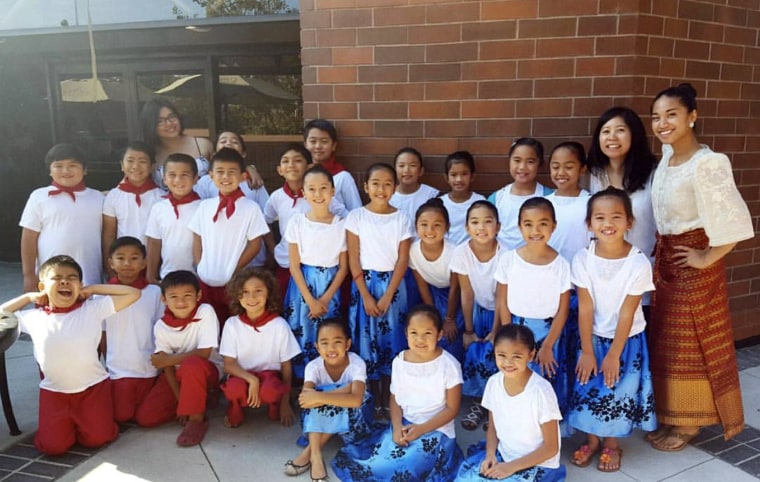 "I wanted my kids to be exposed to their Filipino side, along with going to school, because learning about my heritage and culture while in college was so important to me," said Cindy Szendzial, the school's current president. "My eldest son didn't know which box to check on the ethnicity forms at school at first. Now, seven years later, he probably knows more about being Filipino than I do."
While the Filipino Cultural School was only incorporated as a nonprofit in 2016, the program has been around in some form for more than 50 years, originating with the Sampaguita Women's Circle, a now-defunct organization of elderly immigrant teachers who wanted to keep Philippine traditions and language alive in the U.S., Roca said.
Younger students participate in games, cultural dance lessons, and hands-on activities, while middle and high school-level groups have open discussions about race, career goals, and even Philippine politics.
"We've asked the students to engage and be critical, because we don't want them to wait until they're in college to start getting involved in Filipino culture and developing that critical mind," Roca said.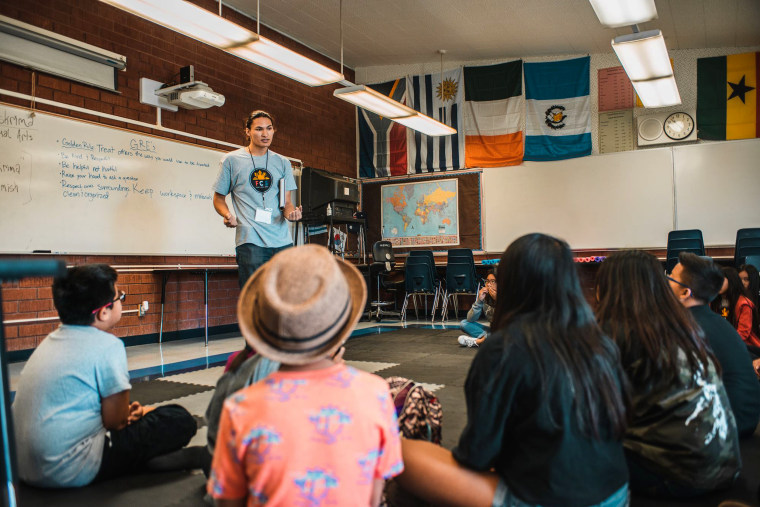 Students are also invited to join the Filipino Cultural School Dance Troupe, which performs traditional dances such as tinikling and sayaw sa bangko.
As the incoming president, Szendzial says that wanting to bridge a cultural gap for her own children has made her more involved in Filipino culture than before.
And Roca said he envisions an after-school program and community center for students, parents, and the elderly.
"What I like about all the Filipino schools, nationwide, is that we all really value preserving the culture and heritage, passing it down the generations, and being aware of what's happening currently in history that affects us as Filipinos in America, and Filipinos in the Philippines," he said.
Follow NBC Asian America on Facebook, Twitter, Instagram and Tumblr.