It's been called the "McDonald's of the Philippines," and the late Anthony Bourdain dubbed it "the wackiest, jolliest place on earth."
Jollibee, a fast food chain based in the Philippines, has become one of the world's largest restaurant franchises, with more than 4,000 stores in 23 countries, including 37 in the United States. (For comparison, McDonald's has more than 37,000 worldwide and 14,000 in the U.S.)
Known for its fried chicken, sweet spaghetti and "Aloha burger," Jollibee serves fast-food with a Filipino twist: The spaghetti, for instance, includes cheese and mini hot dogs, and the fried chicken is meant to be eaten with rice and gravy.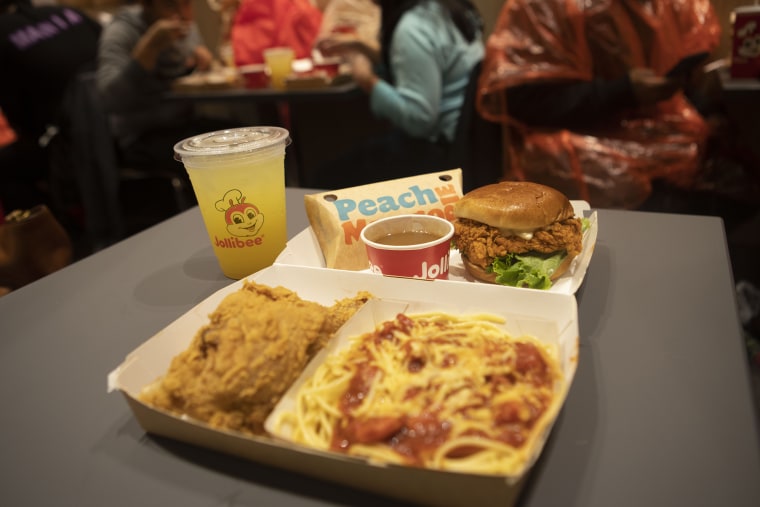 While Jollibee first came to the U.S. in 1998, opening locations in areas with large Asian populations including California, Hawaii and Illinois, the company's latest investments and openings, including one near Manhattan's Times Square, are part of a new strategy that the company hopes will make it one of the "top five restaurant companies in the world."
Incorporated in 1978, the company started as a pair of ice cream parlors before adding hot meals to its menu when McDonald's announced they were coming to the Philippines.
"We told our friends back then that we wanted to compete with McDonald's, and they told us not to confront the giant," Ernesto Tanmantiong, Jollibee's CEO and younger brother of founder Tony Tan Caktiong, told NBC News. "Instead of chickening out, we served Chickenjoy."
The company now owns 14 global brands. In February, it acquired stakes in Smashburger and fast-casual Mexican chain Tortas Frontera, both U.S.-based companies.
Arthur Dong, professor of strategy and economics at Georgetown's McDonough School of Business, said the acquisitions gives them "a bigger media footprint into the North American market, and a push into becoming one of the biggest companies in the world."
Dong added that Jollibee's success in the North American market, as well as its other overseas locations, makes a huge impact on the Philippine economy.
"Any success anywhere contributes to the company's success overall and would make Jollibee at home more successful and endure a lot more things, in terms of their future expansion opportunities," he said.
Jollibee's most recent opening in New York City was highly anticipated, with some customers lining up for 20 hours.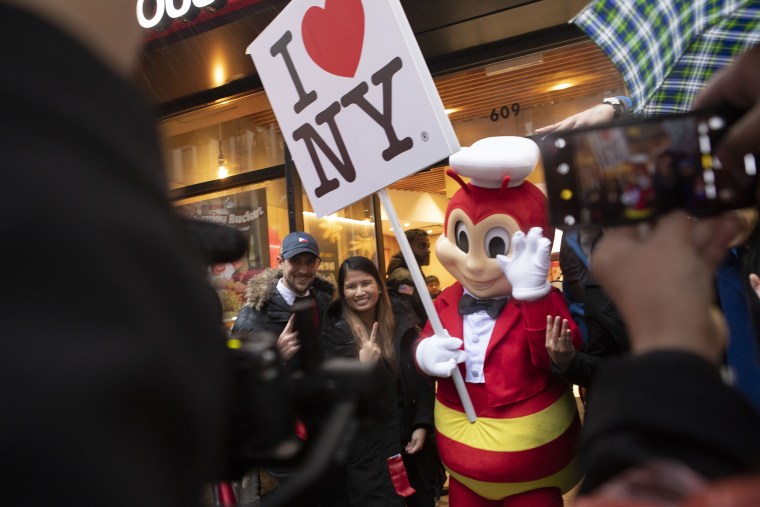 Dong said that the New York opening is a wise move in line with what some economists call the "dense market theory," which suggests that when a franchise opens a location in an urban area with populations that reside and work in high-rise buildings, it increases the chances of one's success because of that population density.
"It's perfect because rather than putting a billboard up to advertise their brand, Times Square is like a billboards haven itself," Dong said. "In cities, they go from zero to 60 very quickly because of the sheer amount of foot traffic. Because this new location is near Times Square, the result of that is they're able to capture the attention of not only natives, but people who don't even reside from New York City, and that gives exposure to the Jollibee menu and their concept."
Justin Callan from the New York City neighborhood of Coney Island said that, as a non-Filipino, he has always felt welcomed at Jollibee. He and his girlfriend, Faye, were the first customers in line for Jollibee's Manhattan grand opening on Oct. 27. "All you have to do is open up the door and let the people smell it — that's what got me," he said.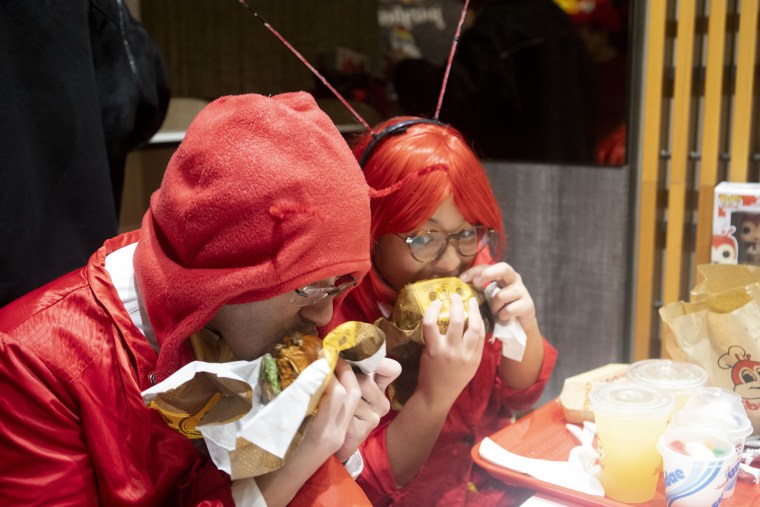 Jollibee executives hope to open 150 stores in the U.S. and 100 stores in Canada over the next five years.
"This is our entry into the mainstream, not just Filipino, market — we are catering to a bigger spectrum, and want to keep strengthening our foothold both in the U.S. and globally," Tanmantiong, the CEO, said.
Dong said Jollibee also fares well with a younger, adventurous demographic. The curiosity to try new cuisines like Filipino food will draw in customers, particularly millennials, because pricing is cheaper in the fast food world, he noted.
"You'll likely come out with a fairly decent meal for about $10," Dong said. "As a result, that lowers a barrier or acceptance or willingness to try it because you can't lose a lot of money as opposed to a table cloth restaurant where you put down anywhere between $80 or $100. Jollibee is easy entry into Filipino cuisine."
The way Filipino cuisine is served and enjoyed has evolved in recent years, some chefs and business owners say.
"The option of getting Filipino food at a turo-turo joint, or in an upscale modern environment like our restaurant, or in a fast food setting like Jollibee, it's good to see so much cultural presence for an often underrepresented population," Sarah Mosqueda, who co-owns Irenia — a restaurant with Filipino influences in Santa Ana, California — with Chef Ryan Garlitos said, using the Filipino word referring to restaurants where customers point at what they want.
"It's appealing to Filipinos because its offering a little bit of home, and its appealing to non-Filipinos because honestly, who doesn't like fried chicken?" she said.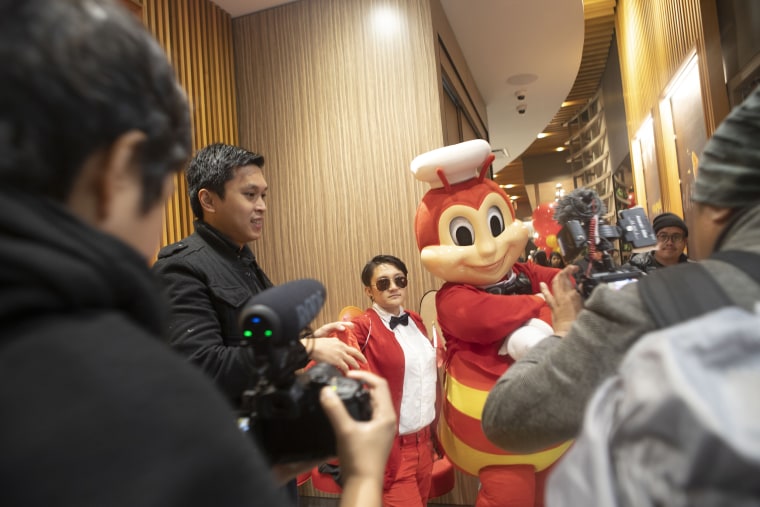 Jacqueline Chio-Lauri, author of food anthology The New Filipino Kitchen, said that the nature of Filipino cuisine is "fundamentally inclusive, from the fact that it's organically a fusion, East meets West cuisine, but also caters to individual taste by the inherent use of sauces."
"It stands out because it's exciting to the palate — its savory, sweet, sour, and at times spicy, funky or bitter too," she said. "The fact that it's adaptable makes it also suitable to present in different forms — from fast-casual and street food versions to haute dining, and everything in between."
Dale Talde, author of "Asian-American: Proudly Inauthentic Recipes from the Philippines to Brooklyn," had a different perspective. Talde, who owns multiple restaurants, said that while he likes Jollibee and is glad to see the business grow, he doesn't think people should go if they're looking for authentic Filipino food.
"It means that it's growing, and it means that other brands can come over from the Philippines," Talde said. "But let's be real — Jollibee is a fast food brand. I feel like you could take the late Anthony Bourdain or Andrew Zimmern who said if you want to know about a culture, go to their market."
Jollibee executives say that the company hopes to provide overseas Filipinos a familiar taste of their childhood.
"It's an honor and responsibility, for Jollibee to be given that kind of role," said Jose Miñana, president of Jollibee North America. "And they can then share that memory with their friends and colleagues. It's really part of our mission to spread this joy, by serving great food to everyone."
Follow NBC Asian America at Facebook, Twitter, Instagram or Tumblr.
CORRECTION (Dec. 6, 2018, 12:31 p.m. ET): An earlier version of this article misstated the amount of time some customers waited in line for a Jollibee grand opening. They waited for up to 20 hours, not more than a day.