Filipino World War II veterans looking forward to the June 8 start of a new program that would shorten 20-year waits for family members still in the Philippines may get a short of reality. Qualifying for parole will be almost as difficult, if not more so, than claiming other long-awaited benefits due to them, a leading advocate for the Filipino veterans told NBC News.
"I am cautiously optimistic that the USCIS will expeditiously implement the parole program," Eric Lachica, executive director of the American Coalition for Filipino Veterans, told NBC News. "There seems to be many challenges that would be faced by the veteran or widow or beneficiary in qualifying and obtaining parole visas."
RELATED: New Immigration Rule Enables Filipino WWII Vets to Reunite with Family
Lachica said the process of documenting one's qualifying service is the same as that for the equity lump sum payouts given to the veterans in 2009. Many veterans who were recognized by a 1946 list are not included in a revised 1948 list which could disqualify many from the parole program, Lachica said.
"The Department of Defense makes the determination on whether military service is recognized or not," Daniel Cosgrove of the United States Citizenship and Immigration Services told NBC News. He indicated USCIS officers may exercise some discretion based on humanitarian reasons, but only if the veteran's WWII service record is recognized.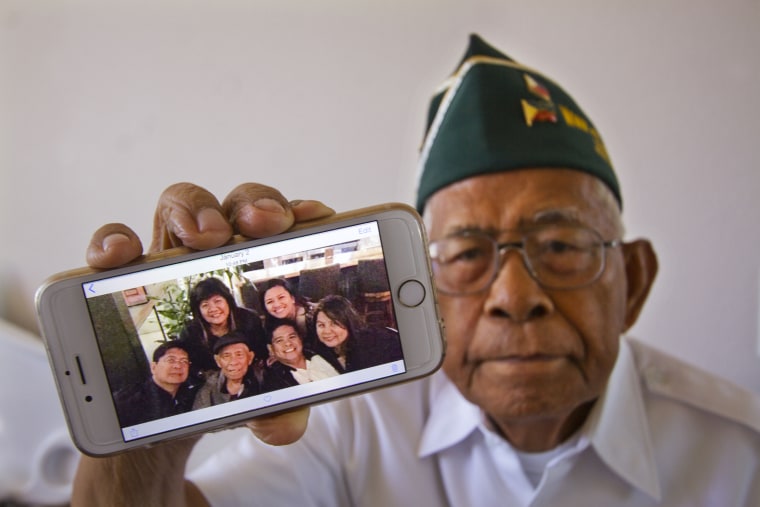 USCIS officials recently put the total number of living Filipino veterans of WWII who might qualify at between 2,000 to 6,000.
But even if a veteran and their spouse are deceased, qualifying children, married and unmarried sons and daughters, and brothers and sisters still in the Philippines may also be eligible to apply. Once qualified, the process requires an I-131 humanitarian parole application and multiple other forms establishing financial support.
The USCIS also warned against and scams involving help with the program in a June conference call.
But Lachica said even a reputable lawyer could charge nearly $800 for a simple case. On top of that, there are fees that could reach in excess of $360 just to apply, though fee waivers are available, Lachica said.
Follow NBC Asian America on Facebook, Twitter, Instagram, and Tumblr.