An inexpensive two-minute film with a motivational message, called "Listen," beat out thousands of entries to win Most Unique Short Film in Project Greenlight, a national film competition run by Ben Affleck and Matt Damon for HBO.
The creator/director just wanted to inspire his siblings to never give up.
Joshua Ortiz, a Filipino American born in the San Francisco Bay Area, now living in Orlando, Florida, made the film because he saw his brother and sister struggle and sometimes fail in their chosen pursuits. Ortiz said Monica, 17, is a golfer and a beauty pageant contestant, and Joel, 20, a figure skater.
"I actually did not write this film with the intention of submitting it into a contest," Ortiz, 26, told NBC News. "I made it for myself and my two siblings [featured in the film] because I just wanted to remind them that no one can tell them that their dream is not worth it. Especially in the Asian culture, sometimes it is discouraged to chase after those kinds of dreams. However, our parents have been very supportive and we are very thankful."
Ortiz said he's seen many of his Asian-American friends pushed by parents into the medical field or other careers considered prestigious in the community. "They hate it," he said. "They should have followed their passions."
"If you do what you love and never give up, you'll realize failure doesn't mean you lost."
That passion turned Ortiz towards film making. Originally, he wanted to be a basketball player, and thought he might have a shot as a pro in the Philippines. But even there, at 5-feet-10-inches, height was an issue. Ortiz had been considered too short in the U.S., but was too tall to play guard in the Philippines, where they wanted him to play a forward. Undersized at that position, Ortiz failed to make the cut.
His experience in the Philippines, he says, helped his find his path to film making, and gave him the wisdom to pass on to his siblings.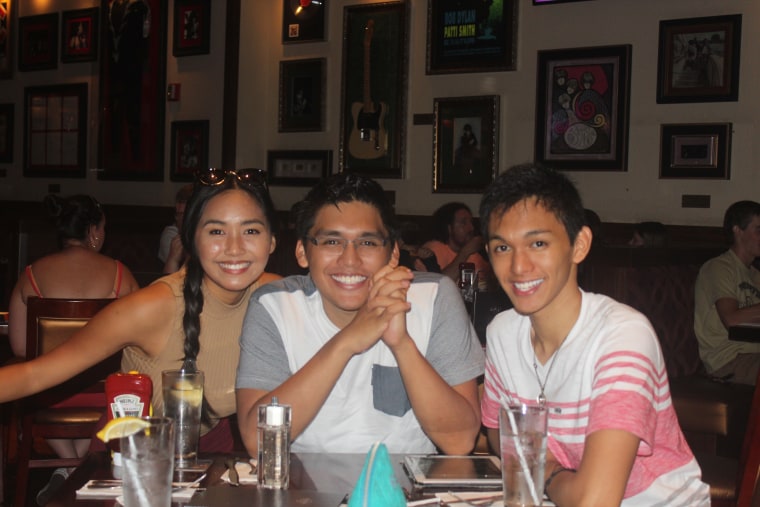 Ortiz made the winning entry on a $30 budget, mostly for pizza. Using a Canon DSLR he captured the images that he later edited to music, to help people understand the secret to success.
"If you do what you love and never give up, you'll realize failure doesn't mean you lost," he said." It's just a reminder to get back up."
His siblings, Ortiz says, use the video to pump them up for competition. His brother, Joel, has now set his sights to skate for Disney on Ice, and his sister, Monica, is competing this month as Miss Teen Orlando in the Miss Teen Florida competition.
Ortiz's win comes with no money, but he said Project Greenlight is sending him a "special" trophy. The best reward for the young filmmaker has been the messages he's received from people who've seen the film on YouTube.
"The film has helped them look at their failures and rejections with a different mindset and that means so much to me," Ortiz said. "We should all start to embrace rejections and see that it is always a blessing in disguise."