A Brooklyn, New York, man was given five years probation Monday for his role in the 2013 hazing death of a college student during a fraternity retreat in the Pocono Mountains of Pennsylvania.
Ka-Wing Yuen was one of 37 individual defendants charged in connection with the death of Chun "Michael" Deng, a 19-year-old freshman at Baruch College in Manhattan who was pledging to Pi Delta Psi, an Asian cultural fraternity.
RELATED: First of 37 Defendants in Fatal Hazing Case Pleads Guilty
Yuen, 25, pleaded guilty on Jan. 10 in the Court of Common Pleas of Monroe County, Pennsylvania, to charges of conspiracy to hinder apprehension by evidence tampering, a third-degree felony, and conspiracy to commit hazing, a misdemeanor.
In addition to probation, which Yuen began serving Monday, Judge Margherita Patti-Worthington imposed a sentence of 100 hours of community service and ordered Yuen to pay a $1,000 fine, Monroe County assistant district attorney Kimberly A. Metzger told NBC News.
Deng's mother, who is in China with her husband, had submitted a victim impact statement to the judge before sentencing, Metzger said. The letter, was "very touching, very well written, and just really underscored the loss of Michael's family from his death," Metzger said.
She added that the district attorney's office thought the sentence was appropriate.
"He's accepted responsibility by virtue of his guilty plea, and he's now a convicted felon."
"He's accepted responsibility by virtue of his guilty plea, and he's now a convicted felon," Metzger said.
Yuen's attorney, Craig Sobel, did not immediately return a request for comment Tuesday morning.
According to the grand jury presentment, Yuen was among the Pi Delta Psi brothers that police said were present on Dec. 8, 2013, at a rented house in the Poconos, 96 miles west of New York City, where Deng was made to take part in a ritual known as the glass ceiling.
Blindfolded and wearing a backpack weighing between 20 and 30 pounds, Deng was forced to walk in the backyard in the early morning hours through a line of fraternity members who allegedly pushed, shoved, and tackled him in an attempt to bring him down, court records show.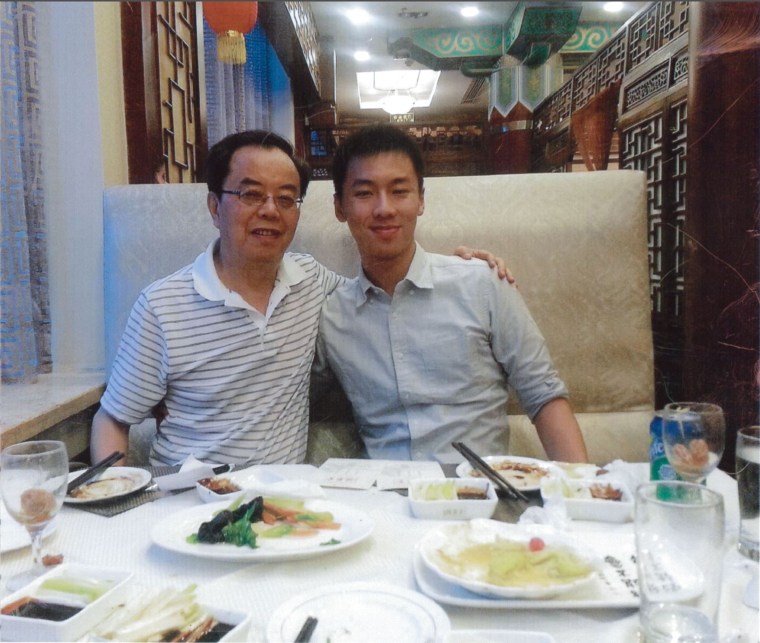 Deng fell several times and suffered multiple blows to his body, including his head, according to a forensic pathologist, court documents state. Groaning and shivering, Deng was brought into the living room, but wasn't driven to a hospital for at least an hour, the grand jury presentment said.
An autopsy showed Deng died of complications of traumatic brain injury, and the delay in treatment, the forensic pathologist said, significantly contributed to his death, according to court documents.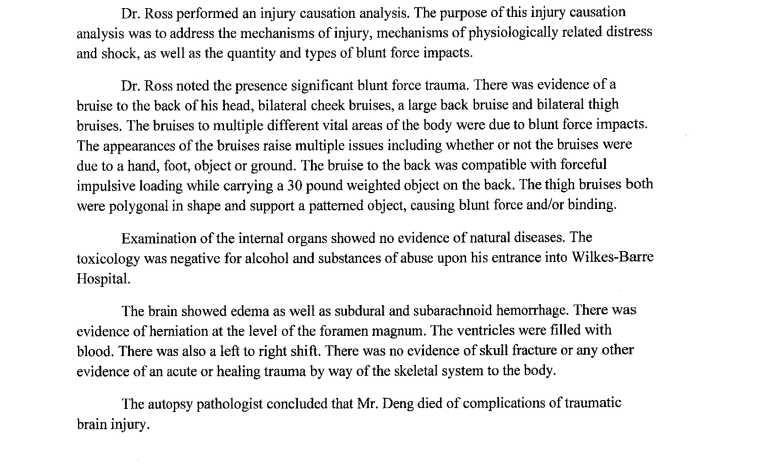 Pi Delta Psi Inc. is also a defendant in the case, having been charged with criminal homicide, involuntary manslaughter, and aggravated assault, among other things, according to prosecutors. Deng's family filed a lawsuit against the fraternity in 2015.
Metzger said that at this point there wasn't a timetable for when the remaining defendants will come up for trial. Five of them have been charged with third-degree murder.
"We're still waiting on the fraternity's pretrial motion to be decided by the court, and we anticipate that will be coming very shortly," she said. "And once that is decided by the court, our office is going to proceed with motioning for trials to begin."
Follow NBC Asian America on Facebook, Twitter, Instagram and Tumblr.