IRVINE, Calif. — The bright pink metal shipping container had barely popped open its walls for its 11 a.m. grand opening, but the long line of patient customers — many of whom donned headbands topped with giant pink bows — had been there for hours.
Raquel Rockwell and Monica Yoo, the first two people in line, arrived at 7:30 a.m. to secure their spots.
"I asked my boss if I could come in late to work," Rockwell told NBC News. "I told him there was something important I wanted to do."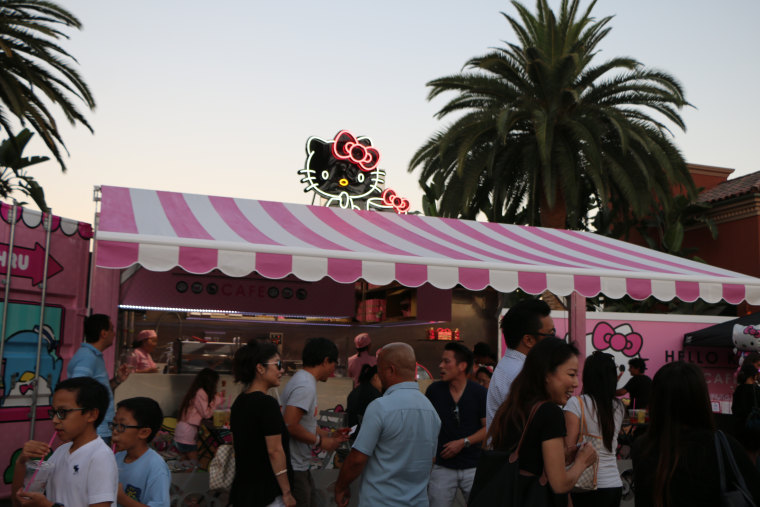 Friday, July 15, marked Sanrio's unveiling of the first-ever Hello Kitty-themed cafe in the United States. Located next to a giant ferris wheel in Irvine, California, at the Irvine Spectrum Center outdoor mall, the Hello Kitty Cafe Pop-Up Container offers a full menu of sweet treats, specialty drinks, and coffee brewed with beans sourced from local Orange County roaster Portola Coffee Lab, with a daily tea service expected to debut later in the year.
Although the container is set up galley-style to ensure a fast and efficient order and pick-up process (with a pop-out patio for the customers who want to stay and soak in the cuteness), it might be a few weeks — even months — before the heavy traffic dies down. Day one of the cafe's weekend-long celebration ended at 2 p.m. due to reached capacity, despite its set 10 p.m. closing time.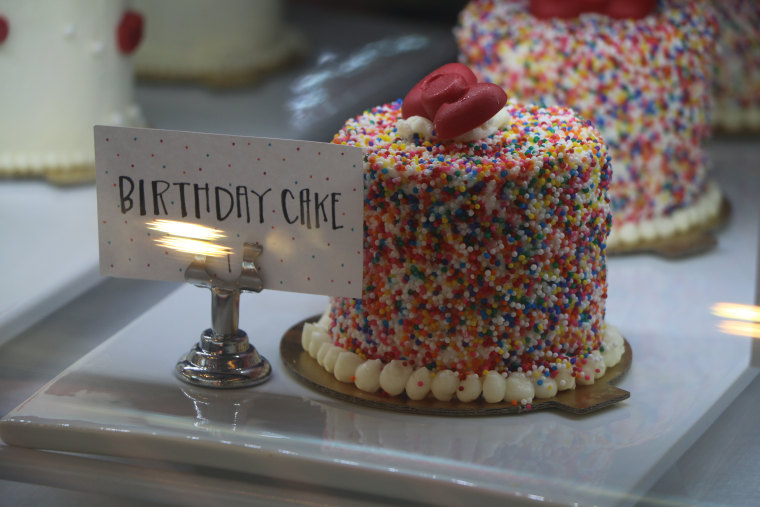 "There is a lot of love for Hello Kitty whether it's a backpack or a bag or a sticker — or really long lines," David Marchi, Sanrio's vice president of brand management and marketing, told NBC News. "Everything that we do, we do with love and a special attention to detail, because we're fans ourselves."
Sanrio considers the Hello Kitty Cafe Pop-Up Container to be the evolved form of its Hello Kitty Cafe Truck, which made its debut in November 2014 at the Hello Kitty Con in Los Angeles, and has traveled to cities all over the U.S. selling bow-adorned desserts like doughnuts and macarons. It is also considered to be one of the first "character cafes" to come to the States, a reference to the themed bistros found in major cities in Japan, Singapore, and other Asian countries.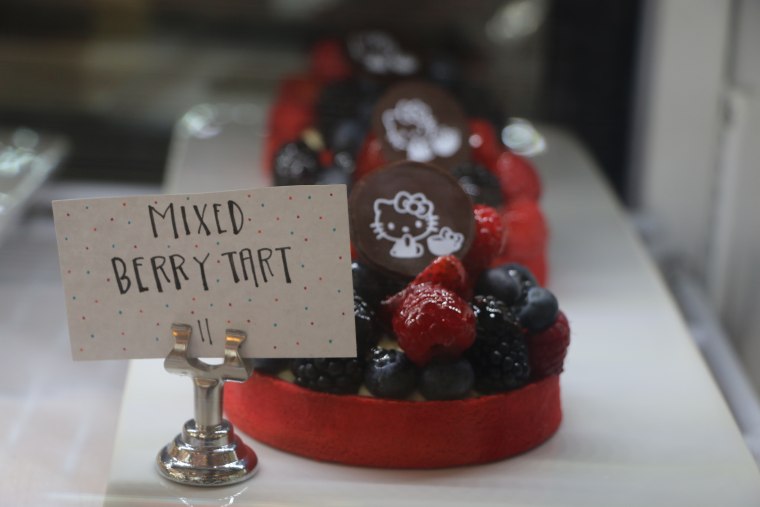 RELATED: Hello Kitty Cafe Truck Brings Treats, Smiles to Fans
Several Hello Kitty fans, like Niki Santos-Sablan, told NBC News she was thrilled by the arrival of the pop-up container, and hopes the U.S. follows Asia in opening more character cafes — especially Sanrio-related ones.
"For me, the appeal is nostalgia," Santos-Sablan said. "My favorite item from my Hello Kitty collection is this 1983 plush I got when I was five. I still have a lot of the things I kept as a little girl."
"It reminds me of my childhood — of getting to go to the Sanrio store to pick out a pencil whenever I got good grades," Yoo added.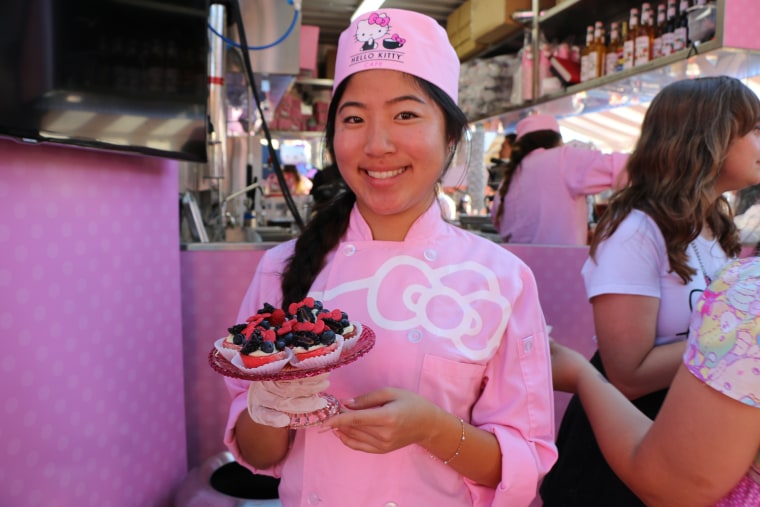 RELATED: Hello Kitty Hot Pot Restaurant Gives Visitors Warm Welcome in Taiwan
While Hello Kitty is a pop culture icon that has played a role in many Americans' childhoods for more than four decades, some, like Rockwell, see the cafe as a safe haven to escape from the challenges of everyday life.
"Sometimes I just want to tap out from my hectic, crazy real world and go eat a cute pastry with my friends," Rockwell said. "For me, this is treating myself. I'm taking a break from work, and I'm going to eat all the things with Hello Kitty's face on it."
The Hello Kitty Cafe Pop-Up Container will remain in the Irvine Spectrum for a one-year residency, after which it will be evaluated by the Sanrio team.
Follow NBC Asian America on Facebook, Twitter, Instagram, and Tumblr.