Republican presidential candidate Donald Trump accused China of using the United States as a "piggy bank to rebuild" itself, while Democratic presidential nominee Hillary Clinton said the U.S. has increased American exports to China by 50 percent, which has helped create jobs.
Those were some of the claims made Monday night during the first presidential debate at Hofstra University in New York, moderated by NBC Nightly News anchor Lester Holt.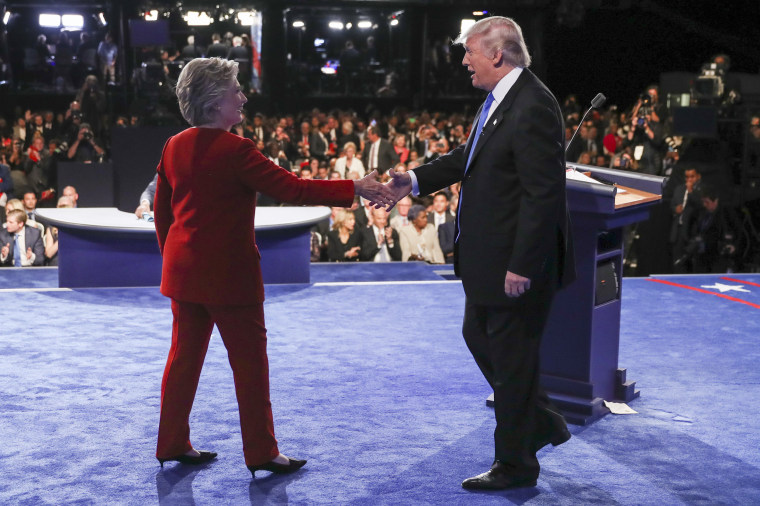 The candidates covered a wide terrain of topics, touching on trade with China, relations with Muslim countries, and America's role in defending Japan in an attack.
"We have a very good fight and we have a winning fight," Trump said about China. "Because they're using our country as a piggy bank to rebuild China and many other countries are doing the same thing. So we are losing our good jobs, so many of them."
RELATED: 6 Key Moments of the First Presidential Debate Between Trump and Clinton
Clinton painted a different picture, saying the U.S. needs to enforce current trade deals and hold countries accountable.
"When I was secretary of state, we actually increased American exports globally 30 percent," she said. "We increased them to China 50 percent. So I know how to really work to get new jobs and to get exports that help to create more new jobs."
Harmeet Dhillon, RNC national committeewoman from California who attended the debate, told NBC News by phone that trade deals and creating jobs both matter to the Asian American and Pacific Islander electorate.
RELATED: Immigration, Diversity Front and Center at 'Quad-Partisan' Presidential Election Forum
"Asian American voters are not that different from any other kind of voters," said Dhillon, a delegate who delivered a Sikh prayer at the Republican National Convention. "People don't want to see our jobs, including jobs filled by Asian Americans in this country, fleeing to other countries, including Asian countries and Mexico."
"We haven't, in this debate, even gotten into immigration."
Later in the debate, Clinton accused Trump of having "consistently insulted Muslims abroad, Muslims at home, when we we need to be cooperating with Muslim nations and with the American Muslim community."
"They're on the frontlines," she added. "They can provide information to us that we might not get anywhere else."
Trump, who has advocated a temporary ban on Muslims entering the country, fired back.
"We've been working with them for many years, and we have the greatest mess anyone's ever seen," he said. "You look at the Middle East, and it's a total mess, under your direction to a large extent."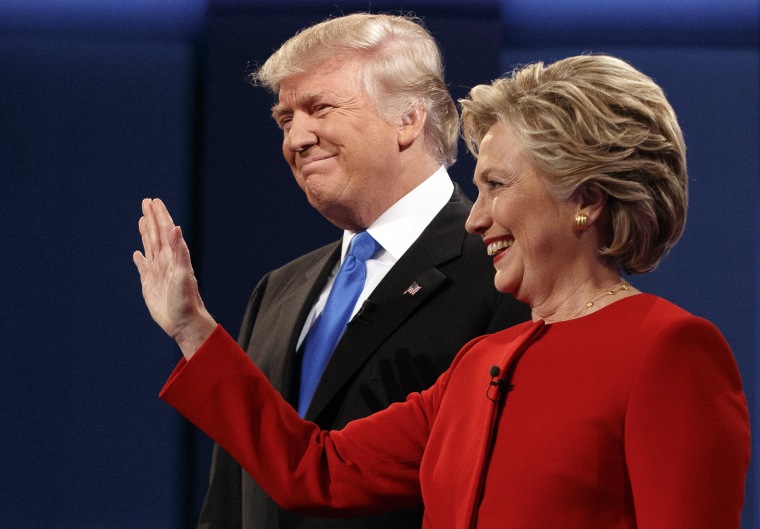 Steven Yeung, who served as a Clinton delegate from Virginia for the Democratic National Convention, watched the debate from home and told NBC News he paid close attention to both candidates' body language.
"It showed a stark contrast how he deals with the issues and how she does," Yeung said of the exchange between Trump and Clinton on Muslims.
RELATED: Trump Wrong on Japan's Military Commitment to U.S.: Expert
Toward the end of the debate, Trump raised the topic of America's military commitment to Japan.
"As far as Japan is concerned, I would help all of our allies, but we are losing billions and billions of dollars," he said. "We cannot be the policeman of the world."
The U.S. has around 50,000 troops stationed in Japan, an arrangement born out of the Japan-U.S. Security Treaty to defend Japan, after the country surrendered in World War II, and maintain peace and stability in the region.
Clinton said words matter when you run for and serve as president.
"And I want to reassure our allies in Japan and South Korea elsewhere that we have mutual defense treaties and we will honor them," she said. "It is essential that America's word be good."
Two presidential debates and one vice-presidential debate remain before the November election. Trump and Clinton are scheduled to square off again on Oct. 9 at Washington University in St. Louis, Missouri.
Dhillon said she wants to hear more about national security, reviving inner cities, and creating jobs for all Americans.
"We haven't, in this debate, even gotten into immigration," she added.
RELATED: Breaking Down the Debate: Trump and Clinton's Most Frequently Used Words
Yeung, a college student, said he too would like to hear more on immigration, as well as affirmative action.
"I think a lot of AAPIs are frustrated with that system because it's a little bit broken and skewed against us as a minority group," he said.
Follow NBC Asian America on Facebook, Twitter, Instagram, and Tumblr.