Thanksgiving doesn't have to be all stuffing and sweet potatoes.
From classics like sautéed Brussels sprouts and shrimp toast to twists like masala mashed potatoes and garlic mashed taro, here are five recipes for side dishes that will go great next to the turkey or prime rib on your table.
Tin Vuong, Executive Chef at Little Sister in Los Angeles
"This recipe is very simple and will get anyone to eat Brussels sprouts," Vuong told NBC News. "It's a true crowd pleaser and a great side dish for any occasion, especially Thanksgiving!"
Brussels Sprouts
Ingredients
4 tablespoons butter
2 tablespoons chopped almonds
4 cups shredded Brussels sprouts
1 teaspoon lemon juice
1 tablespoon shredded parmigiano
Method
Brown butter in a pan, then add the almonds and cook for about 20 seconds over medium heat. Add Brussels sprouts and toss. Season to taste with salt and pepper and toss again.
Let cook for one minute and toss again. Then add lemon juice, check seasoning, spoon into a bowl and top with shredded parmigiano.
Alvin Tsao, Sous Chef at Manolin in Seattle
"Shrimp toast is a classic Chinese dish often found at Dim Sum dating back over a hundred years," Alvin Tsao, sous chef at Manolin in Seattle told NBC News. "Besides being delicious, shrimp toast is easy to make and eat. My family's version eschews the normal triangle shape for rectangles in order to properly showcase whole shrimp."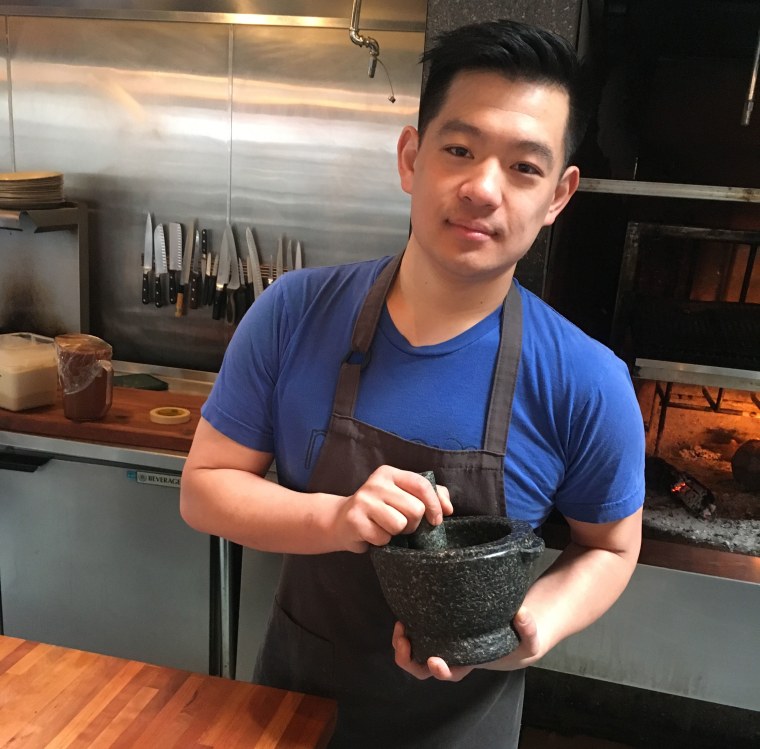 "We often eat these at special family gatherings, especially Thanksgiving because it's a winner across the board and is so simple to scale up," he continued. "Alongside roasted turkey made with mushroom sticky rice, shrimp toast is a favorite Thanksgiving food memory of mine."
Shrimp Toast
Serves eight
Ingredients
8 stale or lightly toasted slices of white bread
2 pounds of cleaned shrimp, with 16 shrimp with tails on
1 beaten egg white
1 tablespoon shaoshing cooking wine
1 table spoon ground white pepper
3 tablespoons salt, or to tastle
16 large picked cilantro leaves
1 cup frying oil
Method
Cut crusts off bread and slice it in half length wise, forming two rectangles.
Reserve the 16 shrimp with tails on. Mince the rest by hand or in a food processor until paste-like with some pea-sized pieces of shrimp remaining. Mix the processed shrimp with one beaten egg white, cooking wine, ground white pepper, and salt.
Cook a teaspoon of the mixture and taste to check for seasoning.
When you are happy with the seasoned shrimp mix, spread generously on one side of each piece of toasty. Lightly press a large cilantro leaf into the center of each piece of toast. Finally, firmly press a reserved shrimp onto each cilantro leaf.
Heat the frying oil in a large-bottomed skillet until it is "shiny" and ready to fry in, about 350 degrees Fahrenheit. In smaller batches, fry each piece of shrimp toast, shrimp side down until fully cooked, approximately one minute. Flip over the toast and continue to cook the break for another 30 seconds.
Drain on paper towels or a wire rack. Continue until all of the shrimp toast is cooked and serve immediately.
Anita Chhun, Chef at Kirirom in Seattle
"I picked this recipe because it's super simple, delicious, and feels familiar enough for Thanksgiving," Chhun told NBC News. "I love taro and the creaminess it gives to the mash. Also, I sometimes add golden fried garlic in oil to it as a finisher."
Garlic Mashed Taro
Ingredients
2 large Russet or yellow potatoes
1 medium-sized taro
3 or more cloves of garlic
Himalayan pink salt
Green onions, thinly sliced
Butter (optional)
Method
Scrub and wash potatoes and taro. Peel the potatoes, dice them into one-inch pieces and set aside in cold water.
For many, handling raw taro can irritate the skin — it's advisable to wear gloves when handling it. Peel the taro and dice it into piece slightly larger than the potatoes. Place the taro in a medium pot along with the drained potatoes, whole garlic gloves, and one tablespoon of salt. Then cover with cold water and bring to a boil over high heat.
Once boiling, reduce the heat and let simmer uncovered until fork tender, about 10 to 15 minutes. Drain the potatoes and taro in a colander, reserving some of the cooking liquid. If you have a potato ricer, you can use that, but a whisk or fork will work just fine and give you a more rustic mash. Rice the potato, taro, garlic, and season with soy sauce and more salt. You may add butter if you wish and a little of the reserved cooking liquid to make the taro mash creamier.
Top with thinly sliced green onions and more butter and serve immediately. This mash pairs well with cranberry sauce.
Haru Takeshita, Chef at Sushi Roku in Las Vegas
Roasted Cauliflower with Jujubee
Ingredients
1/2 once sliced jujubee (prune)
1 teaspoon soy sauce
1 tablespoon roasted pine nuts
1 oz rice vinegar
3 micro cilantro
1 teaspoon sesame oil
5 ounces cauliflower, assorted colors
Method
Cut the cauliflower into florets, toss in grapeseed soil, and season with salt.
Roast cauliflower in oven on a sheet tray at 400 degrees Fahrenheit for 10 minutes. After 10 minutes, turn the cauliflower and roast for another 10 minutes continuing the process until the cauliflower is cooked.
Cool the cauliflower and hold until ready to serve. When serving, heat the rice vinegar in a saute pan until hot then add the soy and cauliflower.
Saute and mix until nicely coated. Then, add the toasted pine nuts and jujubees.
Season with salt to taste and serve.
Shachi Mehra, Chef at Adya in Anaheim, California
"I want to encourage folks to have fun with their Thanksgiving dinners — to break the mold and try new things," Mehra, chef/partner of ADYA in Anaheim, California, told NBC News. "Maybe even create new traditions!"
Masala Mashed Potatoes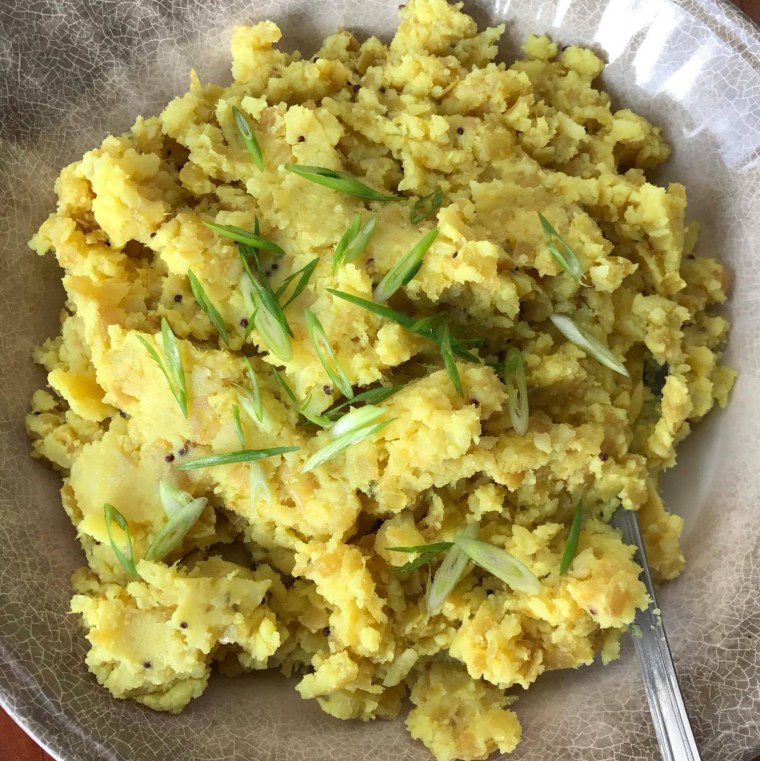 Ingredients
4 tablespoons oil
6 to 8 boiled grated Idaho potatoes
2 medium white onions, diced
2 teaspoon cumin seeds
2 tablespoons minced ginger
4 tablespoons minced garlic
1 tablespoons minced chiles
6 tablespoons butter
1/4 teaspoon turmeric
Salt to taste
Method
Heat oil over medium heat until shimmering. Bloom cumin seeds and add diced onion with a pinch of salt. Stir in ginger, garlic, and chili. Continue to cook over medium low heat until onions are soft and cooked through.
Add turmeric, butter, and more salt.
Stir in grated potato and mix thoroughly. Continue over medium heat until heated through.
Adjust seasoning if needed.
Follow NBC Asian America on Facebook, Twitter, Instagram, and Tumblr.
RELATED