Hurricane Katrina clobbered the Gulf Coast a decade ago, grinding Louisiana's fishing industry to a halt and forcing its Vietnamese immigrant shrimpers to eke out a living any way they could.
For those who dared to weather the uncertainty, catastrophe struck again on April 20, 2010: the Deepwater Horizon oil rig explosion about 40 miles off Louisiana's coast pumped millions of gallons of the oil into the waters, effectively shutting down the shrimpers' way of life for the second time in less than five years.
"The uncertainty is what got everybody sick in the head, including myself," said Sandy Nguyen, a daughter and wife of Vietnamese fishermen. She describes an anxiety so crippling that she was hospitalized.
"I didn't even know I was sick until I caught a panic attack," she recently told NBC News.
But the double whammy that brought the fishermen's businesses to the brink of collapse didn't wipe them all out. As the Gulf waters have slowly recovered, so, too, have the hard-fought fortunes of shrimpers determined to rebuild.
"It's been a decade of a lot of struggle and resiliency," Nguyen said. "But we're not going anywhere."
As executive director of the nonprofit Coastal Communities Consulting, Nguyen advocates on behalf of the shrimpers, many of whom speak or write little English. Of her 1,200 clients, about 80 percent are Asian American, emigrating from Cambodia, Laos, and Vietnam, she said.
Katrina and the Deepwater Horizon oil spill were equally devastating to the thousands of fishermen who for decades have been drawn to the Gulf region's murky and bottomless bayous.
Katrina made landfall as a Category 3 storm on Aug. 29, 2005. It was so destructive that the fishermen could only tether their skiffs to the docks and pray for the best.
"Typically, when there's a regular storm, you get portions of a fleet that's damaged," Nguyen said, "but with this storm, everyone was down."
What made it worse was that few in the community had insurance and many eschewed traditional banking, instead borrowing money from family and other Vietnamese. Katrina's fury left just about everyone in dire straits, Nguyen added.
"Not only is your boat and house gone, your neighbor's boat and house are gone," she said. "So the recovery process was very slow."
The massive 2010 oil spill, meanwhile, came at the most inopportune moment — right as shrimpers were gearing up for the season, which begins each May. This time around, boats weren't damaged, but the polluted waters and poisoned catch made fishing impossible. The shrimpers, who could pull in $80,000 or more in a decent year, were "freaking out," Nguyen said.
"We just wanted to go out there and work," she added.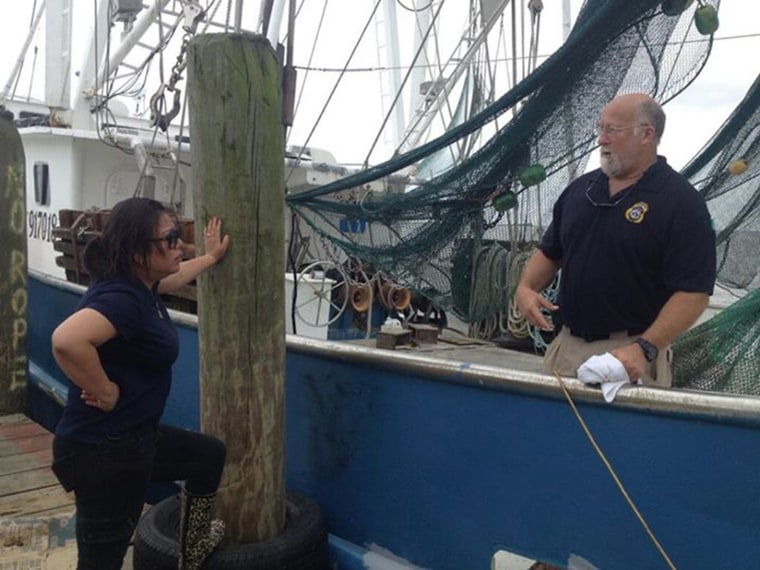 In a twist of fate, hundreds of fishermen returned to the waters soon after the spill when BP, which operated the rig, employed them to help with the cleanup and set up oil-absorbing booms. It wasn't the jobs they were used to, but as immigrants — some of whom fled war-torn Vietnam in the 1970s as "boat people" — they were willing to adapt.
Although the oil spill was finally capped 87 days later, the season for the shrimpers was lost.
The waters have since been in a recovery mode, according to BP, and the amount of shrimp caught commercially has rebounded, state data show.
But business remains uneven, said Minh Thanh Nguyen, the son of a fisherman and executive director of VAYLA New Orleans, a nonprofit community group.
"Some (shrimpers) have moved on and found a different occupation, some have moved to another location and some are hoping that things will get better," he said.
His father, Phuong Nguyen, told NBC News that he's working double the hours he used to in order to make a living wage. The days of earning a six-figure income are behind them, he said.
"It's been a decade of a lot of struggle and resiliency. But we're not going anywhere."
During shrimping season, Phuong Nguyen and his wife set out on their boat, the Bay Star, from Plaquemines Parish to trawl the waters. "I don't have the money to retire," the 58-year-old said. "I still have to work."
He said he's been in a dispute with BP over his compensation claim — owed to those whose livelihoods were affected by the oil spill. So far, more than $5 billion has been paid out to 62,162 claimants, a BP claim administrator said Wednesday.
Sandy Nguyen said she was able to help process $30 million worth of claims in three years, although for some, the rigorous battle for the money continues.
Meanwhile, the shrimpers have found new ways to shave costs. Many have stopped running their boats 24 hours a day, while others who once toiled independently have teamed up with other fishermen to share in the risks and rewards.
"We're happy to be able to go back to work, but it doesn't mean we're economically, physically and mentally there," Sandy Nguyen said. "We're not home free yet."