Noobtsaa Philip Vang was a hungry graduate student at Georgetown University when he came up with the idea for "Foodhini," a food delivery service that works with immigrant chefs.
As the son of two Hmong refugees, Vang had grown up eating a variety of warm and fulfilling home cooking. His mother, in particular, is an amazing cook, Vang told NBC News, and within his first month at business school, he found himself hungry for something homemade.
"I just wanted to find like a grandma or an auntie in the neighborhood that made some type of Southeast Asian cooking," Vang said. "I came from Minnesota to Georgetown for grad school, and I was just really missing some of my mom's home cooking."
"You know where they're from, what are their passions, why did they learn to cook this kind of food, where did they learn from."
But, it wasn't just his hunger that drove Vang to launch Foodhini, which serves the Washington, D.C., area. It was also his parents' story coming to the United States as refugees.
"[They found] it very difficult to find good work — you know, because of language barriers, educational barriers, and they already were amazing." Vang said. "My mom was an amazing cook already, but [didn't] have any opportunities to showcase her talents, to use her skills as a cook to create a job for herself."
Though he studied mechanical engineering at the University of Minnesota, Vang said he realized that he wanted to do work that was more meaningful. Having grown up in a Hmong community in the Midwest, Vang watched refugees start and build their own small businesses. That inspired him to start his own.
"The only entrepreneurs I saw were people who just started — which I commend them greatly for — the first grocery store, or start[ed] like a small travel agency or a lot of mom and pop shops," Vang said. "It was a really great opportunity for me to be exposed to that and to see that for myself. That's what really kind of drew me into entrepreneurship."
After Vang graduated from Georgetown, he dove right into Foodhini, which he first began working on while still in business school. He began recruiting refugee and immigrant chefs.
The first to come aboard was chef Melissa "Mem" Frabotta. Born in the U.S., Frabotta spent much of her life in Southeast Asia and eventually married a Lao-American immigrant. Though she now cooks for a living, Frabotta didn't learn her way around the kitchen until much later in life when she started cooking Lao food with her mother-in-law, according to Vang. He and Frabotta met through a mutual friend and after trying her homemade food once, Vang was hooked, he said.
The other two chefs on the team — Ghosoun Alhumayer and Majed Abdulraheem — entered the country as Syrian refugees, according to Vang. The Syrian civil war forced both to uproot their lives and start new ones in foreign countries — first, by relocating to Jordan, and then to the U.S.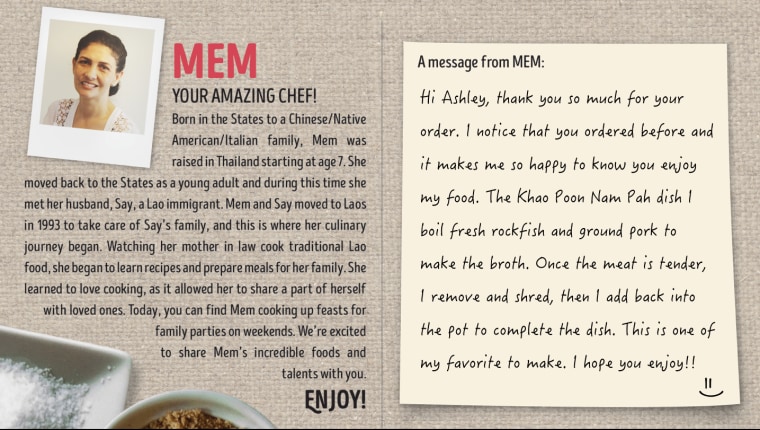 Abdulraheem, who is Alhumayer's nephew, was a professional chef in Syria and dreams of opening his own restaurant.
"To have Foodhini help [Abdulraheem] kind of create a name for himself and a platform for himself, I think I think that's really cool," Vang said. "He's just been amazing. People have been loving his chicken shawarma."
In addition to providing refugees with jobs, one of Vang's priorities is to forge a relationship between the chefs and the customers. With their food, each customer receives a note detailing the chef's personal story as well as a how-to guide on how to enjoy the dish like a native.
"You know where they're from, what are their passions, why did they learn to cook this kind of food, where did they learn from," Vang said. "[It's] a way for the chef to write a personal note to the people who are eating their food and providing little tips about how to enjoy a certain dish or maybe they changed the ingredients up a little bit today, so we really value that connection."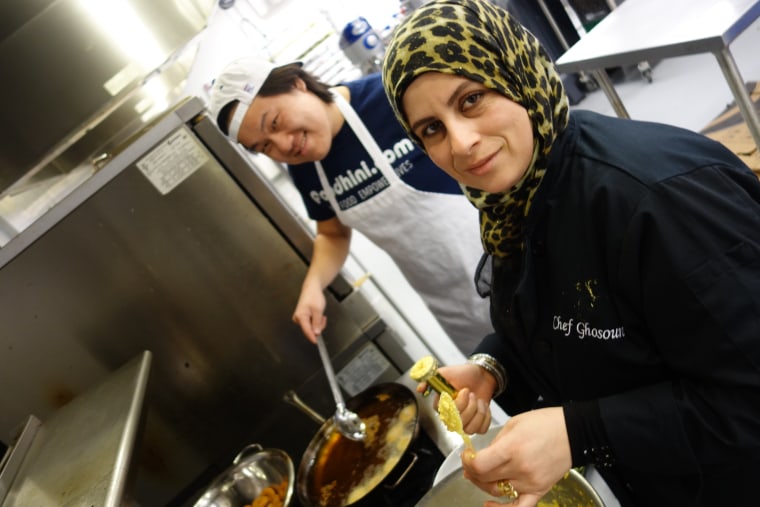 While the service remains a delivery-only operation, Vang is considering expanding into brick and mortar restaurants. He is also brainstorming new ways to connect customers with the chefs such as cooking classes.
But what has remained constant through all of Foodhini's development is Vang's desire to spotlight refugees and their skills.
"My parents have been here for over 30 years now. They still every day — the Hmong community is still struggling," Vang said. "It's still trying to find its way. We've definitely had some great successes in our community, but [my parents] understand that experience of coming to a new country and not having anything. So, my dad did a lot of work with refugee resettlement … I kind of see [my parents] as my examples—how to live, to give back, to do what you can."
Follow NBC Asian America on Facebook, Twitter, Instagram and Tumblr.