March is Women's History Month, and NBC Asian America is commemorating it by celebrating some of the Asian-American women those in the United States may not have learned about in school.
Afong Moy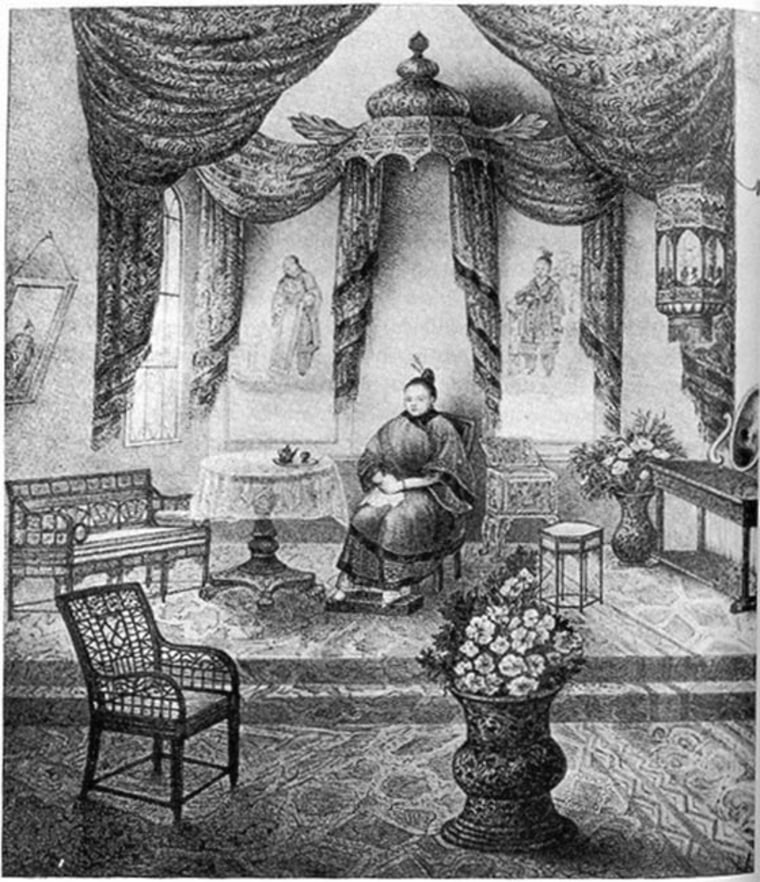 Afong Moy was just 19 when she arrived in New York City from China in 1834, and historians believe she was the first Chinese woman (and one of the first Chinese people) to immigrate to the United States, according to the National Women's History Museum.
After a financial agreement between her father and the American businessmen Nathaniel and Frederick Carne, Moy boarded the Carnes' ship and headed to New York Harbor. Less than a month after her arrival in the United States, Moy would become the center of an elaborate exhibit showcasing both her and "treasures" from China that included vases, ceramics, art, and intricately carved tables and chairs. Visitors were charged 50 cents for the privilege of watching Moy as she sat in her elegantly furnished room, where she would answer questions through an interpreter, eat her meals with chopsticks, and occasionally walk so that viewers could get a glimpse of her bound feet.
Not everyone was happy with Moy's rise to fame. While she toured the country with her "room" and met dignitaries including President Andrew Jackson, many newspapers decried the Carnes' treatment of Moy. The The New-York Mirror refused to cover Moy and the exhibition, explaining its decision in a one page editorial decrying the Carnes' treatment of her, according to the Chinese Historical Society of America. While her family's initial agreement with the Carnes was supposed to have her return to China after two years, she was touring the United States as late as 1847.
Anandi Gopal Joshi
At 18, Anandi Gopal Joshi left her home in the western India to study at Philadelphia's Woman's Medical College of Pennsylvania as a member of the class of 1886, according to the South Asian American Digital Archive. Married at the age of 9, Joshi was nonetheless encouraged by her husband to pursue a career in medicine and with the assistance from an American woman in New Jersey, she headed to the United States to begin her studies.
Once in the United States, Joshi often gave talks on the need for more women doctors in India and the effects of events like early marriage and early childbirth on women's health and told audiences about her dream of one day opening a medical college for women in India. After she graduated, she received a telegram of congratulations from Queen Victoria, according to Drexel University.
Sugar Pie DeSanto
A legendary blues singer, Sugar Pie DeSanto was born Umpeylia Marsema Balinton in 1935 to an African-American mother and Filipino father. Originally named after her Filipina grandmother, Balinton would later change her name to Sugar Pie DeSanto when she began performing in the 1950s. Her hits "Baby, What You Want Me To Do?," "Soulful Dress," and "Rock Me Baby" would help DeSanto establish what one critic for NPR called her persona of "an assertive young woman who took no mess."
Now 81, she was honored with a Pioneer Award by the Rhythm and Blues Foundation in 2008.
Patsy Takemoto Mink
The late Hawaii congresswoman is perhaps best known for co-authoring the Title IX Amendment of the Higher Education Amendment, which requires equal financing for women's sports and education programs that receive funds from the federal government.
In the documentary film, "Ahead of the Majority," Mink explained her commitment to equality.
"What you endure is who you are. And if you just accept and do nothing, then life goes on," said Mink. "But if you see it as a way for change, life doesn't have to be so unfair. It can be better. Maybe not for me, I can't change the past, but I can certainly help somebody else in the future so they don't have to go through what I did."
Follow NBC Asian America on Facebook, Twitter, Instagram and Tumblr.