Four members of an Asian-American cultural fraternity have pleaded guilty to concealing or destroying evidence in connection with the 2013 hazing death of a 19-year-old college student from New York.
The men — Kenny Kwan, 28; Charles Lai, 26; Raymond Lam, 23; and Sheldon Wong, 24 — entered their pleas Monday to voluntary manslaughter as accomplices and hindering apprehension in the Court of Common Pleas of Monroe County, Pennsylvania, according to a statement from the Monroe County district attorney's office.
They were among 37 individual defendants charged in connection with the death of Chun "Michael" Deng, a freshman at Baruch College in Manhattan who was pledging to Pi Delta Psi. Deng died during a December 2013 fraternity retreat in the Pocono Mountains of Pennsylvania, during which he was hazed as part of a violent ritual known as the "glass ceiling."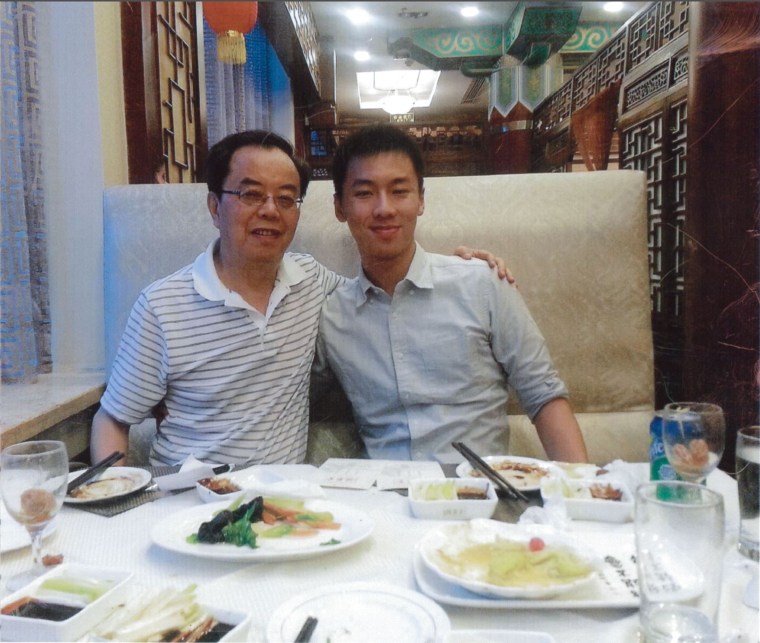 Blindfolded and wearing a backpack weighing between 20 and 30 pounds, Deng was forced to walk through a line of fraternity members who allegedly pushed, shoved, and tackled him in an attempt to bring him down in the backyard of a rented house in the Poconos in the early morning hours of Dec. 8, 2013, according to a grand jury presentment.
Deng fell several times and suffered multiple blows to his body, including his head, according to a forensic pathologist, court documents state. Groaning and shivering, Deng was brought into the living room, but wasn't driven to a hospital for at least an hour, the grand jury presentment said.
RELATED: First of 37 Defendants Sentenced in Fatal Hazing Case
Kwan, Lai, Lam, and Wong were all originally charged in a grand jury presentment with seven criminal counts, including third-degree murder and involuntary manslaughter.
Prosecutors had also charged the fraternity with those same seven counts, according to the presentment. Pi Delta Psi's criminal trial is expected to begin in November. Deng's family also filed a lawsuit against the fraternity in 2015.
The Monroe County DA's office did not immediately respond to a request for comment Tuesday.
Attorney information for the four men was not immediately known, though NBC New York reported that the former fraternity brothers' lawyers did not offer comment on Monday.
According to the grand jury presentment, Kwan, Lai, Lam, and Wong were among the Pi Delta Psi brothers that authorities said were present at the rented house where Deng died.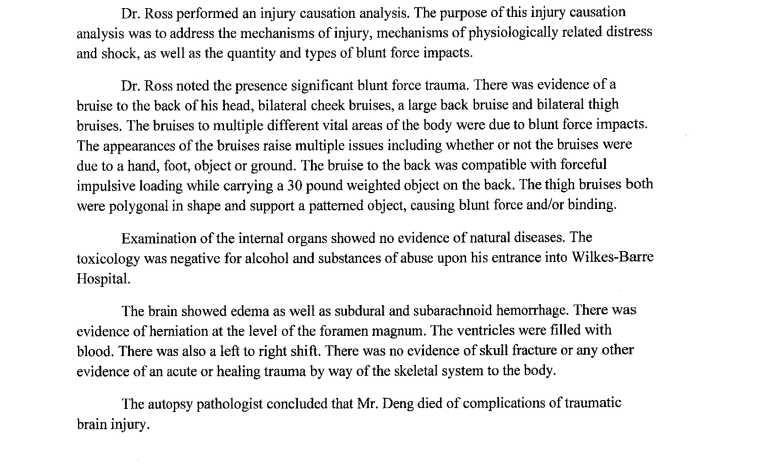 An autopsy showed Deng died of complications of traumatic brain injury, and the delay in treatment, the forensic pathologist said, significantly contributed to his death, according to court documents.
Kwan, Lai, Lam, and Wong join a fifth defendant, Ka-Wing Yuen, in pleading guilty to charges related to Deng's death. Yuen was the first of 37 defendants to enter a guilty plea in January on charges of conspiracy to hinder apprehension by evidence tampering, a third-degree felony, and conspiracy to commit hazing, a misdemeanor.
Yuen was sentenced to five years probation, 100 hours of community service, and ordered to pay a $1,000 fine.
Kwan, Lai, Lam, and Wong face 22 to 36 months in prison when they are sentenced on Dec. 4, according to NBC New York.
Cases are still pending for the remaining 32 defendants and Pi Delta Psi.
RELATED: Penn State Fraternity Death: 18 Charged Over Pledge Timothy Piazza's Fatal Fall
The guilty pleas come as nearly two-dozen members of a Penn State University fraternity face criminal charges in another case involving a pledge who fatally fell down stairs during an alcohol-fueled event in February.
Ten of 18 brothers with Beta Theta Pi were arraigned Friday afternoon following a months-long investigation into the death of 19-year-old Timothy Piazza, a sophomore engineering major from Lebanon, New Jersey. They did not comment about the charges and were later released on bail.
Follow NBC Asian America on Facebook, Twitter, Instagram and Tumblr.