World-wide rallies are planned Wednesday to protest the Chinese government's reported demolition of a Buddhist academy in Tibet, according to Students for a Free Tibet. Demonstrators say it's the latest example of Beijing's religious crackdown in the autonomous region.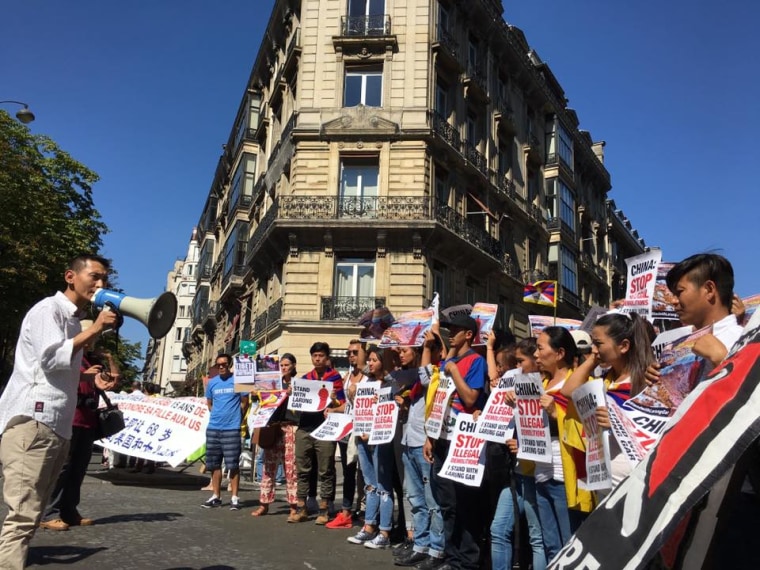 At the center of the controversy is a Buddhist complex called Larung Gar, one of the largest in the world, built in a desolate part of Tibet during the 1980s, Urgyen Badheytsang, campaign director of Students for a Free Tibet, told NBC News. More than 550 houses have already been torn down in the last few months, and 1,500 dwellings are expected to be razed by the end of October, according to Badheytsang and the website standwithlarrunggar.org.
The plan reportedly calls for downsizing Larung Gar's population by 50 percent, and evicting at least half of its more than 10,000 residents, according to the Associated Press.
"China has constantly shown to be one of the most oppressive regimes in the world and a country that we always need to expose when it comes to human rights, violations of political freedom, religious freedom and many others," said Badheytsang, co-organizer of the New York rally, to be held in Manhattan's Union Square on Wednesday, beginning at 6 p.m.
"We need people to take action."
Attempts to reach the Chinese consulate in New York for comment were unsuccessful.
China, according to the BBC, has made no formal statement about the reported demolition in Sertar County, in eastern Tibet. The BBC said Chinese officials have cited overcrowding as a reason for the apparent bulldozing of wooden homes, where thousands of Buddhist monks and nuns come to live and study.
In July, when the work began, the Associated Press reported that a Sertar County government official said police were renovating, not demolishing, the buildings in the Tibetan Autonomous Region, administered by the Chinese government, in Sichuan Province.
China has denied claims of religious and political persecution in Tibet, which was ranked among the least free governments in the world in 2016 by Freedom House, a U.S.-funded nonprofit that tracks political freedom.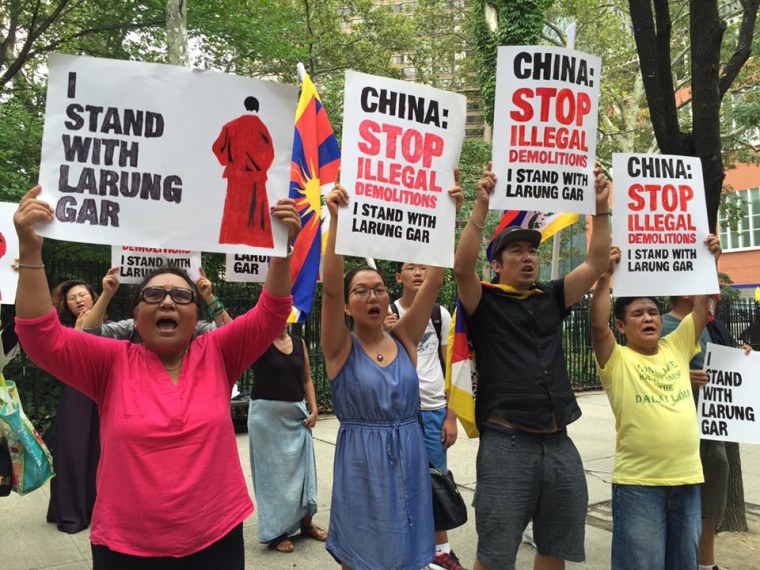 While Badheytsang hasn't visited Larung Gar, he said he's spoken to others who have and believes the reported demolition is an example of Beijing exerting its authority in Tibet. He also said he doesn't believe the Chinese government's claim that the razing of homes is an effort to ease overcrowding.
Badheytsang said he hopes Wednesday's rallies — scheduled for London, Toronto, Boston, San Francisco, Paris and Mexico, among other places — push world leaders to stand with Larung Gar and condemn the demolitions, the largest of which are slated for Oct. 30.
"We need people to take action," Badheytsang said.
Follow NBC Asian America on Facebook, Twitter, Instagram, and Tumblr.