The groundbreaking sitcom "Fresh Off The Boat" is ending its historic run depicting the delicate balance of Chinese cultural practices with American family dynamics, and its stars are looking back on what they feel were the most poignant parts of the show.
The ABC Family series, the first Asian American sitcom on television in more than 20 years, comes to an end Friday after a historic six-season run. The show, which gave viewers a glimpse into the lives of the Huang family, has been applauded for making a dent in the fight for proper Asian representation in Hollywood.
The actors who portrayed the Huangs spoke to NBC News about the moments they felt were the most culturally significant for the community.
"As far as our place in history, I feel really, really grateful and proud of what we've done. And I think we've definitely played a part in this change happening in the industry," Randall Park, who plays patriarch Louis Huang, said of the show's impact on Asian representation. "I don't think it's a trend."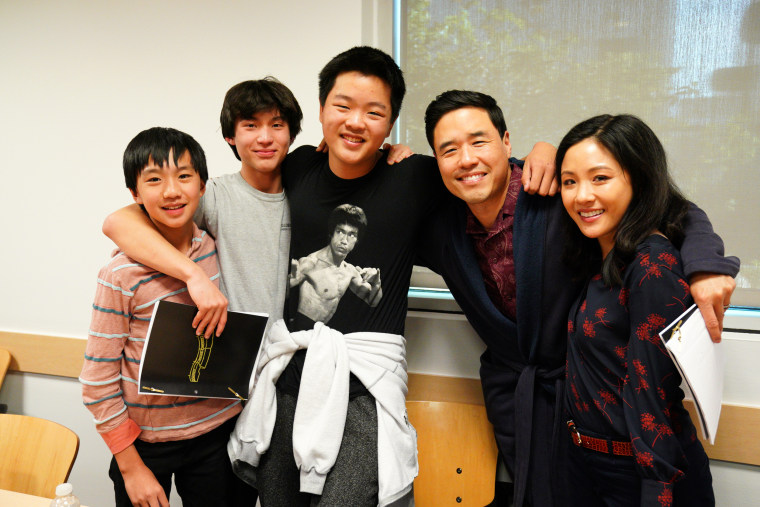 Since its debut in 2015, the show, based on a memoir of the same name by restaurateur Eddie Huang, explored topics specific to the Asian American experience from "Asian flush" to the embarrassing "lunch box" moment so many kids from immigrant families deal with. For Park, the most impactful aspect wasn't a particular episode but the "smaller moments" that humanized the relationships between family members, whether it was the dynamic between husband and wife or father and son. He explained that though the concept doesn't sound particularly revolutionary, audiences had so rarely witnessed Asian Americans experience typical milestones and familial interactions in the past that these moments are significant.
"Because we have Asian faces, they're just new. They're new, especially, to people watching in a log of parts of the country and the world where they've never seen an Asian American couple talk about their sex life," he said. "The Asian dad, talking to his son about the birds and the bees. These are things we've seen in sitcom history over and over again, that we've never seen with an Asian father and son. To me, those are the things that are super cool — the fact that we could share these moments and let people know that these are things that exist in some Asian households on top of the specific cultural things."
Forrest Wheeler, who plays Emery on the show, shared a similar sentiment. He recalled a scene in which his character, along with Evan, played by Ian Chen, and Grandma Huang, played by Lucille Soong, danced to TLC's "Waterfalls," adding that he didn't "think the majority of non-Asian viewers ever thought of Asians living those cultural iconic moments or considered us as sharing in them until they watched our show."
For Hudson Yang, who plays the main character Eddie, the most important moment was the episode "How To Be An American" from the third season. Matriarch Jessica, played by Constance Wu, goes through her own citizenship journey while Louis discovers some interesting details about his wife's past during her immigration interview. Hudson said that episode was a "really important one because it talked about something that so many people just take for granted."
"My mom was born in Taiwan and so were all my grandparents and they all became citizens the same way ... by earning it, not getting it for free like I did," he said. "I think they probably appreciate it more!"
While many cast members liked how the show proved how the Huangs were not so different from any other typical sitcom family, Ian said his favorite episode was "Ride the Tiger," which revealed many different Chinese customs to American audiences.
"The episode wrapped around Chinese New Year, which showed off the excitement in traditions like red envelopes," he said. "It also showed the Huangs' competitive side, competing who could refrain from speaking English and use Mandarin the longest."
Over the course of the show's run, Asian Americans' place in Hollywood has evolved. Last year, a report card released by the Asian Pacific American Media Coalition showed that gains have indeed been made on the small screen. APAMC chair Daniel Mayeda told the HuffPost that now, there are "multiple shows on network TV that have [Asian Pacific Islander] characters as the stars, co-stars or playing crucial roles in telling the story." But the show's early years ran concurrently to a time when Asian Americans were still demanding to be cast in lead roles with campaigns. like #StarringJohnCho, and calling on studios to cast Asians in Asian roles, unlike in "Ghost In The Shell."
For some time, the show was the only mainstream program in which the cast was not only majority Asian, but there were also characters who exhibited a diversity of personalities. But Wu claims she never felt the burden of representation, describing her place in the show's prominent position in the landscape as "a privilege and a joy."
"My life's work has always been purely as an artist. Everything else has just been icing on the cake."
The series' final episode stands as a bittersweet moment for Asian Americans, who have already aired their personal connections to the show on social media. It also marks a beginning as it's Park's directorial debut on television.
"It was a blessing and a curse because I really wanted to do a good job and I wanted to make sure our show, our final episode of our show, did the series justice and, and paid tribute to this amazing experience," he said. "The fact that they let me direct the last, the final episode of the series, really, like it was really, like truly an honor for me and I hope I did a good job."
Looking forward, many of the cast members expressed a desire to see a larger range of stories, showing different facets of the Asian American experience, on screen. Hudson himself had one more wish.
"Marvel, if you want an Amadeus Cho, you know where you can find me!" he said, referring to the Korean American character who succeeded Bruce Banner as the Hulk.