Can you tell your "coming to America" story in six words?
That's what a new book from the producers of ABC's "Fresh Off the Boat" is hoping to do: 20th Century Fox Television (the production company behind "Fresh Off the Boat") have partnered with Six-Word Memoirs and Kingswell, an imprint of Disney Book Group, to create "Six Words Fresh Off the Boat: Stories of Immigration, Identity, and Coming to America," a book of six-word memoirs about the immigrant experience.
"The immigration experience is a part of all of our personal histories," Larry Smith, creator of the Six-Word Memoir project, book series, and social media platform, told NBC News. "From the stories of recent refugees to those who have been in America for generations, it means so much to me that the ease and simplicity of sharing six-word stories can offer a lens on timely issues of immigration and identity. To collaborate with a television series that has sparked so many discussions across generations and cultures means millions of people will be invited to share their story."
The group is asking the public for submissions to be included in the book through February 15, and the book is expected to be published in September. Six-Word Memoirs has a submission tool for anyone to share their six-word stories.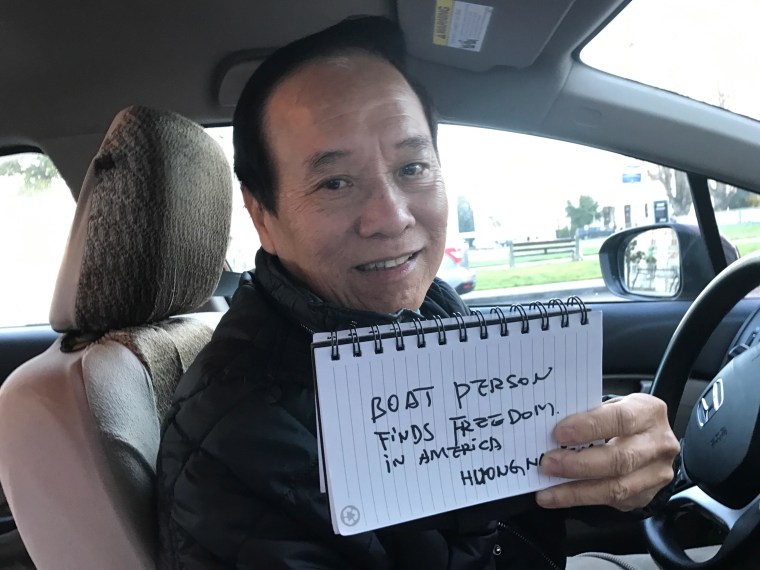 RELATED: Immigrant Story Archiving Project to Expand Internationally
Submissions so far have included stories of family, travel, identity, and quotes:
"Carried few possessions and many dreams."
"Mix of Calypso, Bollywood, and Rock-n-Roll."
"Sister pretends she can't use chopsticks."
"My name is not mamasita, okay?"
"40 years later: still outside in."
The collection will also include six-word memoirs from the cast and crew of "Fresh Off the Boat," and immigration and refugee organizations across the country.
"The idea for the book actually began before the show premiered, when we started to share the pilot episode with small and diverse audiences to get their feedback," Steven Melnick, head of marketing for 20th Century Fox Television, told NBC News. "Over and over again they told us how relatable the show was and many volunteered their own 'Fresh Off the Boat' stories, whether their own or those of their parents or grandparents. So we knew that in success, there would be an opportunity to use the show as a catalyst for storytelling."
Follow NBC Asian America on Facebook, Twitter, Instagram and Tumblr.