In June, five of South Korea's most accomplished chefs were working in one New York kitchen.
At one end of the room, chef Mingoo Kang, whose Seoul-based Mingles placed 15th on the 2016 Asia's 50 Best Restaurants list, refined a mountain of fermented sam namul — three color vegetables — cutting off unsightly leaves and trimming stalks. On the other end of the kitchen was 24 Seasons executive chef Tony Yoo, fishing hunks of cooked pork belly out of a mirepoix broth. Near the stairs, chef Jinmo Jang, a plating expert in Korea, placed translucent purple seaweed around his sea urchin tofu. Behind Jang, celebrity chef Hyun Seok Choi, a frequent guest on Korean television cooking programs, plucked pink chive blossoms from their stems, laying each down on a napkin. "Only a hundred left to go," he joked as he worked.
In the midst of the prep work, chef Jungsik Yim — who placed 22nd on the Asia's 50 Best list — walked around the restaurant wearing his bright blue cap, chatting with media. Yim opened one of the first contemporary Korean fine dining restaurants in 2009 with Seoul's Jungsik, following that up with a second location in New York City in 2011.
Yim is one of the chefs introducing new Korean cuisine to the world. In early June, New York hosted a KoreaNYC dinner series held by Korean culinary magazine La Main and The World's 50 Best Restaurants. The dinner series was located in some of the top restaurants in the city, including Blanca and Blue Hill. For the main dinner event, the five Korean chefs created a tasting menu served at Jungsik.
"Even 12 years ago, K-town was really small, a place where Koreans would go and eat their food, but now it's difficult to get a seat," Yim told NBC News. "It means people are showing interest in Korean food and it's culture."
RELATED: Deuki Hong Is Bringing 'Koreatown' to American Kitchens
The New York outpost of Jungsik won two Michelin stars in 2011 — its opening year — helping to start a boom in high-quality Korean restaurants. In 2015 alone, contemporaries Her Name is Han, Oiji, and Kichin opened in New York City. In July, ATOBOY, the brainchild of former Jungsik chef de cuisine Jung Hyun Park, is scheduled to make its debut. The restaurant will feature a tapas-style take on banchan, the Korean side dishes commonly serviced with larger meals, according to the chef.
"I want to show people Korean side dishes, banchan, and our way of service," Park said.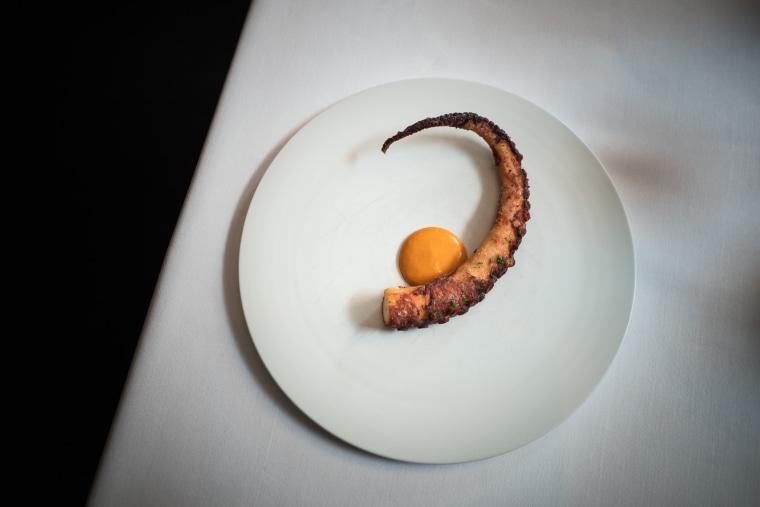 Park wants to change what the prevailing perception of banchan, which is often times served buffet-style during Korean meals, is, he said, and showcase the course as something of worth and value. He wants to recreate what Jungsik did, but in a much more Korea-centric way, emphasizing Korean ingredients and styles rather than bringing Korean ingredients and technique to French culinary styles, which was the trend when Jungsik opened, Yim said.
"We are creating new Korean cuisine," Park said. "But I want people to naturally recognize the individual chef's name."
Follow NBC Asian America on Facebook, Twitter, Instagram, and Tumblr.