Once David and Andrew Fung start talking about food, there's hardly a moment of silence.
The Seattle natives, brothers, and soon-to-be reality television personalities call themselves "food enthusiasts," but a few minutes of conversation reveals more than just a love of eating: they're passionate about the details of a dish -- from the ingredients to the cooking process -- and the knowledge they wield about the regions in the world their favorite foods come from is nothing short of impressive.
"I do think it's kind of innately in Asian -- but particularly Chinese -- culture to just always talk about food constantly," David, 28, said. "At least in our family, there's no ratchet drama stories. All that energy...just goes towards talking about food in a very nerdy and enthusiastic way."
"If you saw our parents talk with their friends," Andrew, 26, jokes, "it was a lot about, like, 'Oh, how did they steam their fish?'"
David jumps in, continuing the bit. "'You know where the best place to get fish is?'" he asks, mimicking their parents.
"'What about your wok?'" Andrew mimicks back.
The two laugh, adding on a more serious note that their parents' love of cooking served as a root cause for why they too love food. "We were born into it," David said.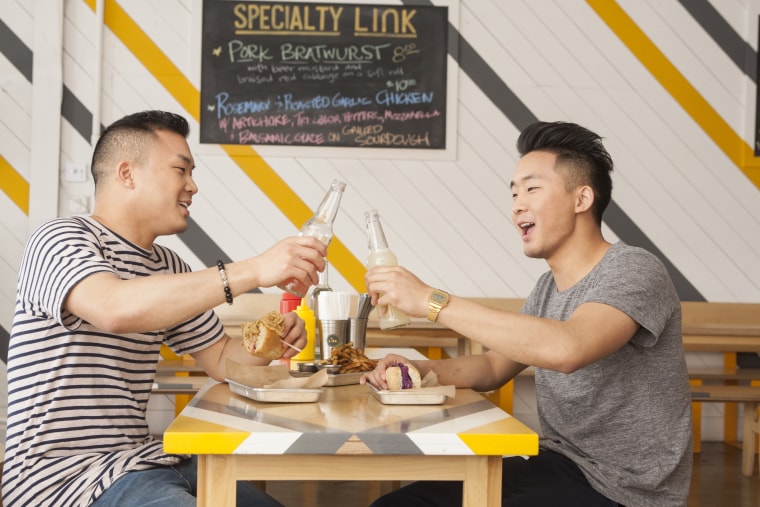 'You don't really get to choose your audience, they choose you.'
Raised in the suburbs of Seattle by immigrant parents, the Fung brothers grew up with what they describe as "typical hood dreams"-- aspirations all focused on ultimately breaking through in the entertainment industry.
"We wanted to be NBA players, rappers, ballers of some kind," David said. "We had a guy from our neighborhood who went to the NBA, so at that time, everybody was trying to be like him. Obviously, when you're Asian and you're short, it's not going down for you."
After college, the two focused their energy on comedy, moving to Los Angeles in 2011 and posting short videos to YouTube -- a platform they were drawn to because of its wide open doors. "There's no barrier to entry," Andrew said. "If [your video] goes viral, it goes viral. If people watch it, they watch it. You don't really get to choose your audience, they choose you."
Nearly four years after launching their YouTube channel, nearly one million subscribers have "chosen" them. Their content, which ranges from music videos (their viral tributes to Los Angeles' San Gabriel Valley--appropriately titled "626" in reference to the SGV's area code -- and to Taiwanese bubble tea were featured in the Los Angeles Times, Huffington Post, and more) to sketch comedy to food reviews, have been viewed more than 85 million times.
The two describe their channel as a place for "advancing the education and discussion of Asian and Asian-American topics for people around the world," though they're conscious to never speak for other Asian Americans in their videos. "We are just one of of the voices of Asian America," Andrew said, "and I feel like we have a pretty holistic understanding of Asian America at this point...but I don't want to peg myself--me and David--as 'representatives,' you know?"
And while the brothers' YouTube channel still brands itself as "comedy," their food videos are among their most popular ("5 Ways to Eat Indomie Mie Goreng (Instant Noodles)" has 1,425,000 views and counting)--and, easily, the ones filled with the most passion. Their "Fung Bros Food" videos have taken viewers to restaurants at home and abroad to showcase a variety of Asian cuisines, from Japanese street food to Hainanese chicken to classic dim sum (a good dim sum spot, the two say, is one that's perfected har gow shrimp dumplings and chicken feet).
Paired with their quick banter and trademark, simultaneously-spoken phrases is a commitment to teaching others about the food they're consuming. One recent "Fung Bros Food" video introduces viewers to Central Vietnamese cuisine and includes background information on Central Vietnamese geography and how the noodle dishes differ from the more commonly known pho. It's a history lesson wrapped in a dinner conversation between friends, and a signature of the brothers' videos.
Now, the two are taking their food enthusiasm to a bigger screen, launching a food and travel show on FYI network at the end of the month, and finally crossing over to the mainstream world they once saw as guarded by one too many gatekeepers.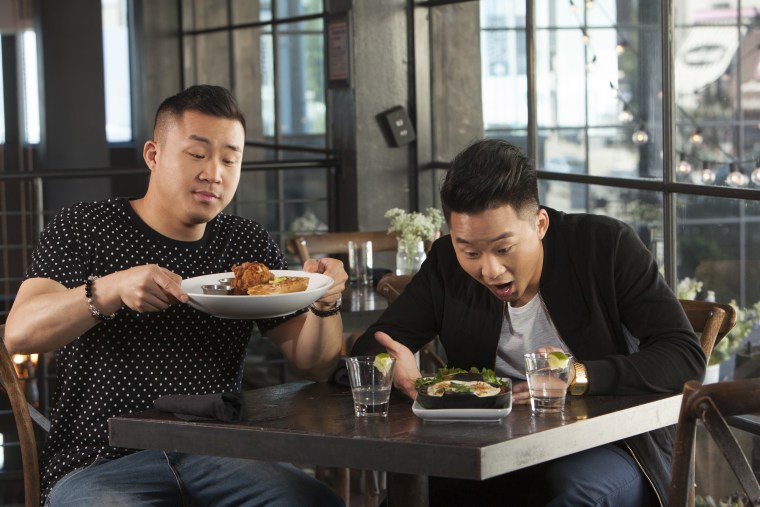 'There's a lot of people serving Sriracha aioli out there'
What the Fung?! follows the Fung brothers on an "eat-venture" across America in search of the best local food spots, bringing with them the signature sense of humor that drew YouTube audiences to them in the first place. "You're going to see Asians in the South. You're going to see Asians in the city. You're going to see Asians on the beach. We were just everywhere," Andrew said.
"We were in restaurants that no Asians had ever set foot in in the entire year," David added.
And although the show doesn't explicitly aim to address Asian-American culture and issues in America, it's something the Fung brothers say plays a prominent role.
"We've built our careers a lot talking about and discussing Asian-American stuff," Andrew acknowledged. "The show is not about being Asian, but we definitely talk about it."
Each half-hour episode follows the Fung brothers as they explore a new city -- from New Orleans to Tampa to Asheville, North Carolina -- meet local foodies to get their restaurant recommendations, and also jump into the kitchens with chefs.
"There is delicious food everywhere in America," David said, acknowledging that the "hipster culture" seen in places like Southern California's Silver Lake and Brooklyn's Williamsburg can be found anywhere. "You can go to any ultra-red state town, and they will have one subsection of that town that feels like they're Williamsburg, and it's driven by people who have lived in Williamsburg at some point."
"Let's just say," Andrew said, "that there's a lot of people serving Sriracha aioli out there."
Though there are no immediate plans to begin filming a second season, the two hope to expand their "eat-ventures" abroad someday, citing India, Indonesia, Nepal and Laos as countries that top their travel list.
Through What the Fung?!, the Fung brothers hope to use food as a means of introducing viewers to a "new America" made up of diverse cultures--cultures they find themselves learning more about on each leg of their own journeys, which have propelled them to encourage others to do the same.
"To be able to cross-over and do something that hopefully people outside of our YouTube demographic enjoy and touches them...I feel blessed that I have that opportunity, and I just want to increase the profile for everybody," David said.
What the Fung?! premieres Thursday, May 21 at 9 p.m. ET on FYI.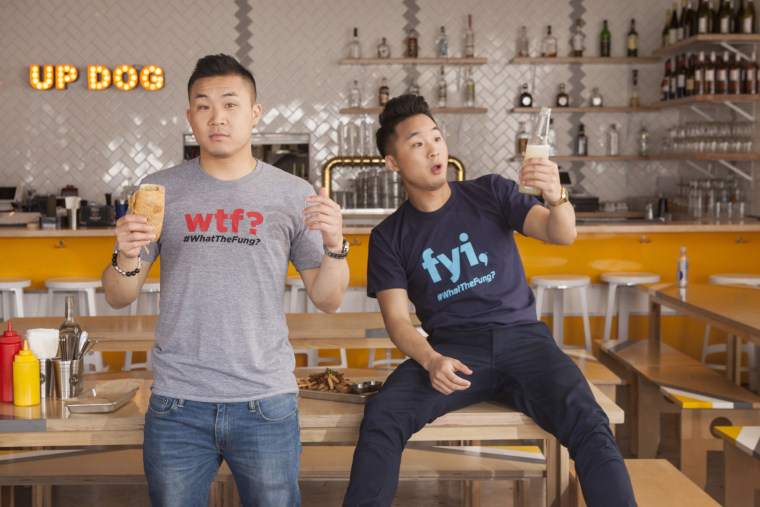 Like NBC Asian America on Facebook and follow us on Twitter.