He's received countless awards for his activism and work in entertainment, he's been honored with an asteroid named after him, and now he's permanently immortalized on one of New York's iconic double decker buses.
On Thursday, actor George Takei was inducted as a Ride of Fame Immortal Honoree, a group that includes stage veterans Sir Patrick Stewart and Liza Minnelli.
Ride of Fame is a series of mobile monuments in New York City that honor public figures for their exceptional contributions to the world and their representation of the values of the city of New York. Each honoree is presented with a red double decker bus that has a personalized decal permanently applied to the front of the bus, as well as a special seat with a decal that has a personal message written by the honoree.
Takei is an actor, author, social justice activist, social media mega-power, and now Broadway star with his debut in "Allegiance" this past fall — a musical inspired from memories of his family's time in an internment camp during World War II.
RELATED: 'Allegiance' Brings Japanese-American Internment Story to Broadway
"This is a city that I love for its diversity, for it's energy, for it's power, and for it's glory," Takei told NBC News. "On a bus, your eyes, ears, and pores are open absorbing in the variety, the wonder, and the magic of the city. It's a wonderful way to get to know the city."
At the induction ceremony in New York City, Takei was presented with a double decker sightseeing bus that featured a decal of his face. He engraved a personal message on a special seat on the bus and talked with fans that were in attendance at the ceremony.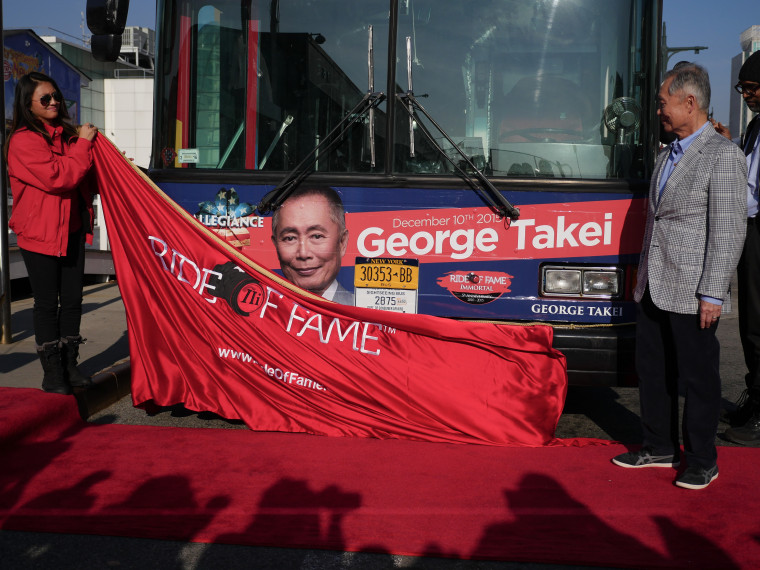 Taking a moment to reflect on his life and how he first understood the importance of public service, Takei shared an earlier memory of something his father had taught him.
RELATED: George Takei Invites Donald Trump to Watch 'Allegiance,' Learn About Internment
"It was this man who lost everything in the middle of his life, his business, our home, his freedom who explained to me the uniqueness of America's democracy. He said it's a people's democracy. The people have the potential for greatness but they also are fallible human beings," Takei said. "Our democracy is dependent on people who passionately cherish the ideals of a democracy. Every man is created equal with an inalienable right to life, liberty, and the pursuit of happiness. It's a wonderful idea and it takes people who cherish that idea to be actively involved in the process."
Using his digital presence, Takei has been a voice against injustice through numerous social issues.
"I'm an actor. I love acting and being able to use my love, my passion, to also contribute to making this a better society, a better democracy, and a better country," Takei said.