Glenn O'Brien remembers one night, more than 30 years ago, he saw Anya Phillips hit a girl at a New York City nightclub, unprovoked.
"[Phillips] was really a good dancer," O'Brien, who covered style and art for decades at publications like Interview and GQ, told NBC News. "I went up to her and said, 'Anya, what was that all about?' She said, 'I didn't like the way that b—h was dancing.'"
Those who knew Phillips well would say that the incident O'Brien described was typical of her. The Taiwanese American was a popular figure of New York's downtown punk and no wave scenes from the mid '70 through the early '80s. Before she died of cancer at the age of 26 in 1981, Phillips was a fashion designer, artist, dominatrix, stripper, actress, music manager, and photographer, socializing with the downtown creative types.
Thirty-five years after her death, Phillips is still regarded with esteem by her friends and colleagues.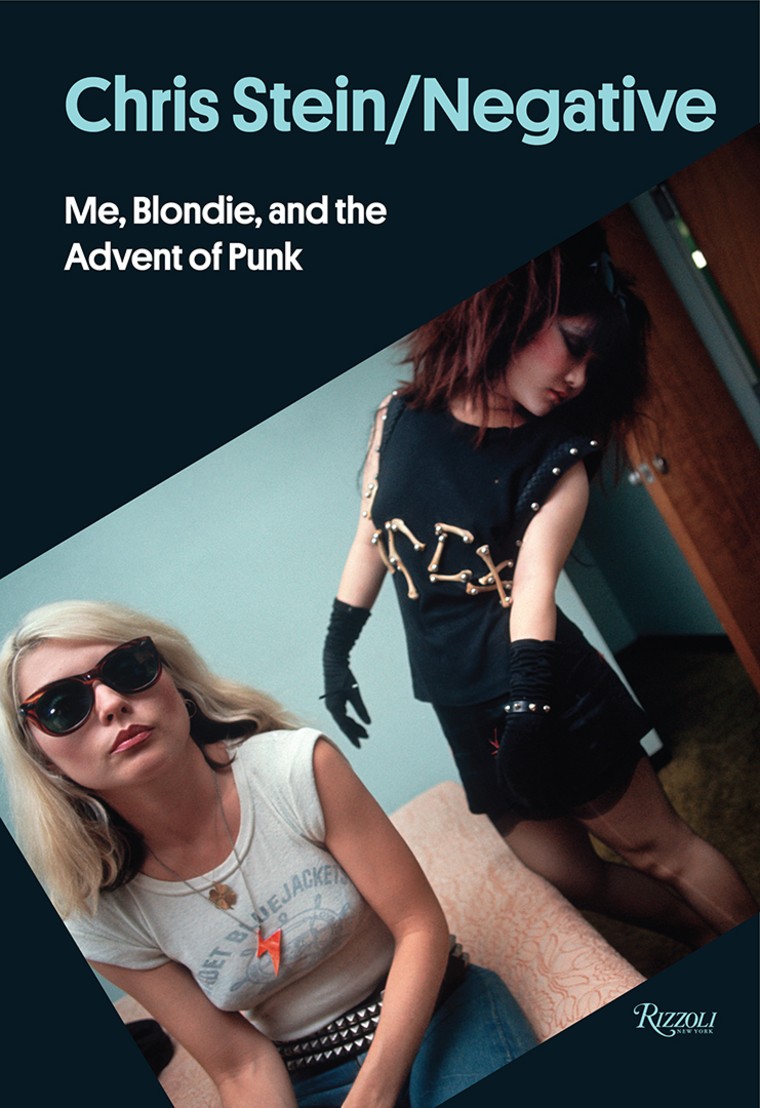 "She was a beautiful and intriguing personality, challenging, extremely talented," Sylvia Reed, the former wife and manager of the Velvet Underground's Lou Reed, told NBC News. "She knew where to be at every moment. I've never met another person like her."
"Anya was one of the people who really started that whole New York scene," musician James Chance, whose career Phillips managed in the late '70s and who was a romantically involved with her, said in Simon Reynolds' 2009 book "Totally Wired."
While not widely known compared to some of her contemporaries, Phillips has been referenced in several books, including the 1996 punk rock oral history "Please Kill Me." In her 1982 book with Chris Stein and Victor Bockris, "Making Tracks," Blondie singer Deborah Harry wrote, "The period 1975-1980 was a time in which people insisted on being allowed to do what they weren't supposed to do. Anya symbolized that period. She was a powerful energy source that's now missing from the scene, an example of how intense willpower is charisma."
From China to Hawaii to New York
According to Chance, Phillips was born in China, sometime around 1955 — her biological father was a general in Chiang Kai-shek's army. Her mother fled to Taiwan after the Communist takeover of China and later married a U.S. serviceman.
"I think [Phillips' mother] was working for television in Taiwan," Reed said. "[She] was a very dominant figure in Anya's life [in terms of] creativity and attention to design. I guess that was something Anya grew up with, and that's why Anya in her own right was a really amazing designer."
Reed (then known as Sylvia Morales) was a student at Taipei American School where she first met Phillips sometime in the early '70s.
Reed especially remembers Phillips' style and strong personality. Despite their contrasting personalities, the two students began a close, albeit complicated friendship.
"She just right away said, 'OK we're gonna be best friends and you're gonna do this, this, and this,'" Reed said. "She had this picture in her mind of how she wanted her life to be and I was to fulfill this role for her as her confidante, best friend, and trusted companion who would basically do whatever she wanted. She impressed me a lot."
"We had performance art, but these people took that to the next level — 'I'm a 24/7 performance art piece.' These people had such strong personalities — rambunctious, crazy, beautiful. Anya was super beautiful."
Following graduation, Phillips left Taiwan and briefly lived with Reed and her American military dad in Hawaii. It was there that the two friends planned their move to New York City because Phillips recognized it as the center of the fashion world, Reed said.
Phillips left for New York City in 1974, followed by Reed a few months later. Reed remembers Phillips being accepted into the Parsons School of Design on a full scholarship but leaving after three days due to her lack of discipline. Around this period, Phillips was making jewelry and outfits and also befriended men who would pay her to go out with them; she also became a dominatrix.
"Anya evolved into this — 'Well, this is what I can do,'" Reed said. "She wanted to service that type of man who was going to come and pay to clean the apartment. It was the perfect bachelorette pad, and every once in a while she would have this guy come over and he'd clean it all up for us. And he'd pay her to do it."
Both Phillips and Reed were drawn to the downtown scene in the mid '70s, symbolized by the venue CBGB, which was a haven for punk and alternative rock acts like the Ramones, Television, Blondie, Talking Heads, and Patti Smith.
"Someone [Anya] met took her there," Reed said. "She was definitely one of the reasons she led me through the door for the very first time. Immediately upon walking in, she's like, 'Oh, this is [punk rocker] Richard Hell.'"
Photographer Roberta Bayley, who worked the door at CBGB at the time, remembered meeting Phillips when the latter threw a women-only party.
"I thought that was really cool," Bayley told NBC News. "We just hung out and talked and it was great. She then started moving over to the CBGB scene. She was just an interesting person when many people weren't that interesting."
Phillips spent time with many established and upcoming artists, including musicians such as Iggy Pop; the Dead Boys' Stiv Bators; and members of the Ramones, Talking Heads, and the New York Dolls.
A friend of Deborah Harry, Phillips designed the dress that Harry wore on the cover of Blondie's 1977 second album "Plastic Letters." Her fashion sketches had a sexy futuristic cutting-edge quality to them.
"She was telling me, 'I know that everyone's going to be wearing gold,'" Reed said. "I was like, 'What? Gold?' She's like, 'Gold is the next big thing,' And then she would buy an entire gold outfit and walk around in that."
Actress Patti Astor appeared in a few indie films in the late '70s with Phillips, including Amos Poe's "The Foreigner."
"It was a real fun scene [at CBGB]," she told NBC News. "We were kind of the original glamour girls. She was wearing one of her dominatrix outfits, which was gorgeous in 'The Foreigner.' We had some good scenes together."
Art curator Diego Cortez collaborated with Phillips on several projects, including an unfinished film with cinematographer Steve Mass in which Phillips portrayed Priscilla Presley. During a car ride through Memphis during production, Phillips and Cortez pitched to Mass the idea of a new downtown nightclub that would host live music, performance art, and a gallery. Financed by Mass, the Mudd Club opened in 1978 in New York City's Tribeca neighborhood.
"Anya was a sort of creative director," O'Brien said. "She would have ideas for furnishings. The Mudd Club did a lot theme events….they would redecorate the entire club. She was instrumental in that. Basically she kind of set the tone artistically."
'This Self-Destructive Thing'
But despite her social life, Phillips' friends said there were some personal issues. In "Please Kill Me," some of her contemporaries reference an association with drugs. Years later, Sylvia Reed recalls an incident in which Phillips had attempted suicide following the end of a romantic relationship.
"I dragged her to the hospital to have to her stomach pumped," she said. "This self-destructive thing, that tragic part of her, was always there."
Phillips' and Reed's friendship became strained after they went to a New York City bar where Phillips spotted Velvet Underground's Lou Reed. According to Sylvia Reed, Phillips went first to talk to Lou Reed and then later brought her over to join them. The musician took more of an interest in Sylvia Reed — the two later married in 1980.
"Her plan was to meet and marry a famous rock star and that would be her first husband," Reed said. "All the while, she would have her fashion business and I would be her assistant. When this moment [with Lou] came up...she was pretty upset. It broke up our friendship."
Phillips' next endeavor was guiding the career of saxophonist/singer James Chance and his band the Contortions. A Wisconsinite who moved to the Big Apple in late 1975 to pursue a music career, Chance was also drawn to the punk scene. Both Phillips and Chance hit it off after the latter's performance at a benefit show that Phillips attended.
In addition to managing Chance, Phillips designed the dress worn by model Terence Sellers on the cover of the Contortions' 1979 debut record "Buy." Under the pseudonym of Ginger Lee, Phillips sang backing vocals on Chance's other album (as James White and the Blacks), "Off White."
She was planning on making a "sci-fi disco-funk album" as Ginger Lee, according to Chance. But work on the project was halted after Phillips discovered she had cancer. She was treated at a medical facility in Westchester County, New York.
"She was a beautiful and intriguing personality, challenging, extremely talented. She knew where to be at every moment. I've never met another person like her."
"She would get upset about the treatment," Reed said. "It was very difficult what she was going through."
Reed remembers receiving a desperate phone call from Phillips while she was undergoing treatment asking Reed to go to London with her on a moment's notice.
"I tried to talk her out of it—'Are your doctors saying that it was OK to go?' She said, 'If you won't go to London with me, then I'm not going to talk to you.' And she did get on that plane to go to London," Reed said.
Both O'Brien and Bayley were at the airport to pick up Phillips upon her return from the U.K., as her health deteriorated.
"She was like a skeleton," Bayley said. "But what I didn't know was after she went into the hospital, Sylvia was spending a lot more time with her."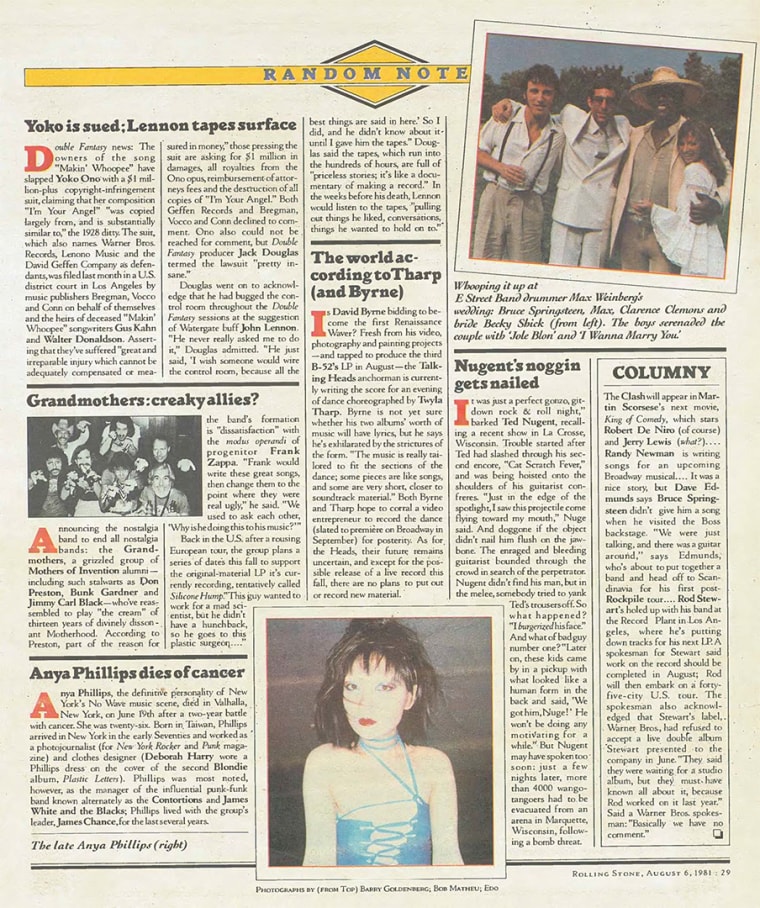 Phillips died on June 19, 1981 in Valhalla, New York, a passing that Rolling Stone noted in a small obituary. Her strained friendship with Reed never truly mended.
"She had put this story out there about her best friend betraying her," Reed said. "When I went to the memorial, people were saying, 'What are you doing here?' Because that's how she was. She painted a picture for everybody of me being this person who didn't care. That's all completely untrue."
James Chance's 1982 album "Sax Maniac" was dedicated to Phillips.
"They were so devoted to each other," Astor said of the couple. "They were soul mates. It was just heartbreaking."
Her contributions to the downtown scene continues to be noted in books, including in Blondie guitarist Chris Stein's "Chris Stein/Negative: Me, Blondie, and the Advent of Punk" and Tim Lawrence's "Life and Death on the New York Dance Floor."
Phillips' friends said that she would have made an impact on the fashion world had she lived longer. Fashion designer Anna Sui said in Andrew Bolton's 2010 book that Phillips' designs were "absolutely incredible."
"She was very striking," Cortez said. "It was a period where people actually kind of looked like something. Their style was their kind of art. Anya was that kind of person. We had performance art, but these people took that to the next level—'I'm a 24/7 performance art piece.' These people had such strong personalities—rambunctious, crazy, beautiful. Anya was super beautiful."
Follow NBC Asian America on Facebook, Twitter, Instagram, and Tumblr.