In "Go Back to China," spoiled rich girl Sasha (played by Anna Akana) is forced to move to China to work for the family toy business after her father threatens to withhold her trust fund. What began as a way to regain financial support evolves into a journey of self discovery for Sasha, who discovers a newfound bond with her distant family.
Though it's a work of fiction, the basis for the film is not too far removed from director Emily Ting's own experiences. In her early 20s, Ting lived in China to help run her family's toy business. It was there that she filmed a documentary called "Family, Inc.," but Ting refers to it these days as a "glorified home video."
"In order for it to reach a real audience, it needs to be done professionally, told in a narrative way with professional actors," Ting said. "This story has sat with me for over a decade. ...I struggled with for a very long time in figuring out how to tell this story narratively."
For "Go Back to China," which made its debut at South by Southwest in March and will play at the Los Angeles Asian Pacific Film Festival this May, Ting said she decided to go with the story of a "rich princess" getting cut off by her father because she felt it was more accessible. "I think we all love watching those 'taming of the princess' stories like 'Overboard' or 'Clueless' where these spoiled rich girls go through and learn life lessons," she said.
While that element of the film — a rich girl who is cut off by her father — is fictional, Ting said the family dynamics represented in the story reflect her own. She even used locations straight from her life: The toy factory and the mansion seen in the film are both her father's in real life; the role of Sasha's younger brother is played by Ting's own brother; and the toy factory manager and extras seen in the film are actually factory workers from her family's business.
"It was important for me, in addition to telling this semi-autobiographical story, to choose a lot of the actual locations," Ting said. "I was afraid that if it was made into a commercial film that I wasn't going to be able to shoot in real locations and that other people would have more control of it. Being able to shoot in this little toy factory is part of the allure of this project because in a way, it's like a time capsule for my family and I."
When it came to casting the leads, Ting wanted to get a variety of people from different acting backgrounds involved: Akana is best known for her YouTube channel; Richard Ng, who plays Sasha's father, is a well-known actor in Hong Kong; and Lynn Chen, who plays Sasha's sister, counts among her credits "Saving Face" and a variety of independent films, web series, and the audiobook for "Crazy Rich Asians."
Chen said she said "yes" to the film almost instantly when Ting reached out to her because she had been familiar with Ting's first scripted feature, "Already Tomorrow in Hong Kong."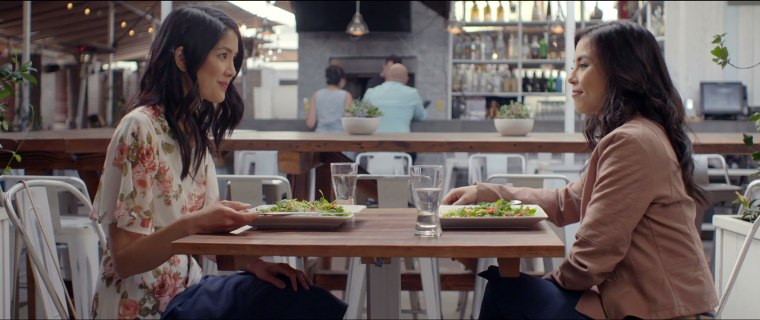 "It was an opportunity to work with Anna, who I had met previously and was a fan of hers, and also an opportunity to play these characters who are two strong female Asian roles who — while they're somewhat fighting for their dad's love — they're not fighting over the romantic affection of some guy," Chen said.
Akana said the family aspect of the film also appealed to her. "It really explores this idea of traditional versus first generation kids who grew up with an American mindset and now we're being confronted with our parents who want us to have more traditional values," Akana said. "And I don't feel like that's been portrayed much."
She added that she was drawn to the role of Sasha because she saw so much of the character's transformation in her own journey. "I realized how much I take for granted especially since I live in L.A. My dad's duty as a father was to make sure I never went hungry and that emotional support never occurred to him because he came from a place where survival is his biggest problem, so I was learning everything she was learning as it was happening," Akana said, referring to Sasha's struggle to understand her and her father's distant behavior.
Since it premiered at SXSW, Ting said she's been pleasantly surprised by the attention "Go Back to China" has been getting — something she says she owes to the success of "Crazy Rich Asians."
"I fear this is just a fad with people saying, 'Let's chase the next big Asian American story,' and then, by the next one, they'll forget about it," Ting said. "But I hope not. I feel lucky to be riding this wave right now with so much attention paid to it."
Akana said she's also noticed a shift since last year in projects she's received that are specifically seeking Asian actors for roles whereas before, that wasn't as much in demand. "When you see someone doing something that looks like you, and when you haven't had that opportunity, it really is inspiring and makes you believe you can do it," Akana said. "I have friends who very much think that it shouldn't matter what race you are, you should be inspired by whoever the person is, and I think to an extent, yes, 100 percent that's true, but there's something incredibly powerful about seeing someone who also looks like you that you can identify with."
Follow NBC Asian America on Facebook, Twitter, Instagram and Tumblr.
CORRECTION (April 30, 2019, 8:05 P.M.): An earlier version of this article misstated the film festival "Go Back to China" is playing at. It is the Los Angeles Asian Pacific Film Festival, not Los Angeles Film Festival.