Ethnic foods, particularly the fermented variety, have a history of being typecast as unappetizing in the United States. Korean offerings like kimchi, soybean pastes like doenjang and the red chili paste gochujang have long faced lunchbox racism for their dominating pungent funk.
So it has surprised some that a few of these Korean sauces and sides, which add an umami tang to their meals, have popped up on menus in recent years at white-owned restaurants, the latest being Shake Shack. This month, the chain started featuring gochujang in its Korean-Style Fried Chick'n sandwich, along with other items, like kimchi slaw and gochujang fries. It has sparked a variety of responses, including criticism.
Food critics point to specific issues — that mainstream dominant culture decides which foods to cherry-pick as worthy of being trendy and that gochujang isn't a condiment.
"The Shake Shack Korean chicken burger is very American, in that Americans always appropriate or adopt the cultures of the people who immigrate to America," said Robert Ku, a professor of Asian American studies at Binghamton University and author of "Dubious Gastronomy: The Cultural Politics of Eating Asian in the USA." "The fact that gochujang is now being talked about more than ever is quite surprising. On the other hand, maybe not."
A spokesperson for Shake Shack said that the company worked closely with culinary partners in South Korea "to develop a version that remained true" to gochujang's cultural origins and that customer response has been positive.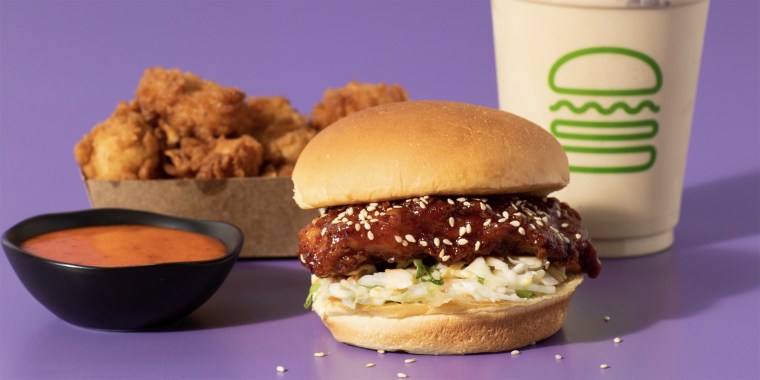 Korean food in U.S. originally by and for Koreans
Culinary experts point to a long history behind slathering sauce on a sandwich and calling it "Korean-style." Gochujang — one of the Korean "mother sauces" of jangs, or fermented sauces, that form the basis of Korean cooking, including doenjang and ganjang — is traditionally made by mixing malt, glutinous rice flour, Korean red pepper flakes and ground-up meju, a brick of dried fermented soybeans, said chef Hooni Kim, who owns Danji and Hanjan in New York City.
Fermentation usually takes six to 12 months to develop the sauce's distinctive sweet and spicy flavor. Because the fermentation of gochujang and other jangs can take months to years, mass-produced store-bought gochujang shortens the fermentation period to a day or two, which reduces the amount of nutritious probiotic bacteria levels.
The thick, spicy-sweet paste steadily became more popular across the country with the rise of Korean restaurants during the late 20th century in metropolitan cities.
Unlike other Asian cuisines, which were pressured to adapt to suit white Americans' taste, Korean restaurants in America were catered for Koreans by Koreans who had immigrated to the U.S. in large numbers during the 1970s and the 1980s after Chinese and Japanese immigrants.
"Korean food became widely popular at a time in American history where many Americans were already open to a variety of different kinds of experiences," Ku said.
Even though Korean restaurants were meant to serve food "familiar to Korean immigrants," it was chiefly after white authority figures introduced it to the public that Korean food slowly became popular.
Robert Ku, professor of Asian American studies
But even though Korean restaurants were meant to serve food "familiar to Korean immigrants," it was chiefly after white authority figures introduced it to the public that Korean food slowly became popular, Ku said.
The gochujang gateway for Americans
In 1996, the food journalist Ruth Reichl wrote an article, "Adventurous Asian Cuisine," for The New York Times, extolling the Korean vegetarian and barbecue restaurant Kang Suh, which offered the classic Korean rice dish bibimbap, a staple gochujang gateway dish for non-Koreans.
"The Korean kitchen could hardly be more distinct from that of China or Japan," she wrote. "It is a robust and hearty cuisine, heavily spiced with garlic and chilies."
Kim said, "I think that sort of started the wave of non-Koreans going to K-town and trying out the restaurants because back then the venues weren't in English."
But by the early 21st century, as foodie culture became defined by food television and social media, the distinction between traditional and modernized Korean food blurred.
YouTube stars like Maangchi and Seonkyoung Longest promoted "authentic" Korean home cooking that raked in millions of subscribers, while shows like "Kimchi Chronicles" and the rise of modern Korean American restaurants re-created recipes for a regional palate that earned Michelin stars.
"While I don't believe that the Michelin status is the cause of the rise of popularity of Korean cuisine and its fundamentals, such as gochujang, I do believe that the increased number of Korean restaurants being represented in Michelin is reflective of the interest in Korean cuisine," said chef Junghyun Park who owns Atoboy, Atonae and the two-starred Atomix in New York City, which previously used gochujang in its dishes.
Gochujang isn't 'the next' anything, critics say
As it has steadily gained steam in the U.S., gochujang has been heralded as the "next Sriracha" since at least 2012.
A Reddit thread in 2014 asking about "a spicier hot sauce in the same vein as Sriracha" had users vouching for gochujang. Another forum simply stated "Gochujang, the next sriracha." An Eater headline from 2015 read, "Why Gochujang Is the Next Sriracha."
According to a 2017 survey by the National Restaurant Association, gochujang was ranked No. 22 as an "ethnic condiment" considered as a "hot trend," along with Sriracha, among others.
I never like to say a pantry ingredient is 'trending' or 'mainstream,' because that implies it is new. But new to whom? Gochujang is one of the oldest foodstuffs, beloved by millions of people for centuries.
Eric Kim, food writer for The New York Times
"I know what it's implying, but I've always hated that kind of implication. Gochujang isn't the 'next' anything to me, you know?" said Eric Kim, a food writer for The New York Times. "It is and has always been gochujang. I never like to say a pantry ingredient is 'trending' or 'mainstream,' because that implies it is new. But new to whom? Gochujang is one of the oldest foodstuffs, beloved by millions of people for centuries."
Other food experts found the term misleading, indicating that the paste was never meant to succeed the "mainstream" Sriracha.
"I think whoever came up with it didn't understand gochujang," Hooni Kim said, citing the matriarchal pattern of Korean cooking, which involved recipes' passing down from wives and mothers-in-law. "Because if you ask any Korean mother, they'll tell you right away gochujang is not a condiment. It's not ketchup or mayonnaise. It's one of the key Korean flavor profiles that you cook many dishes with. It's an ingredient that needs skill and a purpose to cook with."
Ku said Shake Shack was just one of the latest white-owned conglomerates to piggyback on an ethnic food trend.
In 2012, TGI Friday's, now owned by Ray Blanchette, advertised a "Korean Steak Taco" following the huge success of Roy Choi's Kogi BBQ, which included ingredients like gochujang in its spicy pork tacos and prompted the Korean taco truck phenomenon.
"There was nothing Korean about it," Ku said, referring to the steak taco, which featured corn tortillas, iron steak, ginger-lime slaw, cucumbers, fresh cilantro and Sriracha. "At least Shake Shack uses some uniquely Korean ingredient, gochujang. The fact that it took Shake Shack 10 years after TGI Friday's failed attempt to market Korean tacos maybe points to them being really behind. I agree with the criticism. It is a lazy interpretation, catch-all term and shortcut marketing fad."
Despite the media and corporate hype for gochujang, Hooni Kim said the paste is simply "as popular as a Korean restaurant."
"It's a very cosmopolitan trend, where particular types of food or ingredient that is considered somewhat foreign or exotic has picked up some notice," Ku said.
Some say the chili paste going mainstream is a good thing
Park says Shake Shack's attempt shouldn't be expected to be authentic and is part of a process. "While most will have the opinion that the taste is far from the original Korean yangnyeom chicken or gangjeong chicken, which boasts a similar gochujang-based sweet sauce, I think [Shake Shack's attempt] is a commendable try. These kinds of attempts continue the cycle of inspiration and evolution of popular foods which are not rooted in national tradition."
Hooni Kim, who withstood a period when Americans were ignorant of Korea as an independent nation — often confusing it with China and Japan — said he appreciated any representation of Korea as a country with its own food.
"It all comes down to execution. If they make it delicious so people like Korean fried chicken or gochujang, then I thank them," he said.
Meanwhile, Ku, who considers the Shake Shack burger to be American, said that while white privilege regards whiteness or associations with European as "native," all food in America is ethnic.
"In some sense, there's a superficiality to Shake Shack suddenly saying we're going to have a Korean-style menu," Ku said. "But maybe that's a good indication of a larger trend of America becoming more accepting to differences, which is a continual struggle. If gochujang can have some mainstream appeal in America, then America is truly a pluralistic, multicultural amazing cosmopolitan place."
Follow NBC Asian America on Facebook, Twitter and Instagram.