Piyali Bhattacharya can distinctly remember a conversation one evening in the fall of 2008, with several Asian women friends, where the words "obedience" and "rebellion" kept coming up as they discussed their family experiences. Bhattacharya had been in London attending graduate school, and went home later that night to email some of her South Asian friends back home in America about the topic.
The response: passionate reactions about the burden of expectations placed on South Asian American daughters.
"I want other South Asian American daughters to feel understood when they read our stories. I want them to feel like they are not alone."
"I realized then that there was a theme there," Bhattacharya told NBC News, "and the idea for the anthology 'Good Girls Marry Doctors: South Asian American Daughters on Obedience and Rebellion' took shape."
The following year, when Bhattacharya was ready to begin collecting the stories that would become "Good Girls Marry Doctors," she knew that, first and foremost, she was looking for "a good story," one that was "relatable, and the voice needed to be one of a storyteller."
But just as important to Bhattacharya was that the anthology have a unifying theme while including many, diverse voices. "The whole point of creating this book was to weave it out of an assortment of voices," she said. "Writing this book based on only one person's experiences would have been more like a memoir, and less like taking a survey of an entire community of women whose opinions have never been sought out before."
Bhattacharya added that she wanted to give many South Asian American women the opportunity to be heard and share their experiences. "That can only happen when a diverse array of women are all speaking their truths at the same time," she said.
"Good Girls Marry Doctors," which Bhattacharya admits is a title she didn't expect to stick, includes essays written by women from a diverse range of cultural, linguistic, religious, and professional backgrounds, including authors Jabeen Akhtar, Nayomi Munaweera, and Sona Charaipotra; actress and activist Fawzia Mirza; and writer and activist Tanzila Ahmed. Mirza and Ahmed were honored in May at the White House as "Champions of Change for Asian American and Pacific Islander Art & Storytelling."
In collecting stories for "Good Girls Marry Doctors," Bhattacharya said she was motivated by her own desire to tell her personal story as the daughter of Indian parents who had immigrated to the New York area in the 1980s.
Her father (a doctor, who passed away in January after a brief battle with leukemia) and her mother (a writer) wanted their children to pursue higher education, as well as be immersed in the art, culture, and language of both their native and birth countries. To accomplish that, her parents sent Bhattacharya and her brother to India for long sojourns, and they also helped establish the India Center of Westchester in New York, "where people of all ages and language groups could meet, where Indian Americans might come to take language, music or dance lessons, even a space where the community might convene to talk about how to get involved in local government."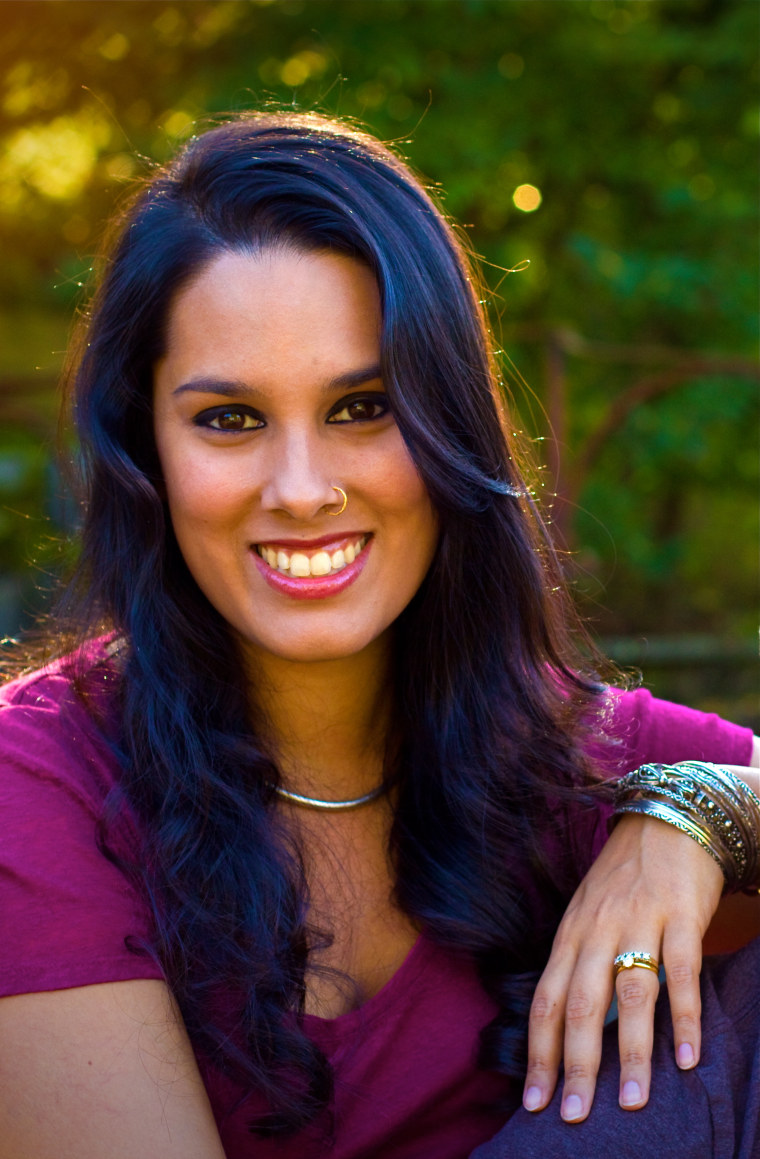 Now, like her parents before her, Bhattacharya, who received her MFA in Creative Writing from the University of Wisconsin earlier this year, has also built a community center – this one, for South Asian American daughters, and its bricks are their stories.
But Bhattacharya notes that her parents' expectations, though lofty, were always tempered with love. "Like most South Asian American daughters, I've had moments where I've had to have some intensely difficult conversations with my parents, but I think it might have been the very clear expectation that we will never stop loving each other that has kept us fairly closely bonded," she said.
These dual familial forces of love and expectation, along with her own self-expectations, are what propelled Bhattacharya towards her own path as a writer — and through publishing her story, as well as the other stories in "Good Girls Marry Doctors," she experienced firsthand the challenges of undertaking such an arduous task.
"For women of color, hawking our wares to the gatekeepers of the publishing industry can be daunting. But to defend a book which is composed of 27 such voices is nearly impossible," she said. "It took getting the manuscript a grant from the National Endowment for the Arts for me to be taken seriously by presses."
Throughout the eight year-long process, from conceptualizing to compiling "Good Girls Marry Doctors," Bhattacharya said she remained inspired by and focused on her broader goal for the project: to build community.
"Good Girls Marry Doctors" is scheduled to be officially released on September 6, and includes the launch of a companion website where readers will have the opportunity to submit their own essays and participate in a discussion forum. "My hope is that the camaraderie I have already felt from the women who have come on this journey with me will extend to all of those who decide to participate in the project," Bhattacharya said.
She added, "I want other South Asian American daughters to feel understood when they read our stories. I want them to feel like they are not alone."
Follow NBC Asian America on Facebook, Twitter, Instagram, and Tumblr.