On what would have been her 95th birthday, Google is recognizing late activist Yuri Kochiyama with one of its most visible honors: a Google Doodle on the search engine's homepage.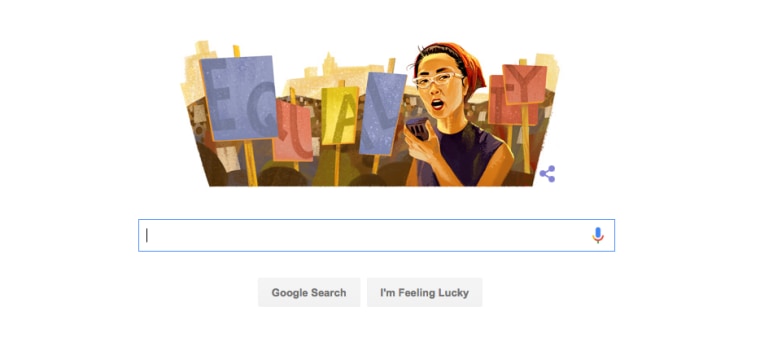 "Kochiyama left a legacy of advocacy: for peace, U.S. political prisoners, nuclear disarmament, and reparations for Japanese Americans interned during the war," Google wrote in a post announcing the Doodle. "She was known for her tireless intensity and compassion, and remained committed to speaking out, consciousness-raising, and taking action until her death in 2014."
Born on May 19, 1921, in San Pedro, California, Kochiyama was one of the tens of thousands Japanese Americans sent to internment camps during World War II. Her experience during the war, along with her experience after the war in New York City (Kochiyama and her husband, who she met while interned, lived in housing projects alongside black and Puerto Rican neighbors), inspired her path toward fighting for civil rights.
Kochiyama's friendship with Malcolm X, which was described by NPR in 2014 as "brief but formative," has also been cited as a catalyst for her activism. (Kochiyama was by Malcolm X's side after he was struck by the bullet that killed him.)
During her life, Kochiyama fought for many causes, including redress for Japanese-American internees, Puerto Rican independence, and the Black Liberation movement. Considered one of the most prominent Asian-American activists, Kochiyama has been the subject of several documentaries, as well as the subject of the play "Yuri and Malcolm X" written by Kochiyama's second cousin Tim Toyama.
Social media users who took note of Thursday's Google Doodle, created by artist Alyssa Winans, celebrated Google's decision to feature Kochiyama for the day:
Follow NBC Asian America on Facebook, Twitter, Instagram, and Tumblr.