For Zhonggang (Cliff) Li, Jeb Bush was an attractive presidential candidate early on.
Li, a Chinese-American resident of Florida and self-described moderate Republican, pointed to an executive order that Bush had signed in 2000 as Florida's governor that ended race-based college admissions--an issue that resonates with many Asian Americans--as one of the reasons the Republican hopeful appealed to him.
So when Bush officially announced he was entering the presidential race in June, Li mobilized a team of 200 Asian Americans to attend the Miami event. The group made banner that read, "It's the right time to be RIGHT! Asian Americans for Jeb," and hung it directly behind Bush's podium. Li, who captured it in photographs he uploaded to his website, AAforjeb.com, said it was a particularly proud moment for him.
And then came the "anchor baby" comment.
Speaking to reporters in August at a campaign event in McAllen, Texas, Bush clarified his use of the controversial term, saying, "What I was talking about was the specific case of fraud being committed, where there's organized efforts -- and frankly it's more related to Asian people coming into our country -- having children in that organized effort, taking advantage of a noble concept, which is birthright citizenship."
"Frankly, we're disappointed," Li told NBC News. "We feel based on what I know about him, maybe when he talked, he had just taken the wrong words under pressure."
He added, "We don't want to make a judgment based on that one sentence. We're still observing."
RELATED: The Case at the Heart of the Birthright Citizenship Battle
But some Asian-American Republican insiders say any initial support for Bush among the Asian-American community may be eroding after Bush conflated the controversial term "anchor baby" with birth tourism, an industry in which wealthy pregnant women from China travel legally to the U.S. on tourist visas to give birth on American soil, automatically making their newborns U.S. citizens.
"For him to single out Asians, there was a little bit of betrayal, and they felt slighted," said Phil Gim, a businessman who sits on the advisory board of the Asian Republican Coalition, a nonprofit organization.
"This goes back to the general consensus of Asian Americans--not just Chinese Americans, but Asian Americans--that there's still prejudice and stereotyping, and not taking us seriously."
As Republican presidential candidates prepare for Wednesday night's primary debate, the fastest growing racial group in the U.S. will be paying close attention to the rhetoric GOP candidates employ in discussing everything from immigration to education. By 2040, the number of Asian-American voters is expected to double, rising to 12.2 million, according to a 2015 report from the UCLA Center for the Study of Inequality and Asian Pacific American Institute for Congressional Studies.
Especially attentive will be those Asian Americans who vote Republican--26 percent in the last presidential election, according to the Roper Center at the University of Connecticut.
Despite Asian-American Republican organizers' belief that voters of Asian descent share the party's values on education and the economy, the GOP has seen support from this demographic steadily wane since 1992, a year when some 55 percent of Asian Americans voted for Republican President George H.W. Bush, according to the Roper Center.
This estrangement, some say, stems in part from the Republican party not understanding how best to engage Asian Americans. "I don't like to be spoken to as an Asian American," said Voice of America correspondent Sasha Gong, who ran for the Virginia Legislature as a Republican in 2009 and lost. She blamed the GOP for being condescending to minorities--a trend she said that Democrats began and that Republicans have followed.
"Speak to me--same principles, same understanding--as a full citizen," Gong said.
Li noted that having similar political beliefs was not enough to forge a connection between Asian Americans and the Republican party. "We are more sensitive to who is friendly to us, who will take us in, who will speak to us in an emotional sense," he said.
But for Asian-American voters, the rhetoric of late has been anything but friendly. Other Republican presidential candidates have also drawn the ire of Asian Americans, most notably Donald Trump when he used a mock Asian accent at a rally last month in Dubuque, Iowa, to describe his experience dealing with Asian business partners. Trump also made headlines for suggesting that President Barack Obama treat Xi Jinping, China's president, to McDonald's instead of a state dinner when he visits the U.S. this month.
Li said he worries that candidates, when speaking about China, aren't careful enough to make a distinction between the Chinese government and Chinese people. "They don't separate them," he said. "They just say 'Chinese,' and that hurts."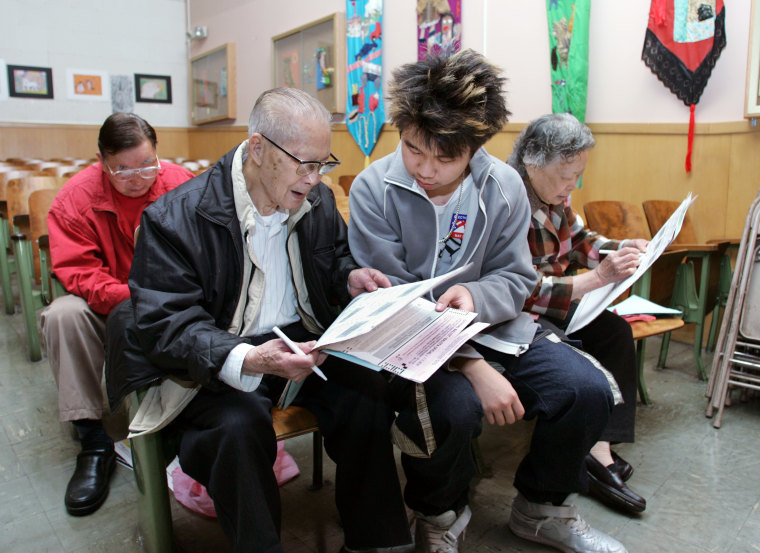 Asian-American Republicans say that for the GOP to make inroads with the community, who in 2014 made up an estimated 9 million eligible voters, the Republican party will have to change its mindset in how it treats this demographic.
"This goes back to the general consensus of Asian Americans--not just Chinese Americans, but Asian Americans--that there's still prejudice and stereotyping, and not taking us seriously," Gim said.
Bush continues to trail frontrunner Trump, according to a new NBC/Marist poll. Just 6 percent of Iowans and 8 percent of New Hampshire residents said they would vote for Bush if the 2016 Republican caucus or primary were held this month, the poll showed. That's in contrast to 29 percent of Iowa voters who said they support Trump and 22 percent who back Ben Carson, a retired neurosurgeon. In New Hampshire, Trump still led the pack of 17 GOP candidates with 28 percent of supporters, followed by Ohio Gov. John Kasich at 12 percent and Carson at 11 percent.