Haji Yusuf, a Somali-American Muslim born and raised in Kenya, was sitting on the sofa in his Minnesota home with his wife and two kids when the phone rang Saturday night.
"This young kid calls me and he's like, 'Haji, you have to see this,'" Yusuf told NBC News.
Earlier that day, two of Yusuf's friends were driving in St. Cloud, Minnesota, a city about an hour northwest of Minneapolis with a growing Muslim population, when they spotted a red pickup truck with license plates that read "FMUSLMS."
They snapped a photo and, that evening, sent the photo through Facebook to Yusuf, cofounder and community director of #UniteCloud, an organization established last year to address rising anti-Muslim and anti-immigrant sentiment in the city of roughly 66,000. Yusuf, who lives in St. Cloud, posted the photo on his Facebook page, where it was shared by more than 600 people, some of whom contacted the state government and demanded action, he said.
By Monday, Minnesota's Department of Public Safety (DPS) said it was in the process of revoking the plates, and Gov. Mark Dayton had issued a statement saying he was ordering a review of procedures to ensure something like this never happens again.
"I am appalled that this license plate was issued by the state of Minnesota," Dayton said in the statement. "It is offensive, and the person who requested it should be ashamed. That prejudice has no place in Minnesota."
DPS spokesman Bruce Gordon told NBC News in an email Tuesday that he could not release the name of the person who had the license plates because of state and federal laws.
In a statement, DPS said it had made a mistake when it issued the plates last June. The application was processed at a deputy registrar's office and was reviewed by Driver and Vehicle Services, a division of DPS, according to the statement. In Minnesota, no more than seven characters are permitted on personalized license plates for passenger vehicles.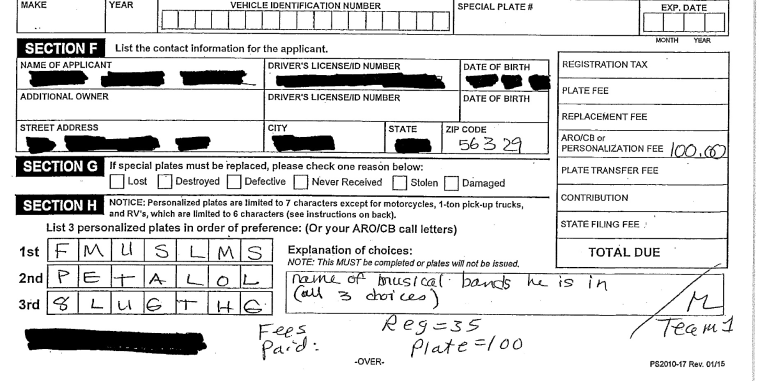 On Wednesday, Minnesota's DPS released a redacted copy of the license plate application, paid on June 11, that lists three preferences for personalized plates, which the applicant said "were names of musical bands he is in." The first was "FMUSLMS," followed by "PETALOL," and "8LUGTHG," according to the application. The plates were issued to a 1987 Chevy, and the applicant paid $135.
Yusuf, who studied at St. Cloud State University, said fellow Minnesotans have been very supportive throughout the incident, adding that the person who applied for the vanity plates does not represent the majority of people he knows.
"We don't want something that is offensive to anybody because we are all neighbors and we all live together," Yusuf said.
St. Cloud's Muslim and foreign-born population began to grow around 2007, Yusuf said, as immigrants from African countries like Somalia, South Sudan, and Ethiopia settled there to join their families and look for work. Many ended up finding jobs at poultry slaughterhouses and factories, he said.
According to the Census, the black or African American population of St. Cloud more than doubled between 2000 and 2010, increasing from 1,402 to 5,152. During those 10 years, St. Cloud's total population also increased by nearly 10 percent, while the percentage of whites decreased from 91 percent to 84 percent, the Census shows.
That demographic shift has fueled anti-Muslim and anti-immigrant feelings, Yusuf said, prompting executive director Natalie Ringsmuth to found #UniteCloud last year in an effort to bring the community closer together.
RELATED: Army Reservist Sues 'Muslim Free' Gun Range After Allegedly Being Asked to Leave
Yusuf said he was personally happy that Minnesota's state government apologized for issuing the "FMUSLMS" license plate and promised it would take them back. He added that what's important now is having a conversation to prevent something similar from happening in the future.
"It's just one person that gives us a bad name in the community, but this community is bigger than that," Yusuf said. "They came together, they are supportive of their neighbors — and that's what really matters at the end of the day."
Follow NBC Asian America on Facebook, Twitter, Instagram, and Tumblr.
This story has been updated with the release of the license plate application.