A coalition of 132 Asian-American organizations is expected to file a complaint with the federal departments of Education and Justice Monday, alleging that Yale University, Dartmouth College, and Brown University discriminate against Asian Americans in their admission processes.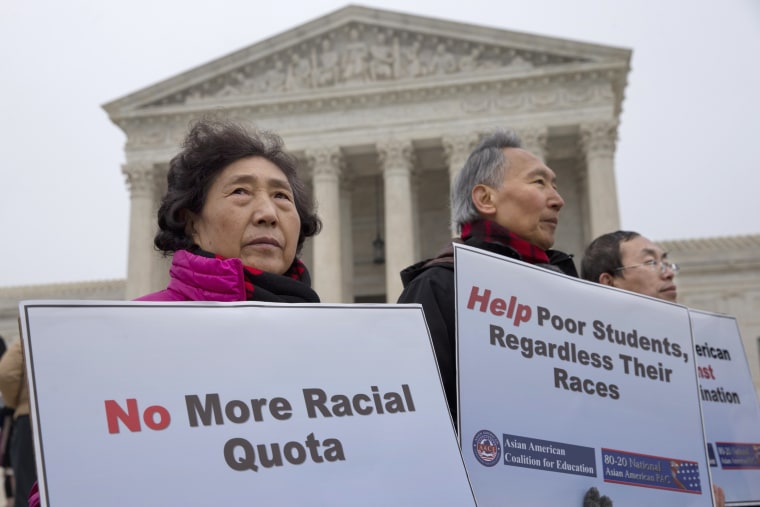 The complaint, drafted by the Asian American Coalition for Education, accuses the three Ivy League schools of denying admission to Asian-American students with near-perfect SAT scores and GPAs in the top one percent while accepting applicants of other races with similar accolades. The groups also allege that racial quotas and caps are used to maintain "ideal racial balances" that have kept the percentage of Asian-American students at these schools unchanged over the last two decades.
"We strongly request Attorney General Loretta Lynch and Education Secretary John King [to] please help us stop this discrimination against Asian Americans," coalition president Yukong Zhao told NBC News in a statement. "Do not let our children be treated as second-class citizens."
Yale, Dartmouth, and Brown did not return requests for comment.
RELATED: More than 160 Asian-American Groups File Briefs in Support of Affirmative Action
The coalition's complaint comes a year after it filed a similar one with the departments of Justice and Education against Harvard University. The Education Department closed that complaint in June because of an on-going lawsuit filed in November 2014 by Students for Fair Admissions, Inc. that makes the same accusations.
In its complaint against Yale, Dartmouth, and Brown, the Asian American Coalition of Education raises concerns about their holistic approach to admissions, in which schools consider a range of factors other than just grades and SAT scores to decide whom to accept. This "allows admissions officers to apply negative stereotypes based on racial and cultural biases and misunderstanding to justify discrimination against individuals of an undesired ethnic group," the complaint reads.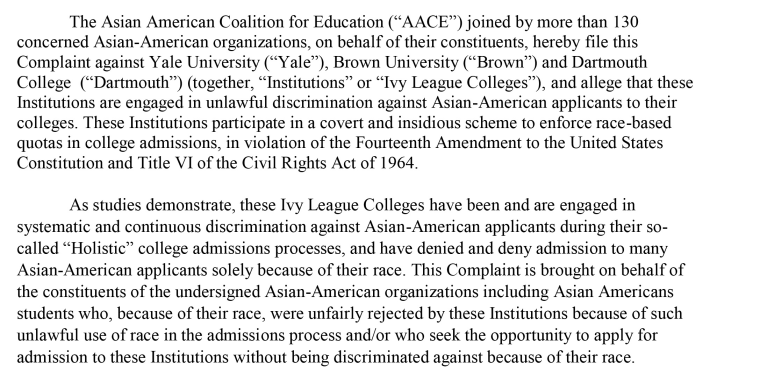 Citing figures from the Education Department, the groups also argue that Asian-American undergraduate enrollment at Brown and Yale has remained flat between 1995 and 2014. While noting an increase in Asian-American students for Dartmouth from 1995 to 2004, the complaint says that those numbers leveled off over the last 10 years. This data shows that "de-facto racial quotas have been imposed on Asian Americans" at these three schools, the complaint alleges.
The coalition, which includes local and national organizations from across the country, is asking the departments of Education and Justice to bar or strictly limit Yale, Dartmouth, and Brown from allegedly using race in admissions decisions, curb what it calls subjective components in evaluating applications, and disclose qualifications of their applicant pools.
RELATED: As SCOTUS Hears Affirmative Action Arguments, Asian American Advocates Weigh In
The issue of whether Ivy League schools discriminate against Asian applicants has fueled a contentious debate within the Asian-American community. Some have argued that the number of Asian-American students admitted annually to Ivy League schools has not kept pace with an overall increase in the Asian-American population. Others disagree, calling these complaints and lawsuits an attack on affirmative action, which they say promotes diverse learning environments.
In September, the Education Department concluded there was insufficient evidence to prove Princeton University discriminates against Asian or Asian-American applicants, as was alleged in two separate complaints.
"These efforts are short sighted and ignore the historical context for affirmative action programs that have opened doors and provided opportunities for communities of color, including Asian Americans, who have been systematically denied equitable access to educational opportunities, job promotions, and leadership positions," Betty Hung, policy director for Asian Americans Advancing Justice | Los Angeles, told NBC News in an email.
In addition to the lawsuit against Harvard, Students for Fair Admissions, Inc. also sued the University of North Carolina at Chapel Hill in November 2014, arguing that the school violated the Equal Protection Clause of the Fourteenth Amendment by allegedly discriminating against applicants based on race or ethnicity.
Those lawsuits remain open as the Supreme Court considers Fisher v. University of Texas at Austin. Abigail Fisher, who is white, is challenging the school's use of race in admissions after her undergraduate application was rejected in 2008. She alleges that the university's affirmative action policies prevented her admission into the school.
Oral arguments were heard in December, and a decision from the court is expected by late June.
Follow NBC Asian America on Facebook, Twitter, Instagram, and Tumblr.