Han Tak Lee said he fought to stay strong, to remain positive while behind bars for nearly a third of his life. During that time, he also fought to have his conviction overturned, a fight he won two years ago when a federal judge vacated his life sentence in the 1989 arson death of his 20-year-old daughter.
But these days, Lee, now 82, struggles to fend off the specter of pessimism that increasingly threatens his spirit.
Last month, Lee was forced to move out of his Queens, New York, apartment where he had lived since leaving prison. Originally, Lee's sister had signed the lease, but the landlord declined to renew it this year when Lee asked for it in his name, New York state Assemblyman Ron Kim told NBC News.
Kim, whose office is helping Lee, said having Lee's name on the lease was a necessary step so he could pay his monthly $1,000 rent with vouchers from the city Human Resources Administration.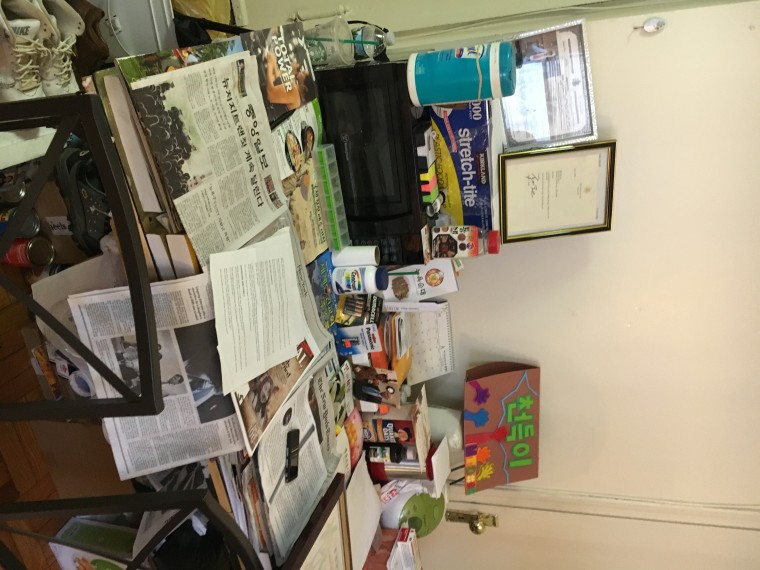 Lee's old home was a cluttered studio overlooking the Long Island Rail Road, the occasional commuter train whizzing by. During a March visit by NBC News, everything had its place: His bed, covered with a rumpled ochre-colored comforter. His tables, layered with neat piles of Korean-language books and newspaper clippings. His shelves, scattered with the detritus of daily life — a bottle of vitamins, a package of unopened batteries, a container of oatmeal.
It was palatial and grand compared to the cells Lee occupied for 24 years after a jury found him guilty of arson and murder, he said. Lee was accused of burning down a cabin in the Pennsylvania Poconos that he and his daughter Ji Yun Lee shared during a religious retreat in 1989. A judge threw out his conviction in August 2014, saying it was based on since-discredited fire science, and prosecutors declined to retry the case or appeal to the U.S. Supreme Court.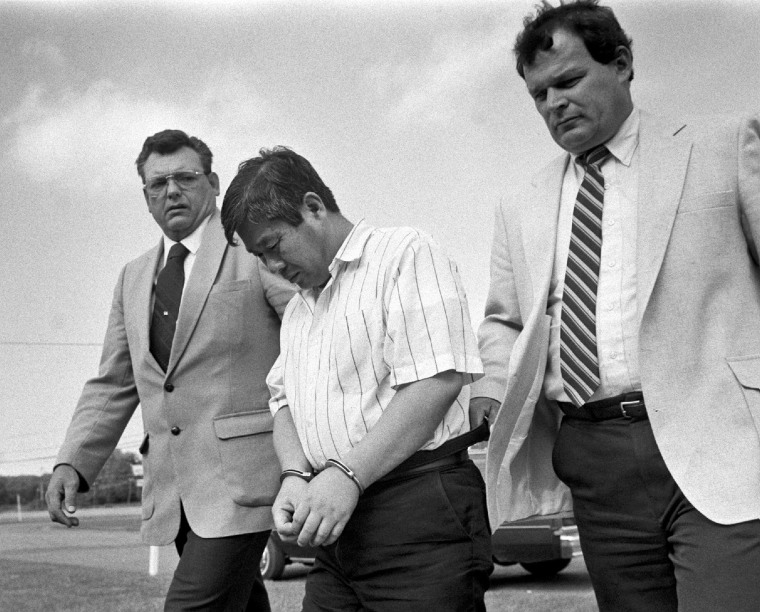 Lee, who maintains his innocence, said he took his daughter on the retreat in hopes of curing her severe mental illness. After waking up from choking smoke in the middle of the night, Lee has said he went in and out of the burning cabin several times to search for his daughter, but never found her.
Lee now lives in Lower Manhattan, on the fourth floor of a six-story building just blocks away from the Manhattan Bridge. Asian Americans for Equality, a nonprofit specializing in affordable housing, found Lee the bright, quiet, airy apartment that sits on the cusp of Chinatown. It was a godsend for a man with no place to live.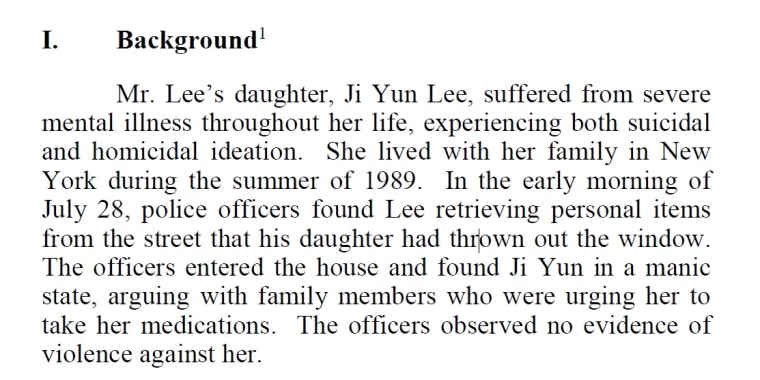 But Lee pines to be closer to his old neighborhood, his friends, his church, the Korean food he can't get nearby.
On a recent visit with NBC News, Lee was friendly and welcoming, smiling as he immediately offered up a bottle of cold water. He used short English sentences to talk about his daily routine, how he goes to bed at 10 p.m, wakes up at 6 a.m., and no longer watches those midnight Korean dramas that interrupted his shuteye.
"Ten o'clock, must go to sleep," Lee said. "Sleep is good."
"I don't see Korean, only American. I'm living in the U.S.A."
As he spoke, a television off to the side broadcast an Olympic women's volleyball match between the United States and Serbia. An oscillating fan sat on the floor nearby, blowing warm, muggy air at his legs. A pot of thick soup with meat and vegetables simmered on the stove.
Asked about how the South Korean Olympic teams were doing, Lee quickly replied, "I don't see Korean, only American. I'm living in the U.S.A."
Lee said he drinks a glass of milk for fortification when he wakes up each morning, and at 6:30 a.m. he does some basic exercises. He sometimes walks around his new neighborhood, he said, aided by a cane to help his sore right leg.
RELATED: After 24 Years of Wrongful Imprisonment, Han Tak Lee Finally Has Some 'Fresh Air'
Lee's sister from Long Island, New York, still comes to visit, and a home care assistant drops by twice a week, Lee said. He also receives $468 each month in supplemental security income checks. It's not much, but it helps with the bills, he said.
Four days a week, Lee travels by himself back to a senior citizens center in Flushing, Queens, he said. Every Sunday, he goes to church, which is also in Flushing. Those trips by subway can be onerous, often taking between two and three hours and requiring transfers. They also involve riding several elevators to reach subway platforms, Lee added.
Kim's office said they're working on getting Lee to be picked up and dropped off with Access-A-Ride, a door-to-door bus service offered by New York City Transit for passengers with physical or mental disabilities.
Midway through the visit, Lee said he sensed he was talking too negatively about his life. He said he wanted to be more optimistic. He also didn't want to speak about his ex-wife, who divorced him eight years into his prison term, or about his other daughter.
Lee is grateful for the apartment, an upgrade from his old home, but he said he hopes someday to move back to Queens, where he has a stronger cultural and linguistic connection with fellow Koreans.
Kim's office said they and Asian Americans for Equality looked for affordable housing for Lee in Flushing, but the average wait-time is between five and 10 years. Lee submitted between seven and 10 affordable housing applications, which they hope might be expedited, Kim's office said.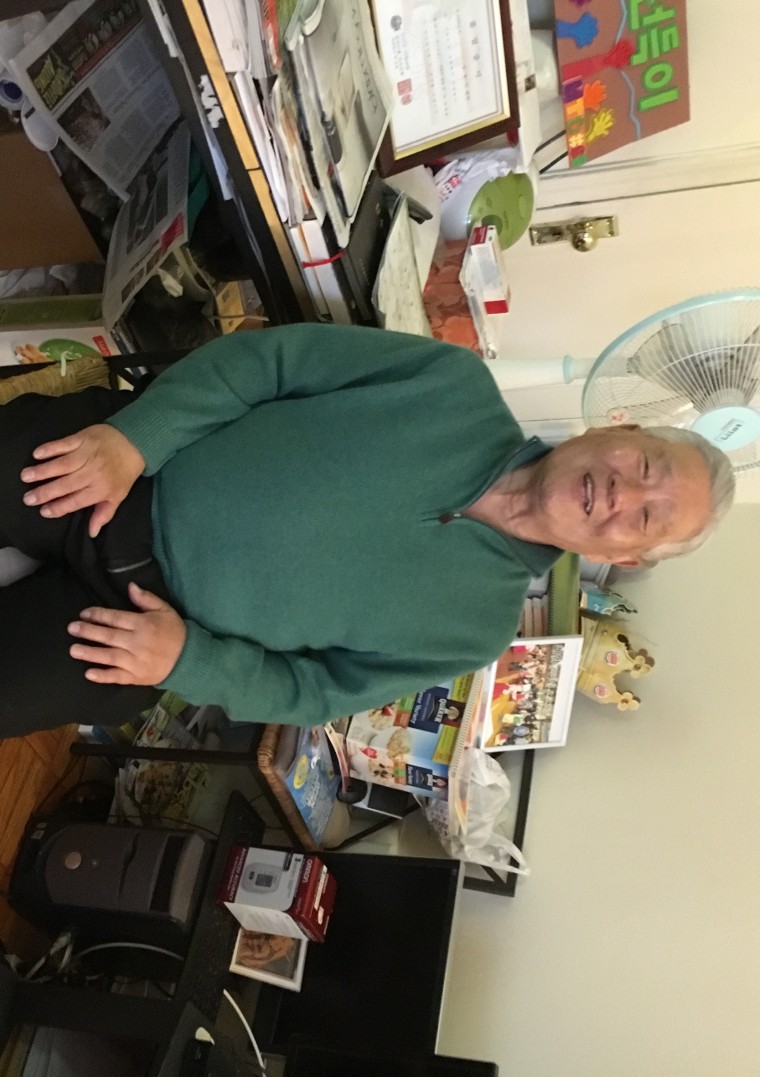 Since Lee first approached Kim for help in January, the assemblyman, who is Korean American, and his staffers have become Lee's family. One of them, Young Han Kim (no relation to the assemblyman), helped change batteries in Lee's wall clock during a visit in March. This time, he ran out to a hardware store to buy a hair-catcher for Lee's bathtub drain.
For Ron Kim, who grew up in Queens, Lee's ordeal challenges the myth that Asian Americans have advantages over other minorities.
"We are denied access to opportunities, face obstacles for upward mobility, encounter blatant and covert prejudices, and oftentimes, like Mr. Lee's case, denied justice due to the color of our skin," he said.
RELATED: Jailed but Innocent: Record Number of People Exonerated in 2015
The last five minutes of any visit are never easy for Lee. He speaks in a softer tone, in Korean, and becomes downcast as people stand up to leave. He escorts his guests to the door, forcing a smile. A quick handshake can last 20 seconds, ending only when Lee begrudgingly breaks his grip. It's not everyday that he has visitors.
That prompted a suggestion: why not invite his friends from Flushing to his new apartment, perhaps for a housewarming.
Lee laughed.
"Who's coming here?" he replied, loudly. "You're kidding."
Follow NBC Asian America on Facebook, Twitter, Instagram, and Tumblr.