When Cheng Ho immigrated to Augusta, Georgia, from Taiwan at the age of 13, he didn't speak English and was the only Asian student at his middle school, he said. He turned to sports to help him fit in.
"Playing sports gave me confidence. It gave me a bunch of friends and an opportunity to see places," Ho told NBC News. "More importantly, I realized sports can be a platform for getting me to college."
Ho's basketball skills eventually led him to be recruited for football at Harvard University. Now, Ho has founded a company, Choxue, to help promote the under-developed student athlete system in Taiwan, where students spend only two hours a week in physical education, he said.
According to the company, athletics and academics are mutually exclusive in Taiwan. If students choose to play sports, they are labeled as jocks with the prejudice of poor academic performance while focusing on school means being immersed in hours of tutor sessions instead.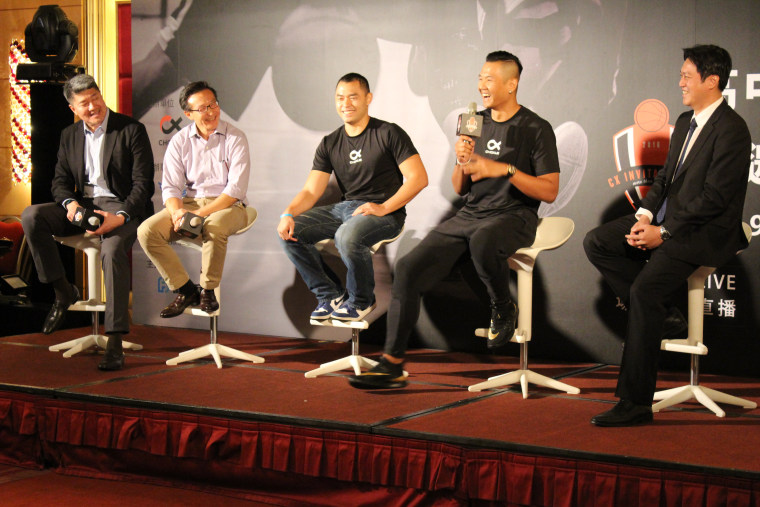 In September 2016, Choxue announced their seed round of funding, with investors including Alibaba's executive vice chairman Joe Tsai, Costco Wholesale senior vice president Asia Richard Chang, and Taiwan basketball celebrity Blackie Chen — businessmen whose success was augmented by sports.
"At a very young age, sports helps you deal with all the challenges you would face in the real world," Chang, who played NCAA basketball at the University of California, Berkeley in the 1980s, told NBC News. "What's harder? To get up and give a presentation or to shoot the game tying free throw with one second left and 10,000 people watching you?"
Being an athlete taught Costco's Chang how to handle pressure and how to focus, he said.
"If you excel in athletics, you are doing something right to get there. Take that attitude and turn it over in your school work and your career — you will also succeed," Chang said.
Tsai, whose total playing time at Yale University on the lacrosse field was less than 20 minutes in his four years there, said being a bench warmer, taught him teamwork skills and how to be humble.
Blackie Chen, an entertainment celebrity, entrepreneur, and former national team basketball player, said that playing basketball changed his life.
RELATED: In Taiwan, Joseph Lin Is Part of a 'Brave' New Basketball World
"If basketball didn't build my character, I would be a very different person today," Chen told NBC News. "It's only natural to want to give back to something that raised you."
According to Taiwan's Ministry of Education, the organizers of the High School Basketball League (HBL), "basketball has been a favorite sport in Taiwan," growing from 129 teams in 1988 to 269 teams in 2000. But despite interest for high school basketball in Taiwan, the student athletics system is broken, Choxue's backers said.
Broadcast logistics sometimes force HBL teams to play seven games in six days, the company said, causing coaches to over train their plays, neglect proper rest time, and omit homework from a student's day.
That's the biggest struggle the company sees for student athletes in Taiwan.
"We still haven't gone far enough that we're educating the parents in the value of sports in terms of total education of a person," Chang said.
To showcase a better way, Choxue hosted an inaugural CX tournament to demonstrate a sample model that solves venue and logistic problems.
"What's harder? To get up and give a presentation or to shoot the game tying free throw with one second left and 10,000 people watching you?"
The CX tournament saw four HBL teams from Taiwan and two teams from China competing in 10 games that will be broadcast in real time online. In addition to playing basketball, students from China also attended classes in Taiwan during their stay. The top five players from the CX tournament were invited to Shanghai for a November Pac-12 basketball game between Stanford University and Harvard University that will be presented by Alibaba Group and televised live.
In addition, Choxue says their sports analytics will help players and coaches during the recruiting process.
"We want to promote sports in a way that's helping these youth have opportunities," Ho said. "I believe there are way more talented student athletes in this world – that if they were just seen, they could have the opportunity to have a better life."