As the 2020 election cycle revs up, Hasan Minhaj points out one area where politicians need more work.
In his latest episode of "Patriot Act," the host addressed how Asian Americans, the fastest growing racial group in the country, have one of the lowest voter turnout rates. And politicians' failure to reach out to the group is one of the key culprits, among other issues including language and cultural barriers.
"Despite our growing numbers, politicians and the media ignore us," Minhaj said.
Presidential candidate Andrew Yang, who's Taiwanese American, admitted himself in the episode that growing up, he didn't recall politicians ever attempting to appeal to the Asian American electorate.
Indeed, data on the 2018 midterms shows that the voting rate of Asian Americans stood at 42 percent. In comparison, the voting rate among white eligible voters was 57 percent, AAPI Data points out.
Historically, neither Democrats nor Republicans have sufficiently reached out to the group, with a 2018 survey revealing that the majority of Asian Americans had not been contacted by either party. Karthick Ramakrishnan, founder of policy research & demographic data organization AAPI Data, told NBC News that this is in part due to campaigns lack of awareness, lack of staff capacity, or willingness to devote resources to outreach.
"Some of the lack of mobilization is also because the majority live in deeply blue states like California, New York, New Jersey, and Illinois where presidential elections have not been very competitive," he explained. "But even in non-presidential elections, both Democrats and Republicans have been very late to the game when it comes to investing heavily in AAPI outreach."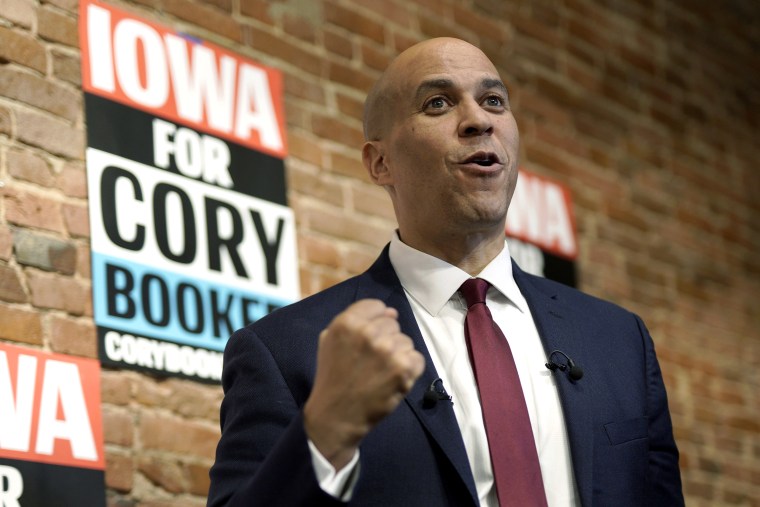 The episode also touched on how fellow Democratic candidate Cory Booker has been successful in appealing to the Asian American community. AAPI Data's analysis of the first quarter FEC filings shows that Asian American donors put the most amount of money behind the candidate compared to other Democrats. As Booker also points out in the segment, he's focused on issues important to AAPI voters including immigration, Ramakrishnan noted.
"He has been able to reach out to AAPI communities without being seen as pandering to it. Part of that entails having good staff who can do in-language outreach and advise the candidate well," Ramakrishnan said, adding that it's also crucial candidates understand that issues like health care, gun control and the environment are important to the Asian American electorate as well.
With roughly a year left until the election, Minhaj brings up one humorous point. If immigration is one of the key issues in the minds of Asian American voters, then perhaps it's time for Booker to change his slogan to secure the community's support.
"Cory Booker 2020: I'll let your cousin in," the host joked.