When the FBI released its annual hate crimes report this month, some community advocates were puzzled as they read through it.
Apparently missing from the tabulations was the 2017 murder of Srinivas Kuchibhotla, a 32-year-old engineer from India who was fatally shot in a Kansas bar after he was called a "terrorist" and told to "get out of my country." His friend Alok Madasani, also from India, and a patron who intervened, Ian Grillot, were wounded in the attack.
The gunman, Adam Purinton, pleaded guilty in May to federal hate crime charges and is serving a life sentence.
But the FBI data show that Olathe, the city in Kansas where Kuchibhotla was killed, reported zero hate crimes for 2017. What's more, the FBI data does not list a single hate crime murder in the state of Kansas for 2017.
"Hate crimes are not being accurately reported," said Sim J. Singh, senior manager of policy and advocacy at The Sikh Coalition, a nonprofit advocacy group. "That's what our organization has consistently been saying."
While many expressed alarm over the more than 17 percent increase in hate crimes across America, there were also concerns about reporting procedures used to tally the data, which some say have exacerbated an undercount of hate crimes.
One of the chief culprits, they argue, is that local law enforcement agencies are not required to provide hate crime data to the FBI's Uniform Crime Reporting Program.
While the hate crime report for 2017 included participants from 16,149 law enforcement agencies, only around 13 percent of them (2,040) reported one or more incidents.
The rest reported no hate crimes.
"Because there is no mandate, there's not always the incentive to provide the data," said Lakshmi Sridaran, director of national policy and advocacy at South Asian Americans Leading Together, a national nonprofit advocacy group. "I think a lot of localities see that as a mark or a stain on their reputation if they have a hate crime in their jurisdiction."
It wasn't immediately clear why the fatal shooting of Kuchibhotla in Olathe, Kansas, did not appear to make it into the report.
"We accurately sent our statistics to the state as per protocol, and they forwarded them to the FBI," said Sgt. Logan Bonney, a spokesman for the Olathe Police Department. "I don't know why the FBI does not have them."
Bonney provided a link to the Olathe city website with the department's hate/bias crime statistics from 2015 to 2017. The data show there were six such incidents in 2017, including one listed as anti-other ethnicity/national origin.
Bonney referred further comment to the Kansas Bureau of Investigation.
A spokesperson for the KBI said by email that the FBI did not count the Olathe killing due to differences in the way information about hate crime incidents are reported from some local law enforcement to some states and then from those states to the FBI.
The KBI is in the process of a major upgrade to its reporting system that would fix the problem in the future, the spokesperson added, and other states are going through similar upgrades.
An FBI spokesperson forwarded an NBC News emailed request for comment to its crime statistics management unit, which did not immediately respond.
Exactly just how many hate crimes in 2017 were excluded in the recently released report was not immediately known. The Arab American Institute, a national nonprofit advocacy group, mentioned two others besides the Olathe shooting in a news release after the FBI report was made public.
FBI data showed that the number of victims of anti-Asian bias increased by around 20 percent, from 137 in 2016 to 165 in 2017. The number of victims of bias against Native Hawaiians or Pacific Islanders, meanwhile, doubled from nine in 2016 to 18 in 2017.
While the figures showed a drop in the number of victims of anti-Muslim bias, from 388 in 2016 to 325 in 2017, the group still accounted for 18.6 percent of anti-religious hate crime victims.
As for victims of anti-Sikh bias, that number more than tripled, from eight in 2016 to 26 in 2017.
"Sikhs have a very visible identity," Singh said. "The majority of people in the United States who wear a turban are Sikhs, and they're often going to be the ones that are going to be targeted by someone who has a bad intent against someone who may appear foreign or who may appear not American."
Singh said he thinks the FBI report is way off the mark when it comes to capturing the extent to which Sikhs are victims of hate crimes. A lack of training and accountability within law enforcement to report these kinds of incidents is one of the reasons for this, according to Singh.
"Another issue is that the perpetrator bias is what is recorded," Singh added. "So if the perpetrator believes that I'm Muslim and he's attacking a Sikh in that hate crime, that's not going to be flagged as an anti-Sikh hate crime if the perpetrator is providing anti-Muslim bias statements during that attack."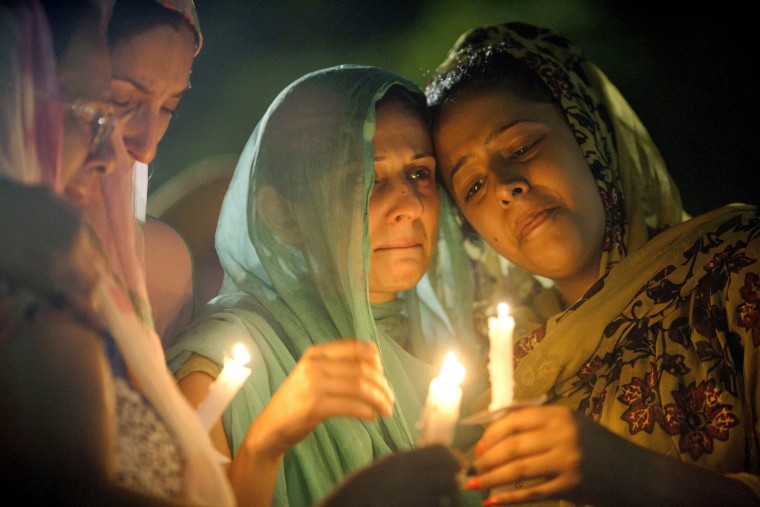 Overall, the latest FBI report showed there were 7,175 bias crimes, which targeted 8,493 victims based on their race and sexual orientation, reported in 2017.
There had been 6,121 hate crimes reported in 2016, 5,850 such offenses in 2015 and 5,479 in 2014. The 17.2 percent spike follows increases of 4.6 percent and 6.7 percent in the previous two years.
By contrast, a Bureau of Justice Statistics survey in June 2017 said that on average each year between 2004 and 2015, there were 250,000 hate crime victimizations, defined as a single victim or household that experienced a criminal incident believed to be motivated by hate.
The two reports differ in that the Bureau of Justice Statistics' National Crime Victimization Survey includes hate crimes both reported and unreported to police.
Singh said he has seen an improvement over the past few years in law enforcement reporting hate crimes to the FBI. But he still believes the numbers are undercounted, which he said affects communities targeted by hate crimes.
"It definitely dis-incentivizes anyone's ability to want to report things to law enforcement because they believe that their reports are not going to be taken seriously and that the response is not going to be appropriately handled," he said.
Sridaran said law enforcement and government both need to do more.
"I really think that it's incumbent on law enforcement, at the local level, to be reaching out more proactively to meet communities where they're at, in terms of the risk that they're facing for violence and reporting," she said.
"On the government side," Sridaran added, "there just needs to be much more political will."
Follow NBC Asian America on Facebook, Twitter, Instagram and Tumblr.