Hawaii celebrated the 144th King Kamehameha Day last Friday and Saturday with celebrations on all major islands, including the 100th King Kamehameha Day Floral Parade on Oahu on June 11; parades on Maui, the island of Hawaiʻi, and Kauai; ceremonies draping five statues of King Kamehameha I with 30-foot lei; and hula performances and competitions.
"[King Kamehameha I] united the islands under one rule," Barbara Nobriga, chairperson of Kona-Kailua's King Kamehameha Day Celebration Parade on Big Island, told NBC News. "He was the most dynamic king we ever had. 'Hoohiwahiwa Na Kamehameha' is our theme this year. It means 'Honoring Kamehameha.'"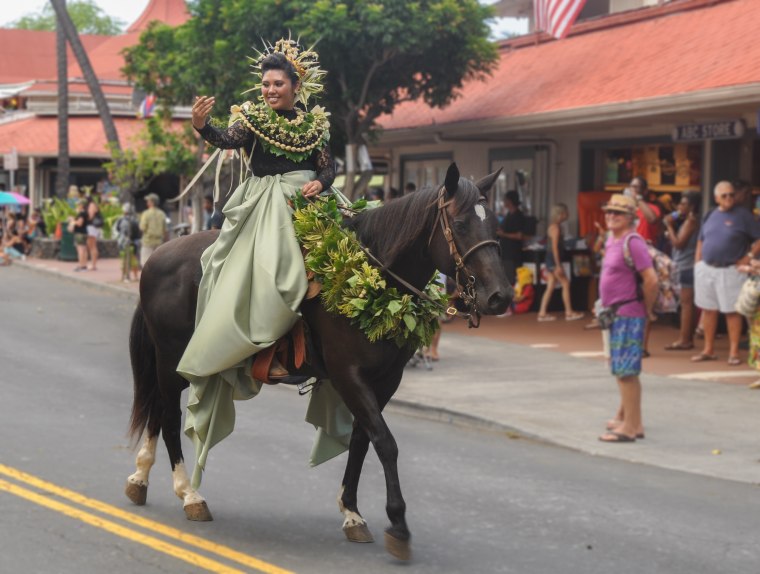 One feature of the parades was the inclusion of pa'u riders, women who ride on horseback in long dresses and elaborate lei and hair decoration. The pa'u tradition started in the mid-1800s after horses were first introduced to Hawaii, according to Bishop Museum historian DeSoto Brown. The pa'u refers to a 12 yard-long piece of satin fabric that covered and protected a woman's clothes while she traveled by horseback and that was held in place with six pieces of kukui or rope.
There were eight teams pa'u riders to represent the eight islands of Hawaii during the Kona-Kailua parade, Nobriga said. "Each island is represented in the color and the flora and fauna of that island. The princesses are adorned in beautiful lei, as are the horses. They are known for their skilled horsemanship. This year, we reunited the pa'u queens of yesteryear going back to 1968."
Brown also noted that Queen Lili'uokalani attended the first King Kamehameha Day floral parade in 1914.
Follow NBC Asian America on Facebook, Twitter, Instagram, and Tumblr.
RELATED