U.S. Rep. Mark Takai announced Thursday that he will no longer be seeking re-election for Hawaii's first district, after recently learning that his pancreatic cancer has spread. Takai was diagnosed with pancreatic cancer in October 2015, underwent surgery in November followed by chemotherapy, and was cleared by his doctor in February to run for re-election.
RELATED: Hawaii Rep. Mark Takai Takes on Cancer, Re-election Campaign
"I had envisioned a long career in the U.S. House of Representatives, building up the seniority and influence that were key to Senator Inouye's ability to deliver for Hawaii. But as often happens, we find ourselves on a different journey than what we had planned," Takai said in a statement. "Putting Hawaii and its people first means that I must regretfully withdraw from my 2016 re-election race for Congress and suspend my campaign. Right now, for the sake of my family, I need to focus on getting better rather than getting re-elected."
Known for his aloha spirit on Capitol Hill, from the aloha Friday spreads in his office to trying to get Paul Ryan to wear an aloha shirt on the floor of the House of Representatives, Takai is reportedly well respected and well liked. He had previously served in the Hawaii House of Representatives for 20 years.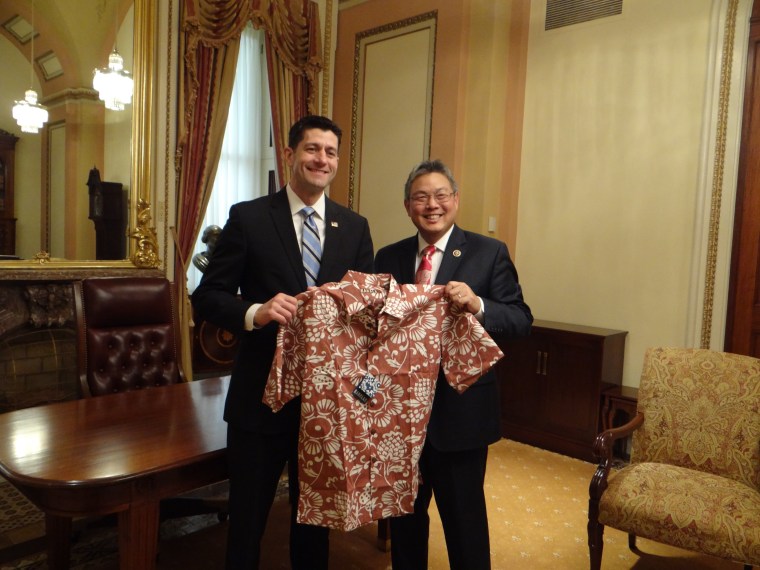 "Mark has served our state and our country honorably as a public servant, elected official, and a Lieutenant Colonel in the Hawaii Army National Guard. He has an unwavering commitment to improving the lives of Hawaii families," U.S. Sen. Mazie K. Hirono said in a statement. "I have worked closely with Mark for many years on education reform, and especially on Impact Aid for Hawaii's schools when I served in the U.S. House of Representatives. I will miss him in this arena as a strong partner on issues we both care deeply about, and will continue to do so through the rest of his term."
Takai plans to serve the rest of his term, which ends January 2017.
RELATED: Rep. Mark Takai Gives House Speaker Ryan an Aloha Shirt
Democratic Leader of the U.S. House of Representatives Nancy Pelosi underlined the importance of the President's challenge to cure cancer. "While Mark has reached the difficult decision to not seek re-election, Mark's courageous decision to keep fighting for Hawaii's hard-working families throughout the remainder of his term, even as he fights cancer, exemplifies his bravery. He inspires us to strive with even greater urgency toward a moonshot to cure cancer," Pelosi said in a statement.
President Barack Obama sent a message of support Friday afternoon, thanking Takai for his service and reiterating the importance of cancer research.
"For more than 20 years, Representative Mark Takai has proudly served the people of Hawaii," Obama said in a statement. "As a long-time Lieutenant Colonel in the Hawaii Army National Guard, as a champion for our brave men and women in uniform and our veterans, and as someone who stands up for our working families, he's always been a fighter. That's the approach he'll take to his battle with cancer, too. Michelle and I thank Mark for his leadership and service, but also for his courage and tireless advocacy for cancer research – research that has given hope to others who fight this disease every day. And we want Mark to know that he and his family have our continued support and warmest wishes on their journey ahead."
Takai was the presumptive favorite in the upcoming election. The deadline to file to run for his seat is June 7.
This story was updated with comments from President Barack Obama.
Follow NBC Asian America on Facebook, Twitter, Instagram, and Tumblr.