The Democratic Party of Hawaii has filed a lawsuit this month to try to stop a candidate who is running for U.S. Congress as a Republican in one race from also running as a Democrat in another, according to court documents.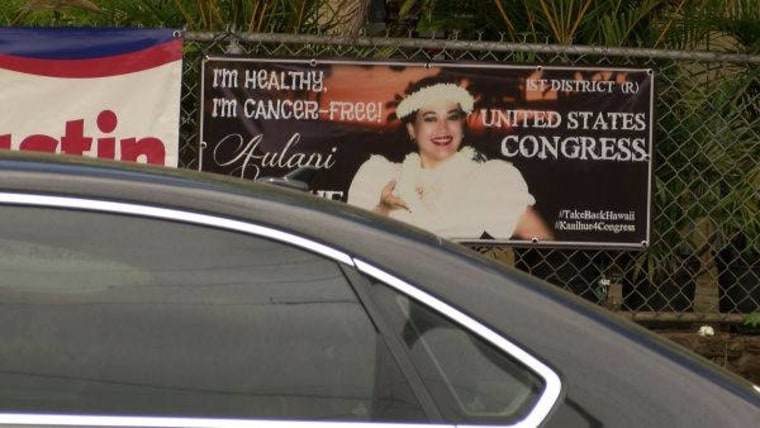 After Angela Aulani Kaaihue won the Republican nomination in August to run against incumbent Rep. Tulsi Gabbard (D-HI) for the 2nd Congressional District seat in November, Kaaihue also filed to run as a Democrat in a special election to complete the term of the late Rep. Mark Takai (D-HI) in the 1st Congressional District, according to the Honolulu Civil Beat. Takai died in July from pancreatic cancer. Both elections will be held Nov. 8.
Because of seemingly anti-Japanese, anti-Buddhist, anti-Hindu comments made by Kaaihue as well as for using the slogan, "I'm healthy, I'm cancer-free!" while campaigning for Takai's seat, according to NBC affiliate Hawaii News Now, both Democrat and Republican parties have been distancing themselves from Kaaihue.
According to court documents filed by the Democratic Party of Hawaii, Kaaihue was expelled from the the party in August after winning the Republican nomination for the 2nd Congressional District, but she filed to run for the 1st Congressional District as a Democrat. The Democratic Party of Hawaii is seeking an injunction to prevent her from being listed on the ballot as a Democrat.
The Republican Party of Hawaii terminated her membership after she filed to run as a Democrat.
"As Chairman of the Hawaii Republican Party, I want it understood by the general public and the media that the recent inflammatory comments made by candidate for Congress (CD2) Angela Kaaihue do not represent the views, values, or the sentiments of our Party and its members," Republican Party of Hawaii Chairperson Fritz Rohlfing said in a statement. "Her vulgar, racially-bigoted, and religiously-intolerant descriptions of Democratic Party candidates are offensive, shameful, and unacceptable in public discourse. I unconditionally denounce her despicable statements. I strongly urge all Hawaii Republicans to join me in disavowing her candidacy."
"It's really interesting to watch both the democratic and republican party buckle to their knees," Kaaihue told NBC News by email. "I think they are dumbfounded and astonished at what I'm able to achieve. I'm actually enjoying myself. The Hawaii State Elections office said if was legal, so why wouldn't anyone take opportunity of the impossible and make it possible?"
The Hawaii Democratic Party did not respond to NBC News requests for comment. The Hawaii state Office of Election told NBC News it does not comment on pending litigation.
Follow NBC Asian America on Facebook, Twitter, Instagram, and Tumblr.