As Hawaii's island of Maui continues to fight wildfires that have killed at least 53 people, residents of the devastated town of Lahaina are mourning the loss of nearly all their cultural institutions. Among them, a 200-year-old church, which Native Hawaiians say has been a mainstay in their community for centuries.
"It was a gathering place, it was a staple of Lahaina," said Kūhiō Lewis, CEO of the Council for Native Hawaiian Advancement. "Like when you think of Seattle, you think of the Space Needle. In Lahaina, it was that church." 
Waiola Church has been standing since Lahaina was the capital of the Kingdom of Hawaii in the 1800s, he said. It just celebrated its 200th anniversary this year. It was the main location of community meetings both in the 1820s and the 2020s, and it was the burial site of early members of the Hawaiian royal family. 
One of the first marks of Christianity on Maui, it's now listed as permanently closed on Google Maps.
"Many of our chiefs, our Hawaiian monarchs are buried there," Lewis said. "The church has significance to our culture, there's artifacts of the town that's been standing for over a century. It's just gone."  
The Kingdom of Hawaii was established in 1795 after King Kamehameha, its first ruler, conquered several islands on the archipelago. In 1802, he moved the capital to Lahaina, where the site of his palace was marked by a large banyan tree until it, too, was scorched by fires Wednesday. 
Waiola Church was first established in 1823 by Kamehameha's wife, Queen Keōpūolani, and it became a central gathering place for the Hawaiian royals, Lewis said. 
"That's where you would have the big meetings about how to govern the islands," he said. "There's some very sacred sites there." 
Over the next two centuries it remained a staple to the Native Hawaiians and immigrants who lived on Maui. Located in the center of town, it played host to Lahaina's celebrations and luaus, including one in May to commemorate its 200th birthday.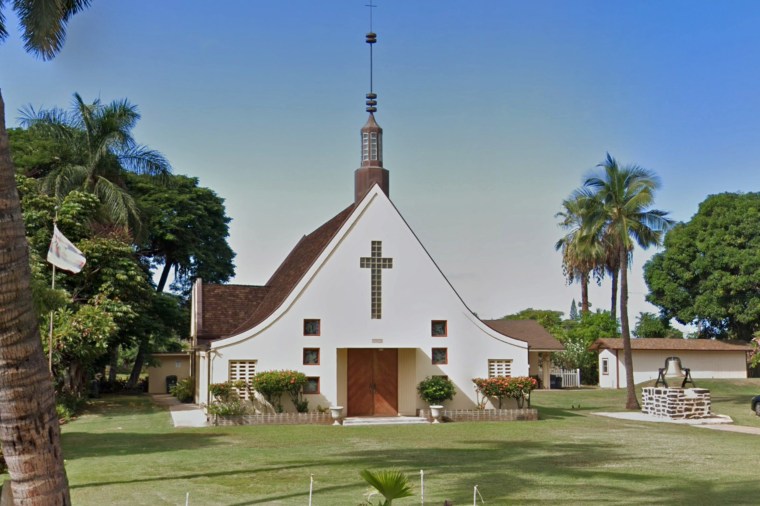 Burnt down alongside the church was an immersion school, Pūnana Leo, which educated local children in Hawaiian language and culture. It also provided childcare and community service to Native Hawaiians in the area. 
"Language is key to keeping a culture alive," Lewis said. "I think about the kids, too. They're not going to be able to go to school tomorrow. They're not going to have their teacher. It's shifted entire lives and perspectives. Everything has just gotta start over." 
With the school's destruction, a slice of Hawaiian cultural education is gone, Lewis acknowledged. Even before the fire, displacement and resource shortages had been severely impacting Native Hawaiians.
"More than half of our community has moved away from the islands," he said. "They live on the continent now because there's already a housing shortage … The one thing that gave them stability — a place to stay at night — for some there, they don't even have that anymore." 
The destruction of the church and the school are both harsh setbacks, he said, and seeing viral images of a building he had vivid memories in was "a shock." While he worries for those who have lost their livelihoods and works to coordinate resources, he believes in the strength and resilience of his people.
"We were already trying to revitalize our culture, our language," Lewis said. "I do think that, looking to the future, we'll come back stronger."