Hawaii last week passed legislation that will provide working family caregivers with financial assistance to help pay for costs associated with caring for their elders.
The Kupuna Caregivers Act, signed Thursday by Hawaii Gov. David Ige, is the first of its kind in the nation, Janet Kim, communications director for Caring Across Generations (CAG), a home care policy advocacy group, told NBC News. It provides qualified caregivers with a voucher of up to $70 per day that can be used toward services that they would otherwise perform themselves, including adult day care and assisted transportation.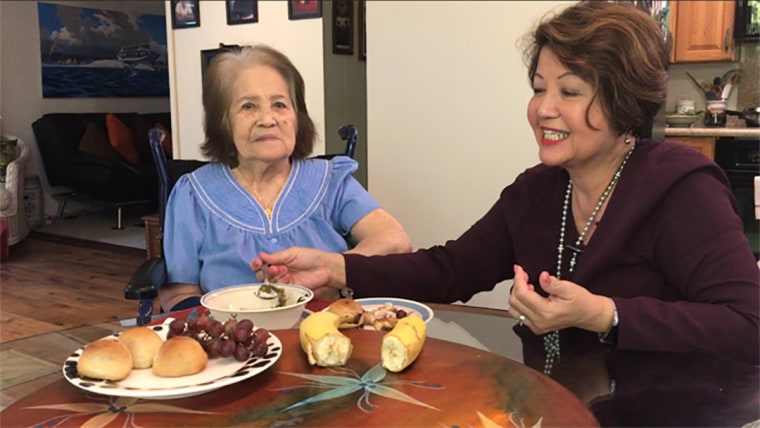 Support for elderly care is usually granted directly to care recipients, Kim said. However, the Kupuna Caregivers Act grants assistance to working family caregivers, who can be caring for family members who are above the Medicaid eligibility threshold. While the amount provided does not cover the entire cost of care families need, it does allow them to provide more hours of in-home care and other services, Kevin Simowitz, political director of CAG, said during a telephone briefing about the new legislation on Monday.
"This win in Hawaii is huge," Sarita Gupta, co-director of CAG, said during the call.
"The burden of care right now is falling heavily on family members, and in particular, folks who we affectionately refer to as the 'sandwich generation' caught between demands of both child care and elder care," she added.
The text of the Kupuna Caregivers Act states that providing long term care for elderly family members without compensation can result in chronic stress. Because of the high cost of institutional care, the children of elderly parents may leave their careers to provide the care themselves, the law says.
"There's just a tremendous amount of support that family caregivers who are working full time need in order to really care for their loved ones, and not make impossible choices between keeping their jobs and being able to care for their loved ones," Gupta said. "And if they make the choice to care for their loved ones and leave their workplace, they also need support in order to adequately afford and provide good quality care."
In Hawaii, nearly a quarter million residents — 18.7 percent of the state's population — are age 60 and older, according to a report by the Center of the Family at the University of Hawaii. Of those residents, Asian Americans and Pacific Islanders (AAPI) account for more than half.
According to the AARP, Hawaii is home to about 154,000 unpaid caregivers. Heather Chun, director of technical assistance at the National Asian Pacific Center on Aging (NAPCA), said an estimated 92,400 of those are AAPI caregivers.
In the AAPI community, the majority believe they are expected to care for their parents, a 2014 AARP study found. But doing so without pay can take a toll on caregivers.
"In a 2016 listening session in Honolulu, one caregiver shared with NAPCA that 'AAPI caregivers often burn out because of parental pride' — or not wanting, or feeling shameful of accepting outside help," Chun told NBC News in an email. "Family-centered policies, such as Hawaii's Kupuna Caregiver Assistance Act, are ideal in reinforcing many AAPI families' strong values of filial piety, providing them with additional resources to balance family-centered care with continued employment."
Beth Hoban, 67, is among the estimated thousands of AAPIs who care for elderly relatives. For the last three years, she has cared full time for her 93-year-old mother, who suffered from congestive heart failure and a broken right arm. She bathes, feeds, and attends to whatever her mother needs.
Hoban, a Filipino American, said it's common for Filipinos for their families to live with them.
"Sometimes they'll even extend homes so mom and dad can stay in back of their house. That was ingrained in me growing up … so I feel like it's my responsibility to take care of my mom," she told NBC News.
Hoban also holds a full time job as the business owner of a home health care agency. Owning a business allows her some flexibility in her schedule, but she cares for her mother whenever she isn't working. This leaves her with little time to care for herself, she said.
Through the assistance that will be provided through the Kupuna Caregiver Act, Hoban plans to use the funds toward respite care so she has time to do simple things like going to the grocery store and getting her nails done.
"I think it's really important for caregivers to care for ourselves so we can take care of people who are sicker than us," Hoban said.
With the new law in place, the focus now shifts to ensuring it is properly implemented and improves lives, said Ai-jen Poo, co-director of CAG, said during the group's call.
A budget of $600,000 has been allocated for the program for the 2017-2018 fiscal year.
Follow NBC Asian America on Facebook, Twitter, Instagram and Tumblr.