Nearly two months after a Republican representative in Hawaii was ousted as the Hawaii House minority leader, she has officially announced her decision to leave the party.
In a letter to the Hawaii Republican Party on Wednesday, Rep. Beth Fukumoto wrote about the partisanship she saw from her colleagues on the right, which included criticism from her own caucus that she felt was due to her participation at the Women's March in Honolulu in January.
"This election, I saw members of my party marginalizing and condemning minorities, ethnic or otherwise, and making demeaning comments towards women," Fukumoto wrote in her letter. "So, when I listened as our now top office holder refused to condemn the internment of Japanese Americans during World War II, speaking out didn't seem like a choice."
Fukumoto, who served as the House minority leader from 2014 until this year, also wrote about her identity as a Japanese-American woman, and accused the Republican Party of allowing "elements of racism and sexism within the base" that have hurt the party and country.
Often cited as a rising star within the Republican Party, Fukumoto told NBC News previously that she felt attacked by her caucus because of her vocal stance against Trump and the extreme rhetoric coming from many Republican leaders."[The Republican Party] seems to be punishing dissent, and when you have a political party, you need dialogue," Fukumoto said in an interview with NBC News in February.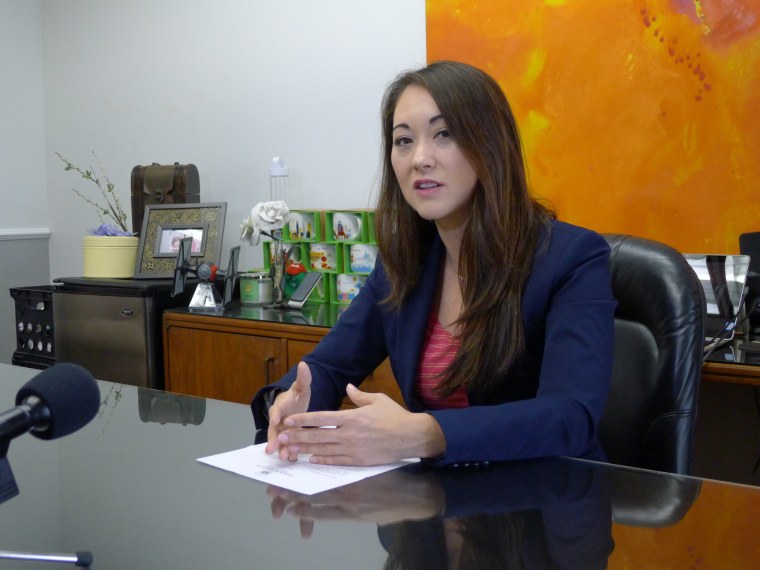 In a media statement released Wednesday, Fukumoto added that she plans to seek membership in the Democratic Party.
"In serving my district at the Legislature, I've found significant common ground with my Democratic colleagues. Enough common ground that I believe that we can fit comfortably in the same tent," Fukumoto said. "For me, I think the Democratic Party of Hawaii allows enough diversity of opinion that the values and ideas that I've always held can find a home there. Democrats that want to change the status quo in Hawaii are still fighting to do it, and I want to help them."