Rep. Colleen Hanabusa remembers roller skating with her cousins in downtown Honolulu in an area called Kaimuki during her childhood. There, the sidewalks were smooth concrete — easier to skate on and less painful to fall on than the asphalt in the poorer neighborhood of Waianae, where she grew up.
That inequity between Kaimuki and Waianae, which Hanabusa calls somewhat of a forgotten part of Honolulu, always stuck with her and eventually pushed her into public service.
"We also recognize that our differences do not divide us, but our differences and our acceptance of our differences make us a stronger and better place."
"Why is it that they have certain types of roads and sidewalks, and we didn't have anything where I grew up? And that's really what motivated me to run 40-some odd years later," Hanabusa told NBC News. "I decided, you know, I'll just put my name in. I already had an established law career and [I'd] see what people would do."
Hanabusa, a Yonsei — or fourth generation Japanese American — spent more than 20 years as a lawyer before running for office for the first time in 1998 to serve in Hawaii's State Senate.
She took on a number of roles during her tenure in Hawaii's legislature, including vice president of the Senate, chair of the Judiciary Committee, and chair of the Hawaiian Affairs Committee.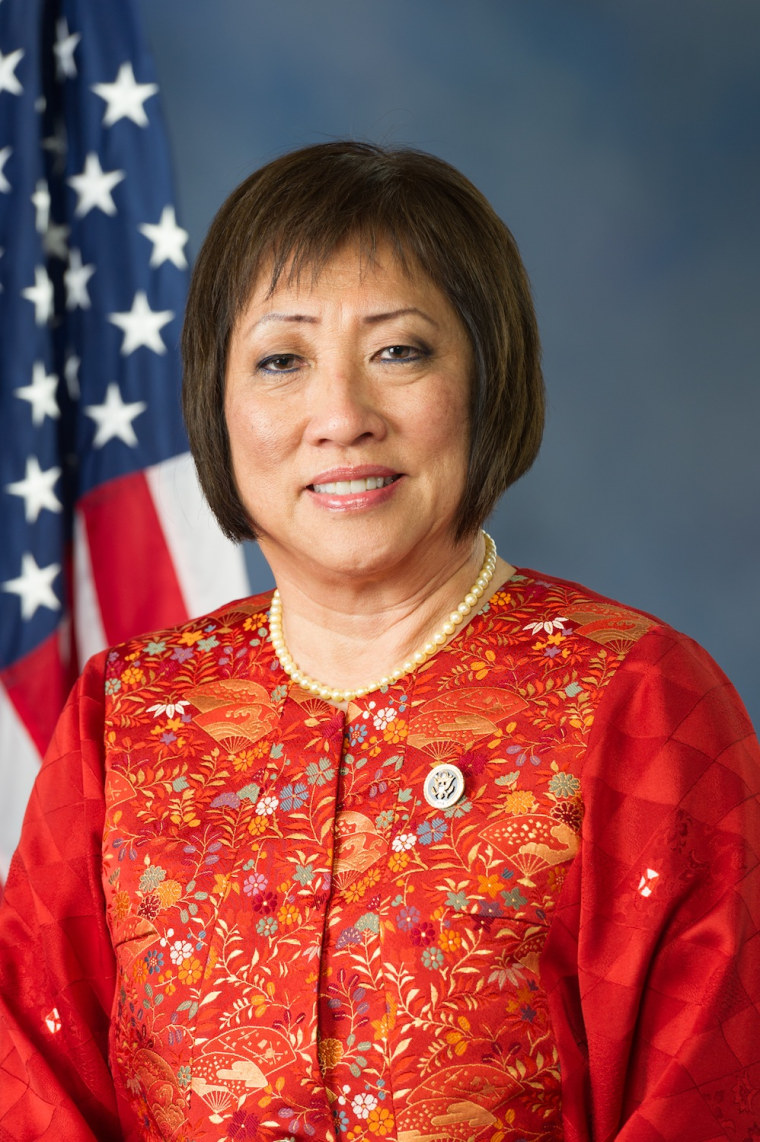 But perhaps her most notable accomplishment was being elected to serve as president of the Hawaii State Senate in 2007, making her the first woman to lead either chamber of Hawaii's legislature and the first Asian-American woman to lead a chamber of a state legislature in the United States, she said.
Because Asian Americans dominated Hawaii's legislature, Hanabusa said that that part of the milestone didn't resonate with her as much as the fact that she was the Hawaii's first woman to lead a legislative chamber.
She noted that women have always played an active role in the economic structure in the state. Her maternal great grandparents moved from Japan to Hawaii to work on sugar plantations, a job her own grandmother took on as well. But when it came to politics, women were in the minority.
"Being the first woman was something that meant a lot to me, and the reason why was because of the fact that no matter how progressive and liberal Hawaii was perceived, it almost took 50 years because we became a state in 1959," she said.
Hanabusa recalled being discriminated against for her gender in the State Senate, having been told by her male colleagues that a "wahine" – the Hawaiian word for woman – would and could never be Senate president.
"When I became senate president, the same persons who said that I couldn't be it eight years earlier were the very ones who were supporting me to be senate president," she said. "That really was a statement to me, that in two terms I was able to show them that I could lead, and that was important to me."
"In other words, it's though we have the ability, because Hawaii is all minorities, to be able to preserve cultures and practices probably better than any place else."
In November, Hanabusa was elected to serve as the representative for Hawaii's 1st Congressional District in the House of Representatives, a position she previously held for two terms after she was elected in 2010.
After her second term in the House, Hanabusa vacated her seat to run for a seat in the Senate, but lost in the 2014 Democratic primary to Sen. Brian Schatz in a close race.
In her time away from Congress, Hanabusa returned to practicing law and continued to serve by joining the board of the Honolulu Authority for Rapid Transit, which managed the largest capital improvement project in the state's history, and teaching at the University of Hawaii at Manoa's law and political science departments.
"I guess what I could say was very enjoyable was the ability to use what I think I learned and the skill sets that I had in a way that would help various groups and people," she said. "That's really what I enjoy doing."
On Election Night, Hanabusa was voted back into her old seat, having won a special election in August to complete the term of the late Rep. Mark Takai, who died in July after a battle with cancer. She calls her return "bittersweet."
"[I'm] very humbled by the strong acclamation by which I returned, but [I] also [know] we [have to] get down to work because there's so much that needs to be done in terms of the Congress and the rights of people," she said.
Having held the seat before, Hanabusa compares assuming the role she previously held to repeating kindergarten.
"You know what it's like and you know what to watch out for and you can really get to the essence, the core issues because you're not concentrating on things you would when you're new," she said.
Hanabusa is now finishing up the remainder of the 114th Congress. She expects the 115th Congress to be more hectic, given her recent appointment to a newly created position to represent the freshmen Democratic representatives to the Democratic leadership.
Hanabusa also hopes to fight for Native Hawaiians, secure the significance and importance of Hawaii by advocating for the "pivot" of the United States' foreign policy to the Asia-Pacific region, and secure and preserve senior benefits and rights, including Social Security and Medicare.
Being a public servant in the legislature has been both a challenging and rewarding job for Hanabusa, particularly when it comes to building relationships with other members of Congress and being able to call upon them when needed.
"Because no matter what, to get any piece of legislation through, you need the assistance of others," she said.
As an example, Hanabusa cited Congress' recent passing of a measure that honors Filipino veterans from World War II for their service with a Congressional Gold Medal. It's a bill she introduced in the 113th Congress but failed to pass.
"It took the work of a really bipartisan effort on part of the Republicans … because what it meant was a recognition that transcended party lines, and irrespective of how they may feel of whatever concerns they may have on health, immigration and so forth, they came together and recognized that we need to … show our appreciation for a group who served this country," she said. "It's a challenge to have started it, but what makes it satisfying is to see it got done."
While differences between legislators can pose challenges in pushing bills forward in Congress, Hanabusa said being raised in Hawaii has taught her to respect, understand, and accept the differences people have.
"In other words, it's though we have the ability, because Hawaii is all minorities, to be able to preserve cultures and practices probably better than any place else," she said. "We also recognize that our differences do not divide us, but our differences and our acceptance of our differences make us a stronger and better place."
As for being an Asian American member of Congress, Hanabusa said that has made her more aware of the inequity of treatment toward people of color when it comes to civil liberties in times of national crisis.
"Those are the kinds of things that being Asian American, having recognized what happened to the Japanese interment, how every time there's a different type of crisis, it's people who are recognizable; in other words, people of color, people who are different, who are the ones that are singled out and how we have to protect against it. That's what it means to me," Hanabusa said. "Being Asian American in the context of where I sit today in my congressional office, it means a lot to me that because it forces me to continue to recognize the differences which we tend to be fortunate enough in Hawaii not to concentrate on."
Follow NBC Asian America on Facebook, Twitter, Instagram, and Tumblr.
RELATED