A Republican-turned-Democratic representative in Hawaii could be preparing to take her fight against President Donald Trump's policies to Washington.
Rep. Beth Fukumoto announced Thursday in an email to supporters that she was exploring a possible run for Congress in 2018, telling NBC News, "It's become very, very clear that we need women in government."
Fukumoto made national headlines earlier this year when she was ousted as House minority leader, which she said she felt was punishment for her participation at the Women's March in Honolulu.
In March, she formally left the Republican Party.
"What ended up being very problematic for me was that my caucus and others said, 'If you want to stay in leadership, then you need to make a commitment to not criticize the president for the remainder of his term,'" the 34-year-old told NBC News at the time. "And with what we've been seeing in the news with the different executive orders coming out every day, I didn't believe I could make that commitment."
Since 2016, Fukumoto has spoken openly against Trump and the current direction of the Republican Party. "I'm encouraged to perform political martyrdom on a weekly basis just to gain attention, and compromise is always considered a betrayal," Fukumoto wrote in a March 2016 op-ed for NBC News.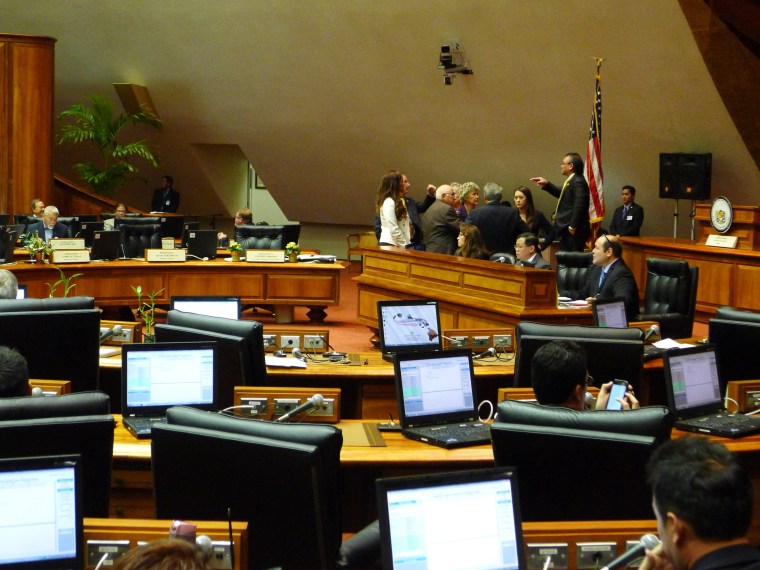 Seven months since leaving the Republican Party, Fukumoto said her constituents have been incredibly supportive. "I think people are less concerned about party than they are about people who are going to look out for average families. People don't think their government is representing them aside from some here or there. People said when they read about me or heard me speak, they heard someone speaking for them, and they were hearing their voice," she said.
If she decides to run, Fukumoto would join the race as a Democrat to represent Hawaii's 1st Congressional District, a seat currently held by Rep. Colleen Hanabusa. The declared candidates for the seat so far are Democratic State Sen. Donna Kim and singer Brian Evans, who will run as a Republican after previously running for the U.S. Senate as a Democrat.
Hanabusa, who was elected in 2016 after having previously served in Congress from 2011-2015, announced in September she was planning to run for governor.
"From Hollywood to the White House, it has become clear that women will face constant threats to our health and our livelihoods until we achieve economic and political parity," Fukumoto wrote in her announcement email. "Over 80% of Congressional seats are held by men. And, a similar disparity exists in State Legislatures. We need more women in government, and I'm working hard to make that happen."
Follow NBC Asian America on Facebook, Twitter, Instagram, and Tumblr.