Hawaiian composer, musician, filmmaker, and ukulele virtuoso Eddie Kamae died Saturday at 89 years old, according to the Hawaiian Legacy Foundation, which he had founded with his wife Myrna. He had been in hospice care.
"Eddie Kamae passed peacefully this morning with his wife Myrna by his side, a smile on his face and 'E Ku' Morning Dew playing in the background," the foundation wrote on Facebook.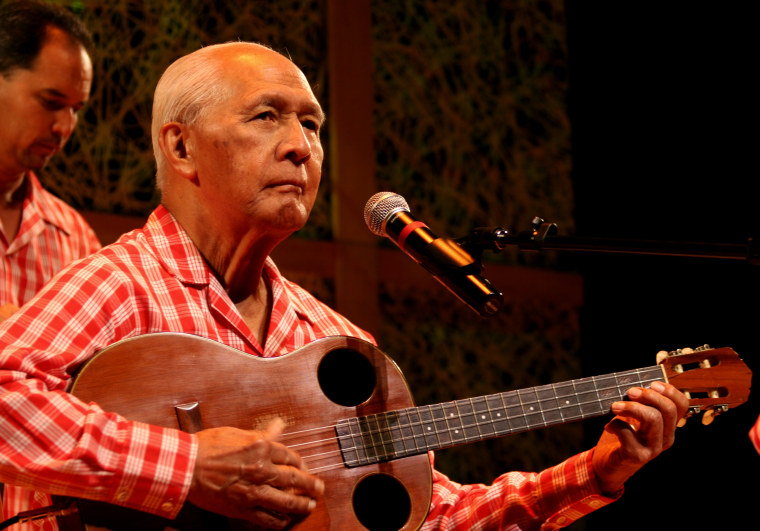 Considered a leader in the Hawaiian cultural renaissance of the late 1960s and '70s by other musicians, Kamae was a co-founder of the band Sons of Hawai'i, researched Hawaiian music and discovered many songs in the Bishop Museum Archives — including songs by Queen Lili'uokalani, produced 14 albums of traditional Hawaiian music, and made 10 documentary films to document and preserve traditional Hawaiian culture, according to NBC affiliate Hawaii News Now.
"Eddie Kamae was the catalyst behind so many Hawaiian musicians," musician Patrick Landeza told NBC News. "The Sons of Hawai'i were the root of the Hawaiian Renaissance and it was his genius of discovering the past which allowed us to move forward to the future, that future being Hawaiian music today as we know it through his music and films."
Kamae received many awards during his career, including a 2007 National Heritage Fellowship from the National Endowment for the Arts, a lifetime achievement award from the Hawaii Academy of Recording Arts, and induction to the Hawaiian Music Hall of Fame, according to his Sons of Hawai'i biography.
"Uncle Eddie was a part of my dad's music for a few years and their music really got people listening to Hawaiian music," musician Cyril Pahinui, whose late father, slack-key guitar virtuoso Gabby Pahinui, co-founded Sons of Hawai'i with Kamae, told NBC News. "They really opened the doors for the next generation."
Kamae and the Sons of Hawai'i inspired and shaped many musicians of Hawaiian music. "It was The Sons of Hawai'i concert in Oakland (1986 or so) at the Calvin Simmons Theater that changed my life!" Landeza said.
"For me as a Hawaiian musician born and raised in Berkeley, California, his music surrounded my home and at weekend parties for that matter," Landeza continued. "I recalled the albums playing and mom encouraging me to sing along with her. I am a product of Eddie Kamae and the Sons of Hawaii and cannot thank him and Aunty Myrna enough for their contribution."
Follow NBC Asian America on Facebook, Twitter, Instagram, and Tumblr.