The Friends of Iolani Palace, a nonprofit organization established in 1966 to restore the former residence of Hawaii's last two monarchs, is on a worldwide search for the original furnishings and objects of the Hawaiian monarchy and palace, which have since been dispersed throughout the world.
"After the overthrow of the Hawaiian monarchy in 1893," said a spokesperson for The Friends of Iolani Palace, "Provisional Government officials inventoried the contents of Iolani Palace and sold at public auction whatever furniture or furnishings were not suitable for government operations."
The organization uses historic photos, newspaper accounts, and inventory lists to meticulously research the history of lost artifacts, and, once found, verifies them against original documentation and family histories. A pair of Queen Liliuokalani's cuff buttons, purchased for $2.00 in 1924 by a young U.S. Navy Lieutenant, was recently returned by his daughter in New Jersey.
"Palace objects have been recovered from 36 states and four foreign countries," said the spokesperson, including, "porcelain plates returned from Australia and a table found in the Governor's mansion in Iowa, to a chair in a local thrift store."
Recently, three flags that had not been seen by the public since 1886 once again flew above Iolani Palace in Honolulu in commemoration of King David Kalākaua's birthday.
Many original furnishings—including King Kalākaua's ebony and gilt bed, dresser, and wardrobe—are still missing, and the organization encourages anyone who has items from the Hawaiian monarchy to return them to the palace.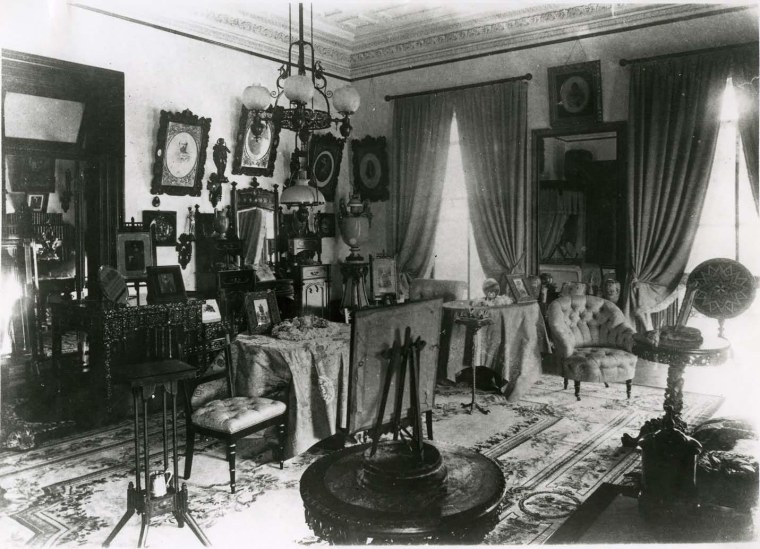 IN-DEPTH